First Lady, Ky. Legislators Highlight Importance of Ovarian Cancer Screening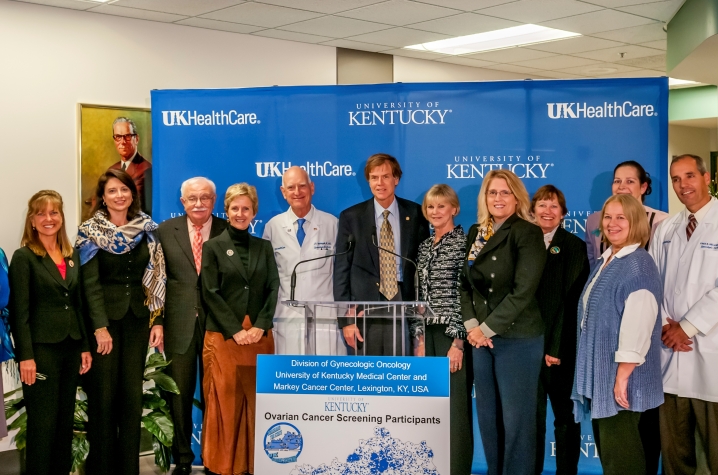 LEXINGTON, Ky. (Oct. 23, 2013) – To draw attention to the importance of ovarian cancer screening, Kentucky First Lady Jane Beshear joined Kentucky's female legislators to highlight results from the University of Kentucky Markey Cancer Center's Ovarian Cancer Screening Program. The screening program is an ongoing, 26-year research study showing that annual screening continues to detect ovarian cancer at an earlier stage than is possible with a clinical examination. 
"Women need to be proactive instead of reactive when it comes to their own health care," Beshear said.  "Often times, women put their families' needs before their own, which can cause easily detectable illnesses to go untreated and possibly cause severe or terminal health risks. This preventative ovarian cancer screening is free, quick and confidential – an easy way for women to protect themselves from this life-threatening illness. This simple procedure is available to women in all parts of Kentucky, not just the Lexington area, and I encourage all who are at-risk for the disease to participate in the program." 
Ovarian cancer is ranked fifth among cancer killers for American women and accounts for more cancer-related deaths than any other gynecological malignancy. When it is detected early, women can be cured with existing treatment methods. However, most women have no symptoms until the disease has progressed into an advanced stage. As the disease progresses, survival rates drop sharply.
Markey's Ovarian Screening Program was initiated in 1987 by Dr. John R. van Nagell Jr., professor of obstetrics and gynecology at the UK Markey Cancer Center, and his colleagues. The goal was to study whether transvaginal sonography (TVS) could be an effective means of early ovarian cancer detection.
Transvaginal sonography (TVS) is painless, radiation-free, and can be completed in less than 15 minutes. During the examination, a small vaginal probe is used to take a sonographic picture of the ovaries, and to measure ovarian volume. This procedure is able to detect ovarian tumors even when they are too small to be diagnosed during an annual gynecological examination.
"While regular pelvic examinations are important and can detect many other abnormalities, including cervical cancer, they are not effective in detecting ovarian cancer in its earliest and most treatable stages," van Nagell said. "Data from the University of Kentucky Ovarian Cancer Screening Program indicates that regular screening lowers stage at detection.  Also, the survival rate of women in this program whose ovarian cancer was detected by screening is significantly higher than that of women from the same geographic area who received the same treatment but who did not have screening."
So far, more than 241,000 free screening examinations have been provided to more than 41,000 Kentucky women, and women from every county in the state have participated in this program. Through the screenings, 558 ovarian tumors and 86 malignancies have been detected. Currently, screenings are being performed at seven locations throughout the state, including Lexington, Elizabethtown, Somerset, Prestonsburg, Maysville, Paducah and Greenup.
"As a National Cancer Institute-designated cancer center, part of Markey's mission is to care for Kentuckians across the state through leading-edge treatment protocols and research programs," said Dr. Mark Evers, director of the UK Markey Cancer Center. "The Ovarian Cancer Screening Program is a prime example of that, providing tens of thousands of women with free screenings for this deadly, difficult-to-detect cancer."
Initial funding for the program came from the Telford Foundation and the Kentucky Extension Homemakers, who have supported it by participating in regular screenings and donating $1 per member annually. Continued funding comes from the Kentucky state legislature and grants.
"All of us at the Ovarian Cancer Screening Program at the UK Markey Cancer Center greatly appreciate the support we have received for this extremely important program," van Nagell said.
The Ovarian Cancer Screening Program is open to women age 50 or older, or women over the age of 25 who have a family history of ovarian cancer. Screening is free. For more information, call (859) 323-4687 or (800) 766-8279.
MEDIA CONTACT: Allison Perry, (859) 323-2399 or allison.perry@uky.edu