Markey Patient Overcomes Aggressive Cancer Diagnosis, Inspires Hope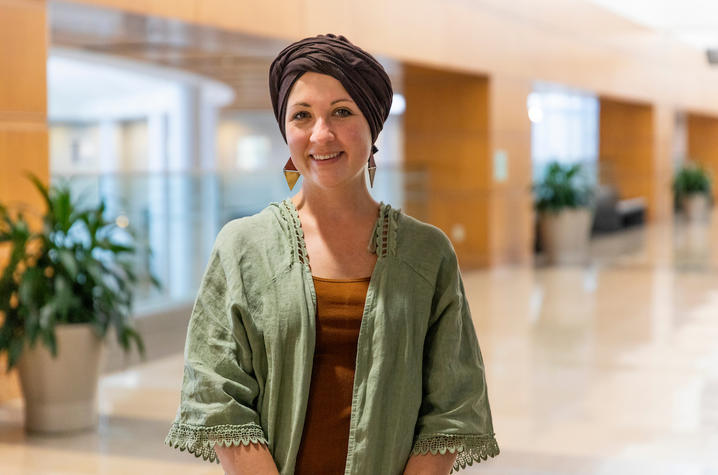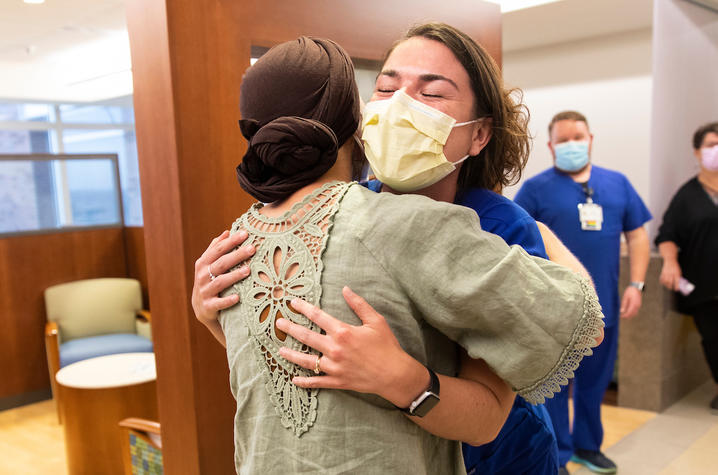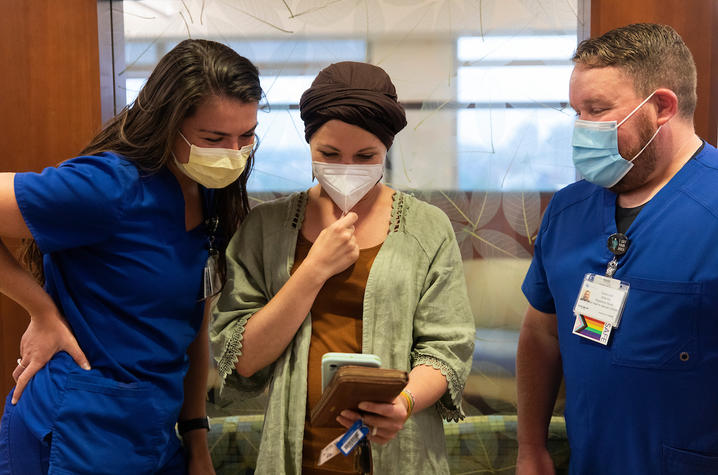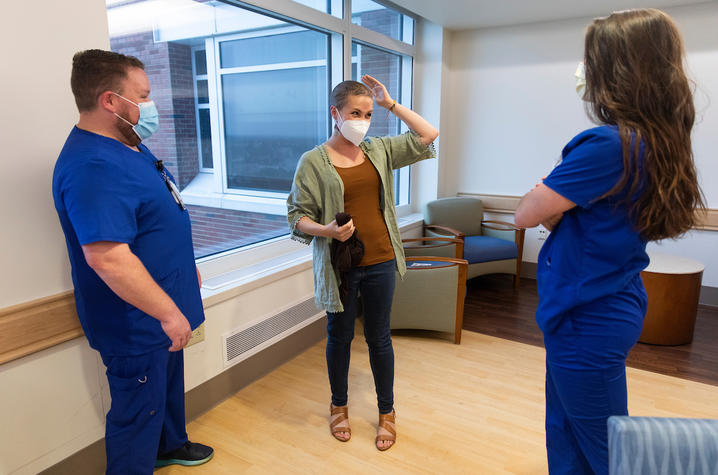 LEXINGTON, Ky. (June 29, 2022) — Katelyn McNamara is a petite, five-foot-two brunette with a certain warmth about her that — even behind a mask — you can feel her smile.
On this cloudy, unassuming day in early June, 31-year-old McNamara is full of giddy excitement as she anxiously awaits the elevator doors opening to the 11th floor of the University of Kentucky Albert B. Chandler Hospital — home to the UK Markey Cancer Center's inpatient units.
"Gosh, I just can't wait to see everyone," McNamara said.
As she exits the elevator and rounds the corner to the lobby, McNamara lets out a small squeal and skip-hops her way over to the group of people dressed in scrubs.
The emotion in the room is palpable.
"It is very weird being back here," McNamara said, holding back tears. "The last time I was here, I was in pretty rough shape."
About seven months ago, McNamara's life came to a grinding halt. Her dream of moving overseas with her new husband was instantly dashed with one word — cancer.
Germany-bound
In fall 2021, life was about to change dramatically for Katelyn and her new husband, Jonathan. Katelyn, a 2016 graduate from the Doctor of Physical Therapy Program in the UK College of Health Sciences, had recently finished her competitive residency in pediatric physical therapy at the University of North Carolina at Chapel Hill. Jonathan had accepted a teaching job with the U.S. military in Germany and the couple decided to make the move overseas. Katelyn was set to work as a pediatric PT in the school systems on the base.
Near the end of December 2021, the couple packed their bags, moved in with Jonathan's brother in North Carolina and started on a goodbye tour to bid farewell to their friends and family.
Katelyn had been feeling "off" since the start of the month, but she chalked it up to nerves with their impending move overseas.
"I had a hard time lying flat to sleep, I had arm pain. I really just thought it was anxiety," she said. "But it started to get worse just a few days before Christmas."
By then, she was having trouble swallowing, too.
Jonathan's brother, a physician, suggested Katelyn head straight to the emergency room. Having all of those symptoms at one time — and as a young woman — was concerning.
Expecting to be diagnosed with a pulmonary embolism, Katelyn said she would have never expected the words that came out of the doctor's mouth after reviewing her CT scan and chest echocardiogram.
"He said, 'Well, no pulmonary embolism, but it turns out you have a large mass in your chest. It is the size of a grapefruit,'" said Katelyn.
Less than two weeks away from their big move to Germany — with no car, no home, no jobs and no health insurance — Katelyn faced a scary, life-altering diagnosis: primary mediastinal large b-cell lymphoma (PMBCL). This type of lymphoma is rare and generally affects young women under the age of 35.
At the start of her cancer journey, Katelyn established a Caring Bridge journal, which she updates regularly for her network to stay in-the-know with her treatment. In one of her first posts, she wrote, "I have a large mass sitting behind my breastbone, rudely perched on my lungs and left atrium. WHAT AN A******."
Katelyn has a cunning wit that makes her all the more endearing.
"Needless to say, I found this all out in the ER after thinking I only had a PE or pericarditis," she said. "Nope. Just an ugly mass sitting in my chest, crushing my dreams — literally and figuratively."
The next few days/weeks happened fast. Katelyn and her husband decided to move back home into her parents' house, while she pursued treatment with the UK Markey Cancer Center.
"We could have stayed in North Carolina, but our community in Lexington immediately wrapped their arms around us and said, 'We'll figure this out. Just get back here and we'll take care of you,'" she said.
The nearly eight-hour drive back to Lexington was a grueling one for Katelyn.
"I felt so bad for my dad," she said. "I was crying in pain the entire ride. The pain in my arms alone was unbearable and medicine wasn't touching it."
Christmas in Kentucky
Katelyn was admitted to the 11th floor of UK Chandler Hospital on Christmas Eve of 2021.
A lot happened over the next 10 days. Instead of improving, hers condition became more dire, and her team of specialists felt it best to proceed with chemotherapy as soon as possible. But several other important conversations needed to happen first, and fast.
Katelyn's on-call oncologist, Chaitanya Iragavarapu, M.D., associate medical director of the UK Markey Cancer Center CAR T-Cell Therapy Program, urged her and Jonathan to discuss their options with a fertility specialist. However, finding a specialist available on a holiday proved to be a challenge.
"Dr. Chait did everything in his power to connect me with a fertility specialist," Katelyn said. "The doctors and nurses on the 11th floor were so caring and supportive of our conversations."
In the meantime, Katelyn could not eat and was in a lot of pain. Nurses also found blood clots along her PICC line, necessitating they pull it out and start over.
"I ebbed and flowed between this blood clot being a mole hill and a mountain all day long," Katelyn said. "But with the support of my medical team and my friends and family — and prayer — I was able to shift my perspective and mentally refocus. This was a small setback in the grand scheme of this fight."
Katelyn seized this opportunity to reclaim her positive spirit and forge ahead, focusing on celebrating the small victories, all while keeping her sense of humor intact. She even launched a tumor-naming contest.
"Oh, this was fun," Katelyn said, joking. "We ultimately decided on 'The Uncredible Bulk,' or TUB."
Taking down TUB
Gerhard Hildebrandt, M.D., division chief of the UK Markey Cancer Center Hematology and Blood & Marrow Transplantation program and Katelyn's oncologist, decided attacking this tumor aggressively was important.
"Dr. Hildebrandt was incredibly thorough, even reaching out to some of his colleagues in Italy," Katelyn said. "He told me that I have a really long life left to live and he wanted to make sure we get this and get it now."
Katelyn's cancer type, PMBCL, is very aggressive, but also very responsive to chemotherapy with a more than 90% cure/remission rate. She was placed on six different chemo therapies as part of her regimen.
"This treatment plan was very aggressive on me and my body," Katelyn said. "My team at Markey wanted to continue to be aggressive against this lymphoma, especially since tests early on suggested that it had already started to attack certain areas of my cervical spine. Their goal, and mine, was to cure this thing."
Katelyn was in and out of the hospital during her treatment — always right back to the 11th floor of UK Chandler Hospital. She is thankful those trips were always met with the familiar faces of kind and compassionate nurses, who she says made all the difference.
"Nurse Rachel was so sweet. Everyone knew that I took every chance to walk the halls," said Katelyn. "Rachel was working on a day that I wasn't allowed to leave the room because of my heart rate. I think she felt worse than I did breaking the news that I couldn't go for a walk."
Katelyn recalls one hospital stay in particular where her night nurse, Travis Gort, went above and beyond to make her family feel special.
In anticipation of losing her hair to chemo, Katelyn decided to trim it into a pixie cut. This decision was especially emotional for her mother.
"Travis got a chair and gown ready, setting up the whole room like a hair salon and my mom went to work cutting my hair," Katelyn said. "His kind gesture made an emotional experience into an unforgettable one and I will be forever grateful for the compassion he showed us."  
It was a pivotal moment.
For the next several months over the course of her treatment, Katelyn kept her friends and family updated on her cancer journey through her online journal. It became a space for reflection as she eloquently and — sometimes humorously — documented her experience.
The following is an excerpt she wrote the night her husband shaved the rest of her hair in mid-January.
"As he took off the remaining locks, I had both a mental and physical sensation of lightness. I had decided early on I would welcome the bald with open arms by dressing up in loud and bright colors. But it wasn't until I was sitting in the chair, feeling the air on my scalp that I experienced a sense of weightlessness. As strange as that might sound, embracing the bald helped me to embrace the loss. The loss of my job, the loss of the chance to go across the Pond for an altogether different kind of adventure, the loss of a home, my car, our stuff … the loss of control over anything happening in my body or life for that matter right now. But, as much as I'm experiencing loss, I'm also recognizing what I've gained: I've realized how much mental and emotional gunk I was carrying around before all this happened; in trying to hold on to control, I had become a hoarder of unhelpful and unproductive thoughts and emotions. With letting go, trusting God and just handing things over, I felt this incredible relief. I might feel physically heavy from TUB and this chemo business, but mentally and emotionally feel so much lighter."
Fast forward to June of 2022, Katelyn has successfully completed four rounds of chemotherapy and 15 radiation treatments. She is now officially in remission.
Life After Cancer
Katelyn and her husband are looking forward to their next steps, both taking new jobs in the Louisville area.
Katelyn also plans to give back to the community she loves by teaching a few lectures in the UK College of Health Sciences and UK College of Pharmacy this fall. Her experiences as a PT graduate and a cancer patient give her a unique insight that she hopes students will appreciate.
"It also helps me to talk and share my story," Katelyn said. "The more I share, the easier it is to process."
In the meantime, she plans to take it slow, though she looks forward to getting back to her previously active lifestyle. She celebrated remission with a 13-mile bike ride.
"I took my bike to the Legacy Trail on my own," Katelyn said. "I hadn't been on a bike ride since before the diagnosis and I just wanted a chance to be in my body and celebrate life: its ability to move and experience challenge in a positive way. A smile never left my face."
The Reunion
While it is important to celebrate a successful cancer treatment with friends and family, Katelyn finds it equally necessary to celebrate this milestone with those who helped bring her to the finish line.  
Fresh off of ringing the bell after her last radiation appointment — a major step in a cancer survivor's journey — Katelyn is anxious to show the video and her "happy dance" to her nurse friends on the 11th floor of the UK Chandler Hospital.
As she rounds the corner, emotions take over for everyone. Two of her favorite nurses — Rachel Vitel and Travis Gort — are there to greet her with open arms.
"Oh my gosh! You look amazing," said Vitel. "I think I'm going to cry."
"It is so good to see you," Gort said. "How are you doing?"
For about 30 minutes, McNamara, Vitel and Gort catch up on life — covering all of the important topics, like career changes and wedding plans.
"You guys mean the world to me," Katelyn tells them. "You truly made my cancer journey better, and I am forever grateful."
The reunion then takes a short detour to the nurse's station. Every familiar nurse that passes by expresses relief to see Katelyn healthy and echoes their appreciation for her contagious positivity. 
"Every time you walked into her room, no matter how bad she felt or how sick she was, she always had a smile and something positive and happy to say," said Gort. "Her positive attitude is, understandably, not something we experience often on a cancer floor. It truly made our heavy load a little easier to carry every day — and for that, we are grateful."
As the state's flagship, land-grant institution, the University of Kentucky exists to advance the Commonwealth. We do that by preparing the next generation of leaders — placing students at the heart of everything we do — and transforming the lives of Kentuckians through education, research and creative work, service and health care. We pride ourselves on being a catalyst for breakthroughs and a force for healing, a place where ingenuity unfolds. It's all made possible by our people — visionaries, disruptors and pioneers — who make up 200 academic programs, a $476.5 million research and development enterprise and a world-class medical center, all on one campus.   
In 2022, UK was ranked by Forbes as one of the "Best Employers for New Grads" and named a "Diversity Champion" by INSIGHT into Diversity, a testament to our commitment to advance Kentucky and create a community of belonging for everyone. While our mission looks different in many ways than it did in 1865, the vision of service to our Commonwealth and the world remains the same. We are the University for Kentucky.