Mays Receives American Public Health Association's Excellence in Health Administration Award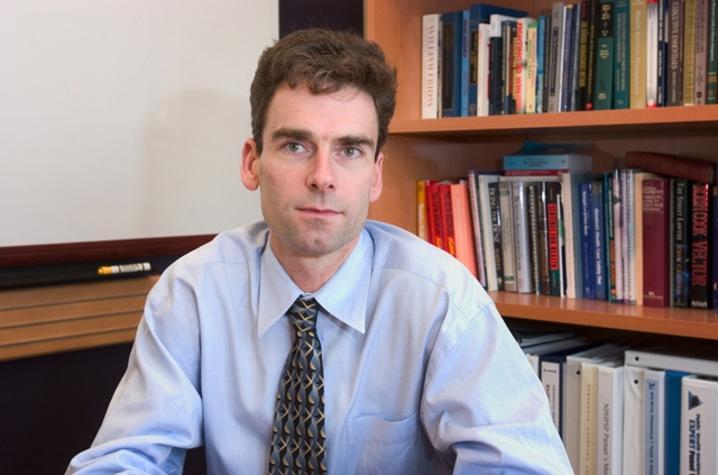 LEXINGTON, Ky. (Nov. 7, 2017) - Glen Mays, Scutchfield Endowed Professor in Health Services and Systems Research at the University of Kentucky College of Public Health's Department of Health Management and Policy, is recipient of the 2017 Health Administration Section Excellence in Health Administration Award from the American Public Health Association (APHA). The award recognizes "exceptional and sustained achievement and performance in public health administration, as evidenced by contributions in the fields of practice, science, research, teaching or writing" along with "demonstrated outstanding contributions of major significance to the practice of health administration."
Research by Mays focuses on delivery and financing systems for health care and public health services, with a special focus on estimating the health and economic effects of these efforts. He directs the Systems for Action Research Program, funded by the Robert Wood Johnson Foundation (RWJF), which test strategies for aligning delivery and financing systems for medical care, public health and social services in ways that improve population health. He is also the founding director of the National Public Health Practice-Based Research Networks (PBRN) Program, which brings together more than 2,000 state and local public health organizations from across the United States to conduct applied research on innovations in public health practice. As part of this work, he created and maintains the National Longitudinal Survey of Public Health Systems, which since 1998 has followed a nationally representative cohort of US communities to examine inter-organizational and inter-governmental approaches to public health delivery and financing. He also directs the national program office for the National Health Security Preparedness Index (NHSPI), created by the US Centers for Disease Control and Prevention (CDC) and supported by RWJF.
Mays also directs the Center for Public Health Systems and Services Research in the UK College of Public Health, and serves as associate director of the Center for Health Services Research based in the UK College of Medicine. He leads studies on topics that include prevention and public health delivery, health reform and insurance design, care coordination and management and community-based health care systems.
Outside UK, he serves on external advisory boards for the University of Pittsburgh, George Washington University, UNC-Chapel Hill and IUPUI. Mays serves on the U.S. Agency for Healthcare Research and Quality (AHRQ) standing study section on health care research and training, and is an ad-hoc member of NIH's Dissemination and Implementation Research in Health (DIRH) study section, and the Canadian Institute for Health Research's Strategy for Patient Oriented Research study section. He has chaired and served on federal scientific advisory committees for CDC, the Assistant Secretary for Preparedness and Response (ASPR), the Assistant Secretary for Planning and Evaluation (ASPE), and the U.S. Food and Drug Administration (FDA), and served on two National Academy of Medicine study committees
The award was presented on Nov. 7 during the American Public Health Association Annual Meeting in Atlanta.