Novel Intervention Helps Adolescents Dealing with Substance Abuse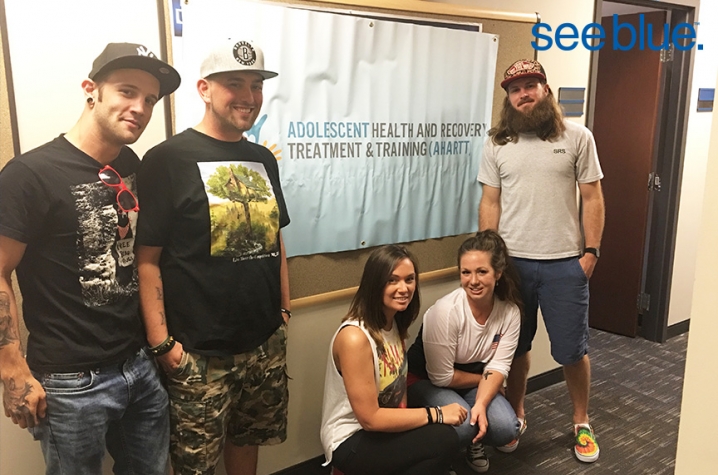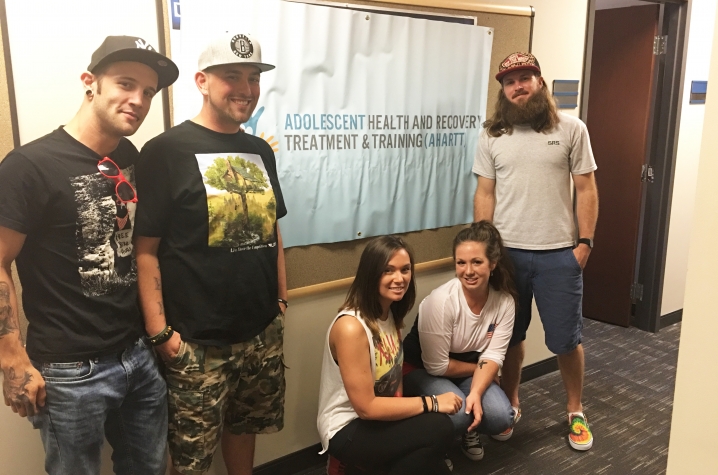 LEXINGTON, Ky. (July 21, 2016) – In Kentucky, substance use by adolescents, rates of tobacco use, binge drinking and use of other drugs are higher than the national average. More concerning is that early use of these substances can quickly lead to dependence and be an indicator of lifelong use. A unique University of Kentucky program is working to help adolescents during health and recovery from substance abuse by connecting them with someone who has been in their shoes. 
In 2014, the University of Kentucky Division of Child and Adolescent Psychiatry received funding from the state to develop a model clinic for adolescent substance use treatment, Adolescent Health and Recovery Treatment and Training (AHARTT). Part of the spectrum of treatment provided through this clinic includes Youth Peer Support Specialists. 
Supporters provide patients with a person to talk to through the recovery process. The main difference between Youth Peer Supporters and clinicians is the fact that supporters have "lived experience." Each supporter provides first-hand experience with both substance abuse and ongoing recovery. This experience allows the youth to more closely identify with their supporter, they understand that this person has been exactly where they have been.
This level of rapport is often unmatched by any other relationship they have encountered on their recovery journey.
Once substance use begins, it changes the biology of the brain and impacts life decisions. Specifically, more and more decisions revolve around the getting and using of the alcohol, tobacco and other drugs. Longer use makes biological and behavioral changes more entrenched. One change especially difficult for adolescents to deal with when beginning treatment is the feeling of hopelessness and alienation. It is easy for them to feel that no one can relate, understand or help them. Friends and family usually struggle as they are unfamiliar with the emotions and struggles the adolescent is experiencing They are also terrified by seeing the change in their friend or child and by what may lie ahead for them.
However, this is where the five Youth Peer Support Specialist in the model clinic can make a difference.  The "Supporters" — James Riggs, Kelli Fullenlove, Josh Roehrig, Aaron Pope and Brittany Poe — have all undergone rigorous training from the state of Kentucky and are certified to work with patients on a one-on-one basis. 
They receive careful supervision and are in close contact with the clinician caring for the adolescent. Their main objective is to "bridge the gap from the clinic to the community." When a youth enters treatment, a life altering process is about to take place. 
"It is important that the adolescent in recovery learns to change attitudes, values and coping skills," said Fullenlove. Pope states, "As peer supporters, we are able to show them, instead of tell them, exactly how to do this."
Riggs sees the Supporter's role as showing patients, "people can be cool without using." He also feels "it's our responsibility" to give back and help people who are still struggling. The stigma associated with mental illness, especially substance abuse, can be a deterrent that keeps people from seeking necessary treatment. The Supporters feel they are able "to be an avenue to recovery that bypasses this stigma."
The youth are able to share how they're feeling with the Supporters who, because of their lived experience, are able to empathize in a way others cannot. "We are an untapped resource for youth to enter the recovery community without having to deal with the associated stigma," Roehrig said.
Lisa Clark, AHARTT project director, hopes the youth peer support specialist portion of the clinic will expand. As a peer support specialist herself, she knows the value they add to the clinical setting. Clark hopes to add more specialists and accommodate a more diverse patient population by adding specialists who speak other languages, including Spanish. The team also hopes to see the inclusion of youth peer support specialists in other clinics, such as Adolescent Medicine, as well as in schools and hospitals.
Dr. Catherine Martin, director of the Division of Child and Adolescent Psychiatry and principal investigator of the AHARTT grant, believes that Peer Support Specialists are a cutting-edge advancement in the care of adolescents dealing with substance use. She has seen them step into difficult clinical situations and be the "life-preserver" that makes a key difference.
To learn more about the work being done to address substance use, listen to Dr. Catherine Martin on UK's Behind the Blue Podcast here.
MEDIA CONTACT: Olivia McCoy, olivia.mccoy1@uky.edu, (859) 257-1076
###
UK is the University for Kentucky. At UK, we are educating more students, treating more patients with complex illnesses and conducting more research and service than at any time in our 150-year history. To read more about the UK story and how you can support continued investment in your university and the Commonwealth, go to: uky.edu/uk4ky. #uk4ky #seeblue