Patient Overcomes Dental Fear to Achieve New Confidence and New Smile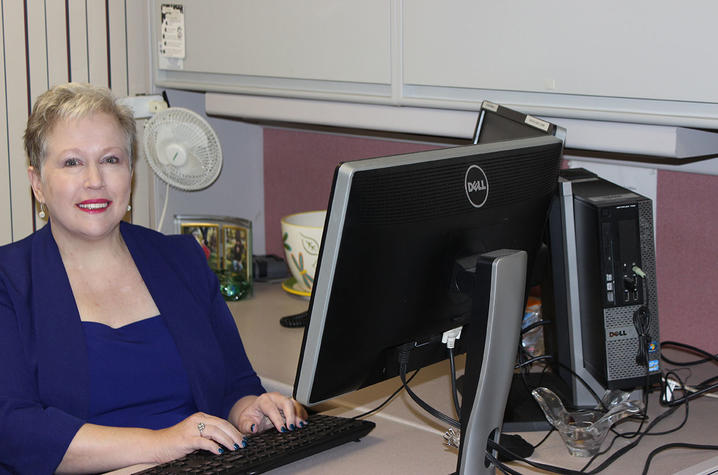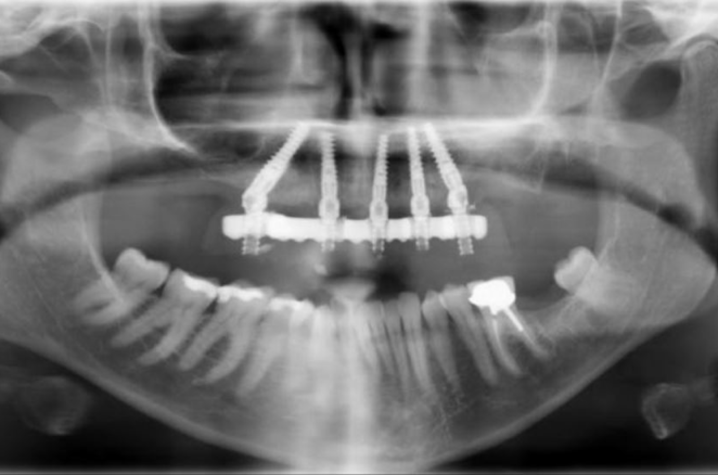 LEXINGTON, Ky. (Aug. 14, 2017) – For Andrea Crookston, taking photos used to mean hiding her smile. Fear and anxiety kept Crookston from going to the dentist every six months as recommended. Instead, she'd only go when the pain was too much for her to bear.
"I'd been in pain for a long time, but I was afraid of the dentist," she said. "The sound of the drill gives me cold chills." Unfortunately, this aversion to the dentist led to deterioration and many of Crookston's teeth breaking and needing to be extracted.
Crookston began seeing Dr. Ted Raybould, chief of the Division of Adult Dentistry at the University of Kentucky College of Dentistry, shortly after she began working at UK Good Samaritan Hospital. Eventually, Crookston reached a point where it became difficult to eat certain foods and hiding her smile was no longer a viable solution. She decided a healthy functional smile was a must and made a major commitment to her oral health. This commitment meant major treatment, either with dentures or implant rehabilitation.
A patient-centered team approach was the best way to help Crookston achieve a beautiful and healthy smile. Raybould enlisted the help of two of his colleagues at the University of Kentucky College of Dentistry, Dr. Steven Tucker and Dr. Wes Coffman. Tucker and Coffman utilized digital technology to create simulations of what Crookston's teeth could look like after procedures. Together, Drs. Raybould, Tucker and Coffman planned Crookston's procedure. They decided an All-on-4/All-on-X procedure would work best for her needs and help achieve the appearance they and the patient desired.
An All-on-4/All-on-X, also known as a full arch screw retained fixed hybrid bridge, uses four to six titanium dental implants to anchor the bridge to the upper or lower jaw. This provides a strong foundation for prosthetic teeth. This procedure makes a viable option for patients who have a transitional dentition. That's when a patient is at the point of losing all or so many of their teeth that they will need complete or partial dentures or have extensive wear on their teeth and need to have their bite reconstructed with extensive crowns or multiple implants. The All-on-4 procedure isn't one all oral surgeons know how to perform, but thanks to the education Coffman is providing not only to his colleagues but to UK College of Dentistry students, more providers in Kentucky are being prepared to offer it to their patients.
For Crookston, the doctors decided that an All-on-5 worked as the best option because, according to Raybould, "fillings would not have corrected the advanced breakdown of her remaining natural teeth." An additional reason this procedure works well for patients in need of extensive work includes it being more cost effective and that it takes place in a single session. Unlike the previously used staged procedure for implants, which require months of healing between extractions, placement of the post and fitting of the crown, the All-on-4 is done in one session and requires a shorter recovery time before teeth are able to be used for eating. For Crookston, this was the best option as it helped her avoid multiple trips to the dentist which reduced stress and days off work.
"I look better and feel better. You don't realize what you're missing out on" Crookston said. A few months after having her upper teeth fixed bridge procedure, Crookston is feeling much better and is happier to take photographs. She said, "I don't have to cover my teeth when I smile anymore." Though not all of her anxieties about going to the dentist have subsided she will admit one thing, "They (Drs. Raybould, Tucker and Coffman) knew best and everything is fine now because I listened."