PGA Golfers, UK Athletes Tee Off with KCH Patients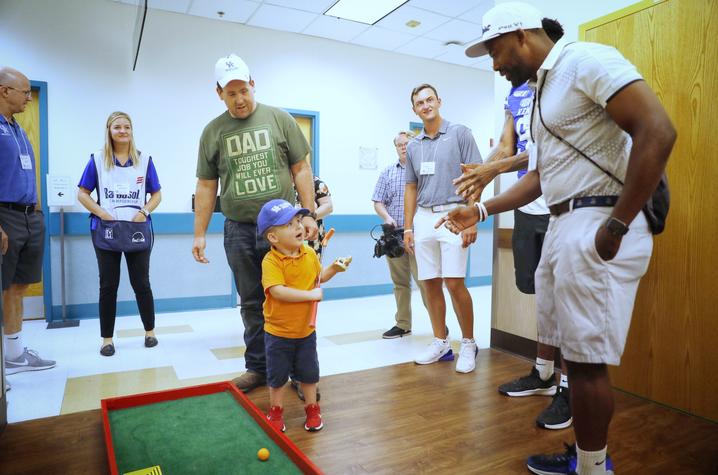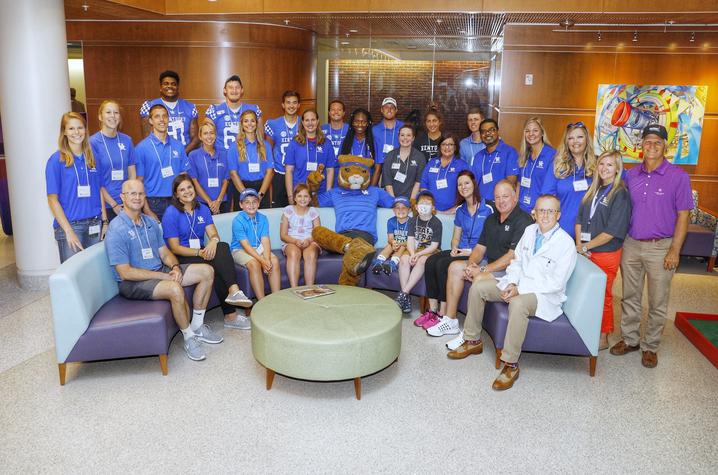 LEXINGTON, Ky (July 18, 2019) – In the spirit of the PGA Barbasol Championship being held this week at Keene Trace Golf Course in nearby Nicholasville, young patients played their way through a nine-hole course at Kentucky Children's Hospital.           
PGA golfers Troy Merritt, Lukas Euler and Stephen Stallings with caddie Wayne Birch joined University of Kentucky football coach Mark Stoops and players Landon Young, Matt Ruffolo, Grant McKinniss and Calvin Taylor on the zoo-themed course. UK golf team members Matt Liston and Fred Meyer gave putting tips to young patients, while UK volleyball coach Craig Skinner, player Kylie Schmaltz and the UK mascot cheered them on.
"Our players do a great job getting out there and getting involved in the community," said Stoops. "The children's hospital is very dear to me and my family, so it's great to be a part of this, and I'm really proud of our players."
Assisted by a volunteer "caddy," the young golfers started in the KCH lobby before moving to the corridors and playrooms in the inpatient unit. At each hole, they were coached by PGA players and UK student-athletes. While some liberties were taken with the rules, every player got a round of applause when sinking their putt, no matter how many strokes were needed.
Competition on the course was fierce, but friendly. Wildcat the UK mascot was on hand for high-fives and hugs every time a patient sunk a putt, and he even challenged 2018 Barbasol Champion Troy Merritt to a few holes.
Did the reigning champion have any tips for these first-time golfers? "Just have fun, smile and don't take it too seriously," said Merritt. "We tend to take things more seriously as professionals and we forget sometimes it's just a game. That's first and foremost; golf is just a game, and have fun."
PGA golfer and UK alum Lukas Euler was on hand to offer tips on hole #4, one of the trickiest on the course.
"We're trying to aim at the left wall, and if you hit it there, it's going to ricochet," said Euler. "We had one patient come through who did it in three strokes, and that was really impressive."
UK HealthCare has been named one of the official sponsors of the Barbasol PGA Championship being held July 18-21 at Champions at Keene Trace in Nicholasville. The tournament will be broadcast live each day on Golf Channel and one of only 45 regular-season tournaments before the FedEx Cup Playoffs. PGA Tour events generated more than $180 million for charities in 2017 and have now raised an all-time total of $2.65 billion for charity. Kentucky Children's Hospital is a featured charity of the tournament.
"We're excited the PGA golfers and Coach Stoops came out again to join our patients in a round of mini golf," said Dr. Scottie Day, physician-in-chief for KCH. "To be one of the benefiting charities of the Barbasol Tournament is a great honor, and we're grateful for their commitment to serving the children of our community."