Physical Therapy Students Open Free Clinic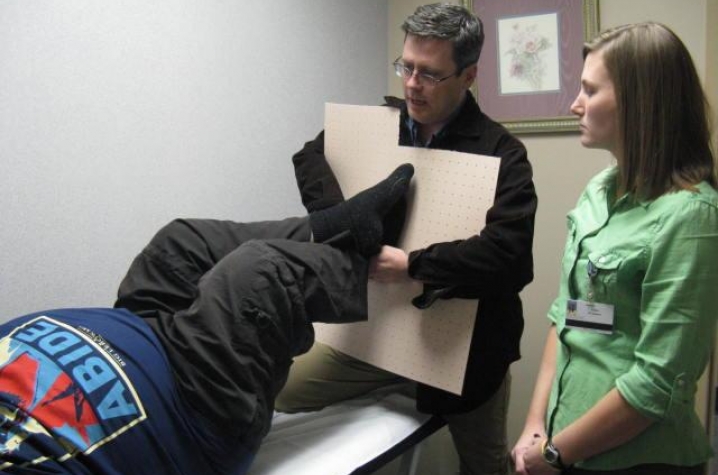 LEXINGTON, KY. (Feb. 16, 2011) − Physical Therapy students and faculty at the University of Kentucky College of Health Sciences recently moved their physical therapy clinic from the Salvation Army Hangar Lodge on Main Street to the UK HealthCare Good Samaritan Physical Therapy Center - located across the street from  Samaritan Hospital. Samaritan's Touch, UK's student-run physical therapy clinic is open at the new location from 5:30 - 8 p.m. on Tuesdays and Thursdays.
 
"The UK Physical Therapy program is grateful for the collaboration offered by UK HealthCare Samaritan colleagues Kevin Surrett, rehabilitation director, Stephanie Caudill, physical therapist and Mark Armstrong, chief operating officer," said Lynn English, associate professor and director of Clinical Education for the UK Physical Therapy program. "Uninsured and underinsured people in the community have already begun to benefit from their generosity in sharing space in order to expand physical therapy services previously provided in collaboration with the Salvation Army. UK Physical Therapy students are also benefitting from an experience involving altruism and service as their skills and knowledge expand."
 
The UK Student Physical Therapy Clinic will care for people with health conditions affecting the musculoskeletal system (movement problems, pain due to illness, injury or post-surgery) neuromuscular system or cardiovascular/pulmonary system, and provide interventions such as manual therapy, individualized therapeutic exercise instruction, modalities for reduction in pain, client education, gait training, balance training and fall prevention. Appointments, required, may be made by calling (859) 218-0544 and clients may self-refer or be referred by a healthcare provider.   
"We at UK Good Samaritan Hospital and the Rehabilitation Department are excited to have the opportunity to collaborate with the UK Student Physical Therapy Clinic," said Kevin Surrett, rehabilitation director at UK HealthCare Samaritan Hospital.  "It is an opportunity to assist the Physical Therapy students in their professional development and at the same time provide a needed service within our community." 
 
A group of 20 physical therapy students operate the clinic and work in rotation, with three students providing care each evening under the supervision of one student leader and one faculty member.

"I am very thankful for UK HealthCare Good Samaritan providing us with clinic space and an opportunity to serve uninsured and underinsured individuals in the community," said Tiffany Fergason, second year physical therapy student. "This experience has allowed my colleagues and me to develop professionally while providing a service to those in need." 

The Physical Therapy program at UK has been educating physical therapists since 1967. The program is conducted at the Lexington, Kentucky campus and at the Center for Excellence in Rural Health in Hazard, Kentucky. The program was fully accredited from the Commission on Accreditation in Physical Therapy Education (CAPTE) in 2004.