Rosenberg Named 2012 Advocate of the Year at Smoke-free Policy Conference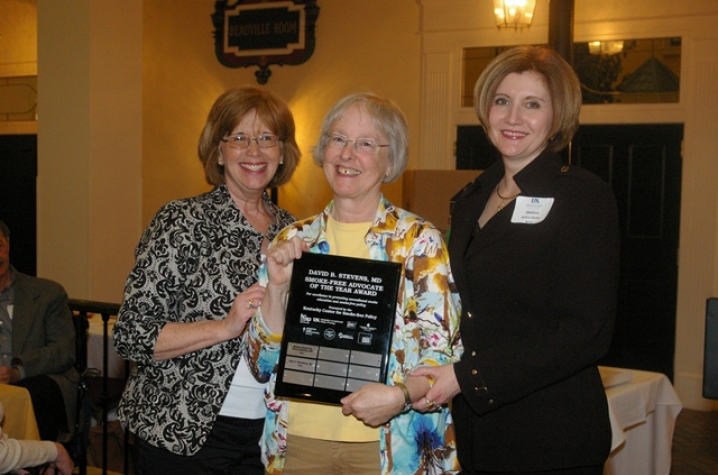 LEXINGTON, Ky. (April 24, 2012) – Floyd County health advocate Jean V. Rosenberg, Floyd County Health Department, was honored as the 2012 David B. Stevens, M.D. Smoke-free Advocate of the Year at the annual Spring Conference hosted by University of Kentucky's Kentucky Center for Smoke-free Policy on April 11 at the Doubletree Suites in Lexington.
 
The advocate of the year is recognized for excellence in promoting secondhand smoke education and smoke-free policy.
 
In 2005, Rosenberg began working part-time for the Floyd County Health Department as a Program Specialist to increase awareness of the dangers of secondhand smoke (SHS). During that time she established the Breathe Easy Floyd County Coalition. This group of local community members actively works to provide education on the effects of SHS exposure and visibly supports local smoke-free initiatives.
 
On Nov. 1, 2009, the city of Prestonsburg implemented a 100 percent comprehensive smoke-free ordinance covering all workplaces and enclosed public places. Rosenberg served at the helm of local efforts that propelled the law forward.
 
Rosenberg has lived in Floyd County with her husband, John, and children, Michael and Ann, since the early 1970s. She received a BA from Earlham College and a nursing degree from Prestonsburg Community College.  Known for being tenacious but widely respected, she has been active in local advocacy efforts including founding the Floyd County Meals on Wheels program, establishing childbirth preparation classes, and supporting a number of educational initiatives. 
About KSCP
The Kentucky Center for Smoke-free Policy provides rural and urban communities across Kentucky with science-based strategies for advancing smoke-free policies and educating citizens and policymakers about the importance of smoke-free environments.
As of April 1, 2012, 34 Kentucky communities had enacted smoke-free ordinances or Board of Health regulations, and 22 of those are comprehensive, covering all workplaces including restaurants and bars. Overall, 34 percent of Kentuckians are protected by comprehensive smoke-free workplaces laws. For more information about smoke-free ordinances and regulations in Kentucky, visit the Kentucky Center Smoke-free Policy at www.kcsp.uky.edu.
Media Contact: Ann Blackford at (859)323-6442 or ann.blackford@uky.edu