Sadler Finds Perfect Balance Between Dance and Dentistry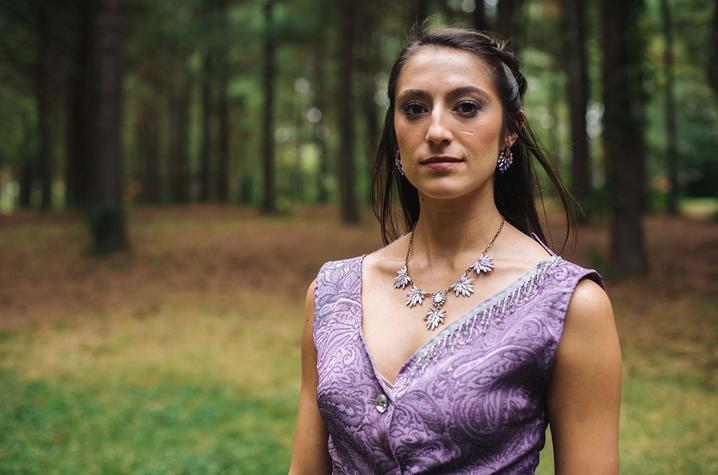 LEXINGTON, Ky. (Oct. 19, 2017) — On the surface, the art of dance and the art of dentistry might seem to be of two completely different worlds. However, if you take a closer look, you'll notice that both are rooted in technique and emphasize focus in execution. For third-year University of Kentucky College of Dentistry student Danielle Sadler, dance and dentistry actually go hand in hand.
Sadler began dancing when she was just three years old. Throughout her lifetime, she has gained familiarity with nearly every aspect of the field. She danced competitively for 10 years at G. Scotten Talent Center in her hometown of Fishers, Indiana. Upon entering undergrad, she joined Miami University Dance Theatre, where she remained a member for four years. Sadler now serves as a guest choreographer for both companies during the summer.
Initially, Sadler thought moving to Lexington for dental school meant her passion for dance would have to take a backseat. That is, until she was invited to watch a friend perform when she took the night off from studying. This was when Ashley Roberts, a UK graduate and lifelong friend of Sadler, introduced her to Movement Continuum.
"Once I got to dental school, I couldn't imagine not dancing anymore," Sadler said, "so finding this company was a true blessing to enable me to continue my passion."
Joining the Movement Continuum family in January 2016, Sadler has found the perfect balance between her passion for dance and her dedication to dentistry. She described the mutually beneficial relationship between the two, saying:
"Dance has made me more aware of my time management. Dancing for several hours multiple times a week adds up when you're in dental school, so if I know I have to go to dance, I create a set schedule that makes me get my work done at a certain time. Dental school puts on a different kind of stress that requires us all to have a moment that isn't school related — dance is that for me. I appreciate dance more because it's my outlet from the demands of classes, clinic sessions, lab work and studying."
Executive Director Kate Hadfield-Antonetti describes Sadler as a "dedicated and stunningly talented" addition to Movement Continuum, and highlights how calmly she balances her commitments.
"She never seems to allow any of her stresses to overlap and become a detriment to her work as an artist in Movement Continuum, or her studies towards her future career as a dentist," Hadfield-Antonetti said.
Sadler is currently preparing for her role as Sleeping Beauty in "Ever After" — Movement Continuum's biggest and most elaborate production to date. "Ever After" reimagines four of Grimms' most famous fairytales with many unexpected twists. Not only is Sadler performing in nearly 20 of the 58 pieces of original choreography in the production, she even created one of them herself.
Dancing and dentistry have even allowed Sadler to fall in love with Lexington. After completing dental school, she plans on working alongside another dentist before starting her own private practice.
"Now that I've built that family at Movement Continuum, I don't want to leave here. I love dentistry, and I also love dance. Having the opportunity to do both is a blessing."