Smoking, Vaping Increase Risk of COVID Complications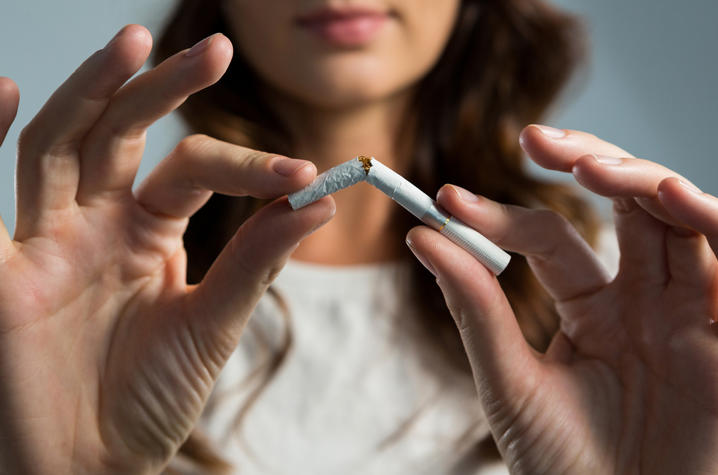 LEXINGTON, KY. (July 28, 2020) — Though studies are still ongoing, more is known about the risks of smoking and COVID-19. Early reports found people sickened with COVID-19 had worse outcomes if they smoked. Recent studies have found that people who smoke have double the risk of severe infection compared to those who do not smoke.
Smoking and vaping:
Causes damage to the lung's natural defenses against invasive bacteria and viruses.
Exposes users to chemicals that weaken the immune system and limit the body's ability to fight off infection.
Increases the risk of heart and lung disease, conditions which increase the risk of severe complications from COVID-19.
The hand-to-mouth action of smoking and vaping can increase the risk of exposure to bacteria and viruses. Smoking one pack a day results in around 300 hand-mouth contacts. Smoking and vaping also decrease mask-wearing time, limiting protection from virus exposure.
For students, University Health Services provides smoking cessation support and access to nicotine replacement products at no charge. Employees and their sponsored dependents can make an appointment with a tobacco treatment specialist at UK Health and Wellness for support for quitting smoking and vaping. A tobacco treatment specialist can provide guidance about cessation medications, such as nicotine replacement products which can make the process easier and success more likely. Only four to five out of 100 people who try to quit on their own succeed.
The University of Kentucky, a healthy place to live, work and learn, is committed to promoting health and helping employees and their families, students and the community avoid using tobacco. Quitting smoking and vaping can clearly reduce risk to both tobacco users and those who are exposed to tobacco smoke and vaping aerosol. Quitting can feel like a challenge, particularly during a stressful time. UHS and UK Health and Wellness are here to help.