Smyth Named Chief of Cardiovascular Medicine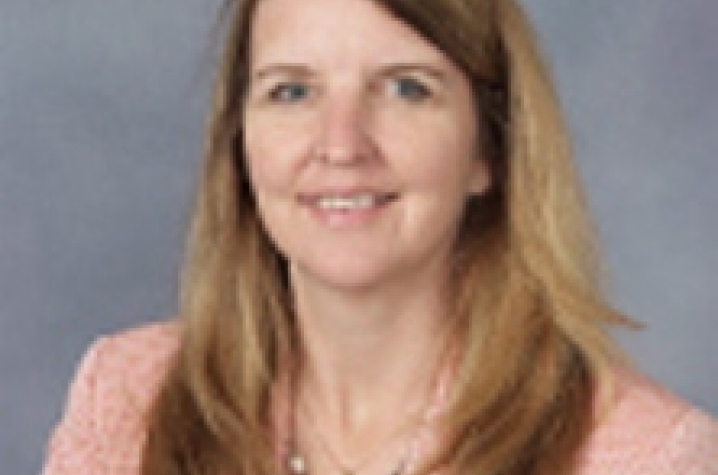 Lexington, Ky. (Sept. 9, 2011) —  Dr. Susan Smyth has been named the new Chief of Cardiovascular Medicine within the University of Kentucky College of Medicine's Division of Internal Medicine, effective Sept. 1, 2011.
Smyth, who holds a doctorate in pharmacology and a medical degree, both from the University of North Carolina at Chapel Hill, came to UK in 2006. Smyth is a tenured professor in the Division of Cardiovascular Medicine, a joint appointee to the Departments of Physiology, Behavioral Sciences and Molecular and Biomedical Pharmacology, and a core faculty member of the Saha Cardiovascular Research Center. She is also a Summa cum Laude graduate of Mount Holyoke College.
At UK, Smyth also directs the M.D./Ph.D. program and a cardiovascular research training program for fellows. She is the co-director of education and training programs for the UK Center for Clinical and Translational Science (CCTS), and chairs the research and developmental committee for the Lexington Veterans Affairs Medical Center. Smyth also serves as an attending physician at the Lexington VA, UK Chandler Hospital and UK Good Samaritan Hospital.
In addition to her clinical and administrative activities, Smyth has taught several classes in the UK College of Medicine, and mentored many junior faculty, postdoctoral fellows, graduate students, medical students and undergraduates.
Smyth is a member of the leadership committee for the ATVB (Arteriosclerosis, Thrombosis and Vascular Biology) Council of the American Heart Association, a member of the American Society of Clinical Investigation, a fellow of the American Heart Association and a fellow of the American College of Cardiology. She has received numerous awards and honors, including the Steweart-Niewiarowski Award in Vascular Biology, the Physician Scientist Award from Pfizer, the Young Investigator Award from GlaxoSmithKline and the Medical Alumni Endowment Award from UNC-Chapel Hill.
She serves on the editorial and review boards of major medical publications including: Journal of Thrombosis and Thrombolysis; Current Drug Targets; Arteriosclerosis, Thrombosis and Vascular Biology; and Clinical Science. She serves as an ad hoc reviewer for many major publications in the fields of cardiology, cellular biology and pharmacology. She has contributed to numerous peer-reviewed articles, viewable on PubMed.
Prior to coming to UK, Smyth served as an assistant professor in the Department of Medicine, Division of Cardiology, at UNC-Chapel Hill.
Smyth will take the reigns of the cardiovascular division from former chief Dr. David Moliterno, who now serves as chair of the Department of Internal Medicine.
"I have strongest confidence that Susan will not only continue to grow the division in all aspects, but that she will also accelerate its rate of growth and productivity beyond current levels. Susan is outstanding in all respects, and we are very fortunate to have her accept this role," said Moliterno.