Treatment for rare neuromuscular disorder helps preschooler thrive and inspire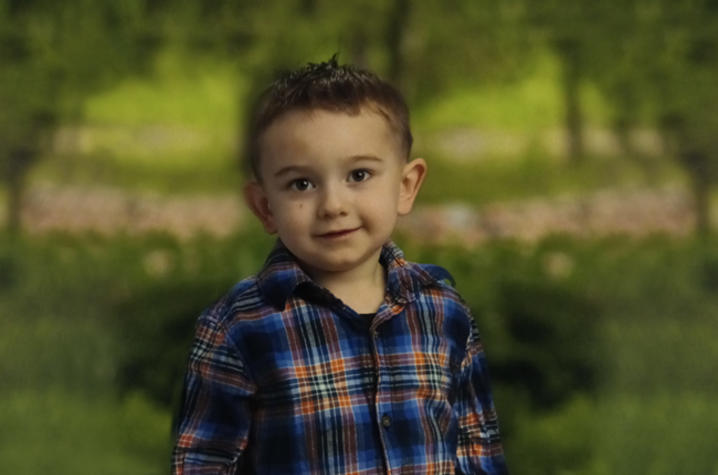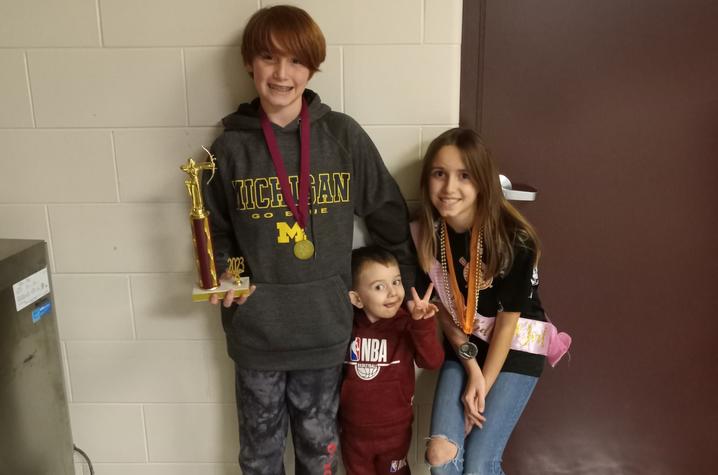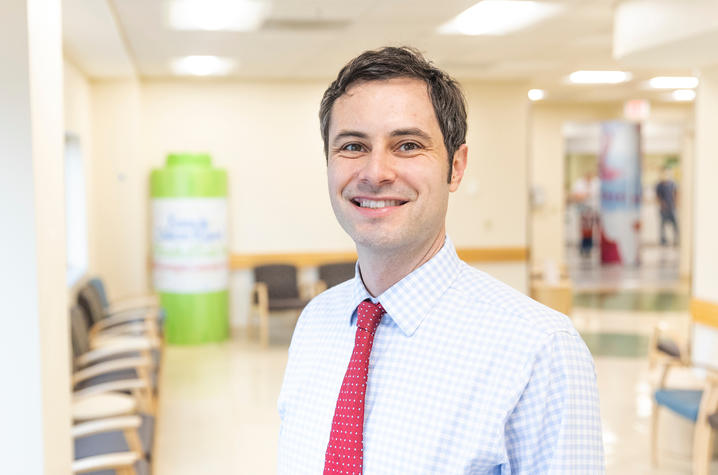 LEXINGTON, Ky. (June 7, 2023) — By all accounts, 3-year-old Granger Smith is a typical preschooler. He loves dinosaurs and being outside, and he's his older siblings' biggest fan.
"He loves his evenings at the ball fields," said his mom, Heather Smith.
This past year, Granger successfully finished up his first year of preschool, where he quickly made friends and adored his teachers and aides. These are big achievements for any toddler, but especially for Granger.
"We still get emotional when we see him doing things that we were told might never happen," said Smith.
The Smith family's world was turned upside down in the fall of 2019. Just days after the flood of emotions of welcoming their third child into the world, they received a phone call from their pediatrician urging them to head to the emergency department at the Univeristy of Kentucky Albert B. Chandler Hospital.
The family made the two-hour drive from their home in Greenup County to Lexington. During the drive, they tried to process the news: their seemingly perfect baby boy had abnormal results on his newborn screening for spinal muscular atrophy (SMA). SMA causes weakness of muscles due to cells dying in the spinal cord. The cells die because they do not make a necessary protein. This disease is the number one genetic cause of infant death, despite it being considered rare.
SMA is a progressive disease, and unfortunately there are not many treatment options. David Neil Toupin, M.D., a child neurologist at Kentucky Children's Hospital, says the newborn screening for SMA, which Granger received due to a change in state regulations just shortly before his birth, plus the urgency of his family to get to UK are critical pieces to his story.
"Early detection is extremely important. It is the most important thing, really," Toupin said. "The treatments can preserve the health of the cells of the spinal cord, but if those cells are already dead, they cannot be brought back."
"When you receive a life-changing diagnosis for your child, you can only hope that the outcome could be as great as it has been for Granger," said Smith.
In December of 2019, at only six weeks old, Granger became the first child to receive a brand-new treatment known as Zolgensma at UK HealthCare. The gene therapy had just been approved by the U.S. Food and Drug Administration (FDA) months earlier.
"He still had a lot of those cells alive to be saved," said Dr. Toupin. There were certainly still hurdles as far as insurance coverage and logistics of getting the treatment to Granger since it was so new at the time, but still the family and team at UK HealthCare were all determined to move as quickly as possible.
"It is not a situation that I would want anyone to go through, but it is something that we had to push through for our child," said Smith. "We had to be strong for him. He needed to see his parents would do anything for him."
Since Granger received his infusion, seven other newborns have received Zolgensma at UK HealthCare. Toupin has walked through the process with each of these families.
"It is a heart-wrenching experience," he said. "Even if you know what SMA is ahead of time, it is still a whirlwind. And for those who do not know what SMA is, it is a complete shock followed by a rapid series of events to try to save their child. It is not easy."
The collaboration that exists at an academic medical center like UK is invaluable as Toupin and others help families navigate the diagnosis and treatment options.
"It requires frequent education and a team approach," said Toupin. "There are so many people involved. From genetics, neurology, infusion nurses, therapists, laboratory services, and pharmacy. We are one big team for these kids."
As Toupin and the rest of the team at UK work each day to help kids and families like Granger's, they pull inspiration from their first patient to take this journey.
"Everybody was in shock the first time they saw Granger in clinic. Every time we see him back, we continue to be amazed," said Toupin. "He is writing his own story and we are all just following along at this point. It is an outstanding experience for us as providers to be able to see, given what this disease used to be like before the treatment. Previously, most of these babies died. They didn't achieve motor milestones anywhere close to what Granger is doing."
The active toddler has a full schedule of appointments each week with various therapists. The work is all standard for someone like Granger and is important as he develops for his providers to watch for any signs of weakness.
"We want to make sure kids continue to gain skills. Fortunately, with the treatment, as we see with Granger, kids are doing well. But we still have to be cautious because this is still relatively new," said Toupin. "We don't know exactly what long-term looks for them. We want to make sure kids don't start losing skills, because there are other treatments we can potentially offer them."
The frequent monitoring of progress or setbacks is another reason Toupin says being at a multidisciplinary center is huge. "When I see Granger in clinic, I see him with physical, occupational, and speech therapists simultaneously. That allows us to get a comprehensive view of him and where he is," said Toupin.
Thinking back to when they first received the SMA diagnosis, Heather Smith says in that moment, they had no idea where their lives were going or what it all would look like today. While each day is busy juggling all the various appointments and activities for their family, she says they are thankful for each chapter they have lived through.
"We now always remember to stop and appreciate the little things in life," said Smith.
Just as his story that is still being written provides motivation for his providers, other families going through a similar situation also pull inspiration from Granger – and his parents.
"They have been so supportive of our other families, and it is helpful for them to know there is a community of people who have gone through the same thing," said Toupin.
Smith says their message to other families is to get treatment as soon as possible and to be their child's biggest advocate.
"These treatments can't reverse the damage already done, but they can certainly stop it from progressing," said Smith. The proof is in each step she watches her son take and each milestone he meets.
"We still don't know what the future holds for him and there are a lot of what ifs, but we do know we enjoy every day and every new first we have with him," said Smith. "We would not be where we are today without Dr. Robertson and Dr. Toupin and all the people at UK that have helped us along the way. Granger has been very blessed with the neurology team he has on his side."
UK HealthCare is the hospitals and clinics of the University of Kentucky. But it is so much more. It is more than 10,000 dedicated health care professionals committed to providing advanced subspecialty care for the most critically injured and ill patients from the Commonwealth and beyond. It also is the home of the state's only National Cancer Institute (NCI)-designated cancer center, a Level IV Neonatal Intensive Care Unit that cares for the tiniest and sickest newborns, the region's only Level 1 trauma center and Kentucky's top hospital ranked by U.S. News & World Report.  
As an academic research institution, we are continuously pursuing the next generation of cures, treatments, protocols and policies. Our discoveries have the potential to change what's medically possible within our lifetimes. Our educators and thought leaders are transforming the health care landscape as our six health professions colleges teach the next generation of doctors, nurses, pharmacists and other health care professionals, spreading the highest standards of care. UK HealthCare is the power of advanced medicine committed to creating a healthier Kentucky, now and for generations to come.