UK Dentistry Supports Infant Cleft Care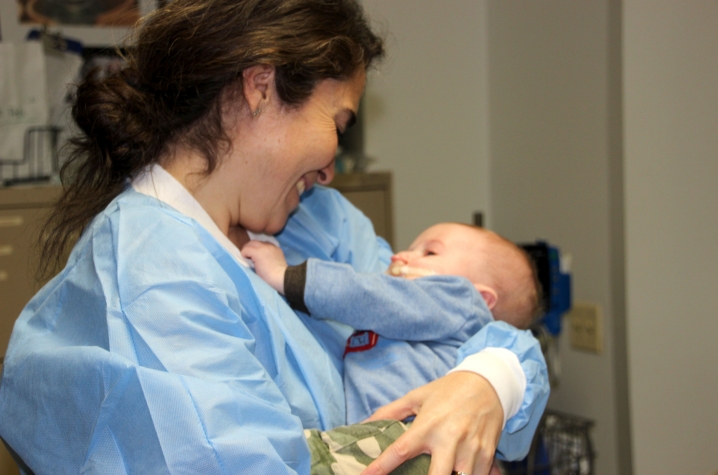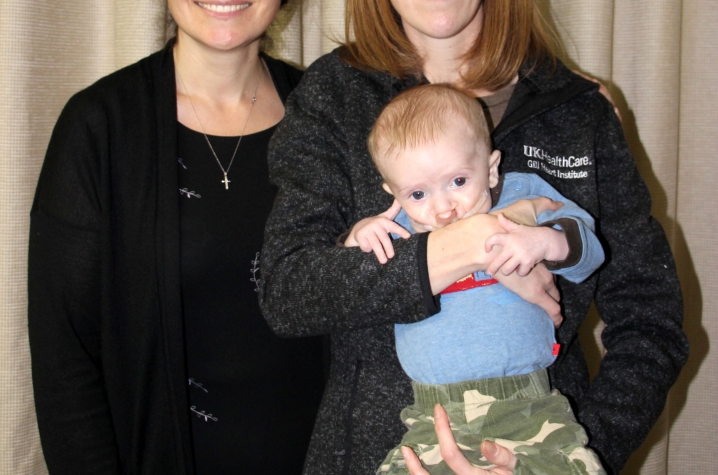 LEXINGTON, Ky. (May 18, 2016) – During a routine 20 week prenatal checkup, Stacey and Brock Westlund learned their baby, Jensen, would be born with a cleft lip, a condition where tissue that makes up the lip and roof of the mouth (palate) doesn't join completely during pregnancy and a baby will be born with an opening in the lip and roof of mouth, known as a cleft lip, palate or oral cleft.
In the United States, nearly 6,800 babies are born with oral clefts each year. In most cases, the condition requires surgery to avoid long-term complications. Following the news, the Westlunds began searching for options to help Jensen once he arrived. Their search led them to Dr. Cristina Perez, assistant professor in pediatric dentistry at UK Dentistry.
Originally from Utah, the Westlunds and their two children moved to Kentucky in 2012. Both work at the University of Kentucky — Stacey as a cardiac sonographer at Gill Heart Institute and Brock as a resident in medical physics at the Markey Cancer Center. Although their first two children were born without oral clefts, Stacey is not a stranger to the condition as she was born with a cleft lip and palate.
"In my hours upon hours of research regarding clefts and the means by which optimal results are obtained during repair, I spent a lot of time focusing on Nasoalveolar Molding (NAM)," she said. "With NAM use, some babies are able to avoid the most difficult surgery which is the bone graft. And from my memories of that particular surgery, it would have been nice to have bypassed it."
NAM treatment involves creating a specially fitted molding device for infants to wear in their mouths in the months preceding surgery. The dentist then sees their NAM patient weekly to make adjustments to the molding device. Upon learning about NAM, Stacey began searching for an area dentist experienced in the treatment. Her search led her to the UK HealthCare blog – A Passion for Cleft Care hosted by Dr. James Liau, UK pediatric plastic surgeon. From there, Liau connected Stacey with Dr. Perez.
"Dr. Liau and I both attend clinics involving cleft care held by the Commission for Children with Special Health Care Needs. At his suggestion, I looked into becoming trained to offer NAM treatment to help babies with cleft conditions," said Perez. "The work is challenging as my patients are too young to understand, cooperate, or tell me where it hurts. Seeing the progress babies like Jensen make each week has been very rewarding. I'm glad I can make their next steps easier, as well as expose our pediatric dental residents to this type of treatment."  
When asked if her medical background has helped to make treatment easier, Stacey said, "nothing can prepare a person for the NAM…every cleft is different and every child reacts to it differently. I knew from everything that I had read…NAM would be a commitment…time consuming. In all honesty, any concerns or hesitations that should have surfaced were overshadowed by the determination."
"Dr. Perez is outstanding…She loves what she does and I know that she loves little J," said Stacey. "She has been so supportive and accommodating…We have a love-hate relationship with what we call "NAMY," more love than hate because it has been a blessing for Jensen."
UK is the University for Kentucky. At UK, we are educating more students, treating more patients with complex illnesses and conducting more research and service than at any time in our 150-year history. To read more about the UK story and how you can support continued investment in your university and the Commonwealth, go to: uky.edu/uk4ky. #uk4ky #seeblue
Media Contact: Olivia McCoy, olivia.mccoy1@uky.edu, 859-257-1076