UK Nursing Faculty Honored for Devotion to Teaching and Practice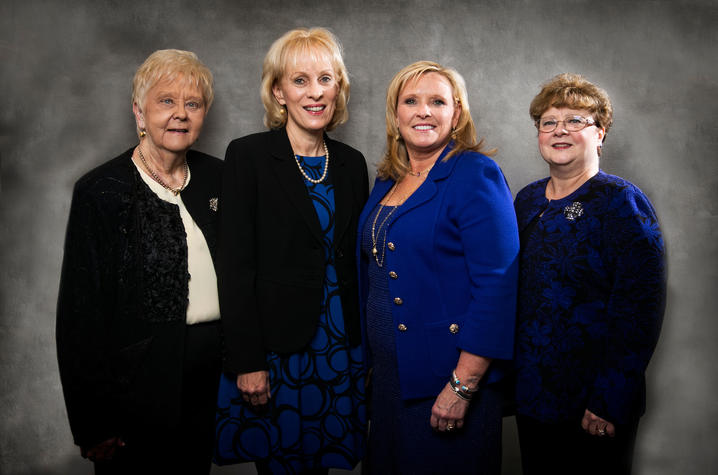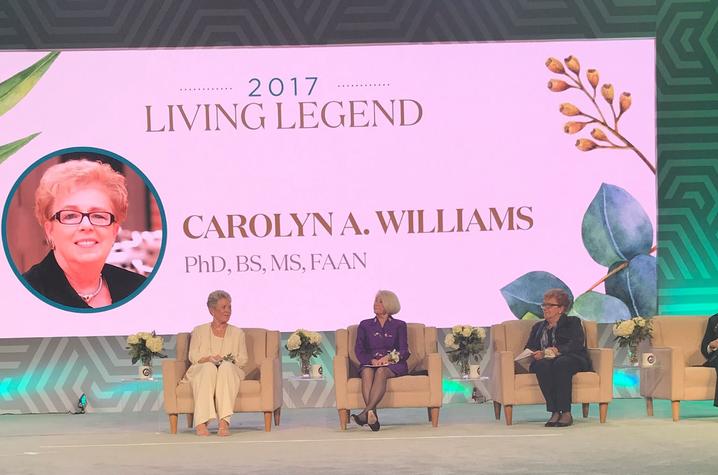 LEXINGTON, Ky. (Nov. 20, 2017) — Current and retired faculty members in the University of Kentucky College of Nursing have been honored by a number of organizations for their work in the fields of teaching and health care.
Carolyn Williams, dean emeritus of the UK College of Nursing and former president of the American Academy of Nursing, was one of five nurse leaders to receive the Academy's designation of Living Legend, the organization's highest honor, at a special ceremony in Washington D.C. on Oct. 5. 
"I am delighted to designate these five eminently deserving individuals as Academy Living Legends for the many excellent contributions they have made to the nursing profession and health care," said Academy President Bobbie Berkowitz. "With interests ranging from women's health and community-based nursing to oncology, infectious diseases and quality and safety education, each of them embodies leadership and a steadfast commitment to improving the health of people."
Williams was honored for her work in public health epidemiology and nursing education. Her groundbreaking work advocates for population-focused research and care to be cornerstones of community health. She was actively involved in efforts that led to the creation of the National Institute for Nursing Research. As dean of the UK College of Nursing, she launched the nation's first doctor of nursing practice (DNP) program. As president of the American Association of Colleges of Nursing, she pressed for development of the DNP nationally.
The Academy recognizes a small number of Fellows as Living Legends each year. To be eligible, the Living Legend must have been an Academy Fellow for at least 15 years and have demonstrated extraordinary, sustained contributions to nursing and health care. The following nurses will be honored as 2017 Living Legends in recognition of the multiple contributions they have made to nursing that continue to reverberate throughout the health services field today.
Janie Heath, current dean of the College of Nursing, was recognized as a distinguished alumna by her alma mater, the University of Oklahoma College of Nursing on Oct. 27.
The College of Nursing's Distinguished Alumni award was established by the college and the Alumni Board of Directors to recognize graduates who demonstrate "outstanding leadership related to the field of nursing or health care" and who have made "significant clinical, academic, research, or other contributions to nursing or health care on a local, state, national or international level."
In addition, the UK College of Nursing honored five new inductees in its Hall of Fame on Nov. 10 at 21C Hotel in Lexington. The honorees are:
Karen S. Hill '87, Chief Operating Officer/Chief Nursing Officer for Baptist Health in Lexington
Sheila H. Ridner '78, Director at Vanderbilt University School of Nursing
Marcia K. Stanhope '67, Former Director of Good Samaritan
Colleen H. Swartz '87 DNP '11, Chief Nurse Executive/Chief Administrative Officer at UK HealthCare
Gail A. Wolf '78, Former Chief Nursing Officer, University of Pittsburgh Health Care System
Established in 2006, the College of Nursing Hall of Fame identifies distinguished graduates and their extraordinary contributions to the nursing profession.
"Drs. Hill, Ridner, Stanhope, Swartz and Wolf are pioneers who truly embody the Wildcat spirit – a spirit of curiosity and determination," said Heath. "One that impacts nursing practice through teaching with excellence, advancing scholarly practice, generating nursing science and embracing differences."