UK Oral Health Helps Put the Bite Back into UK Patient's Life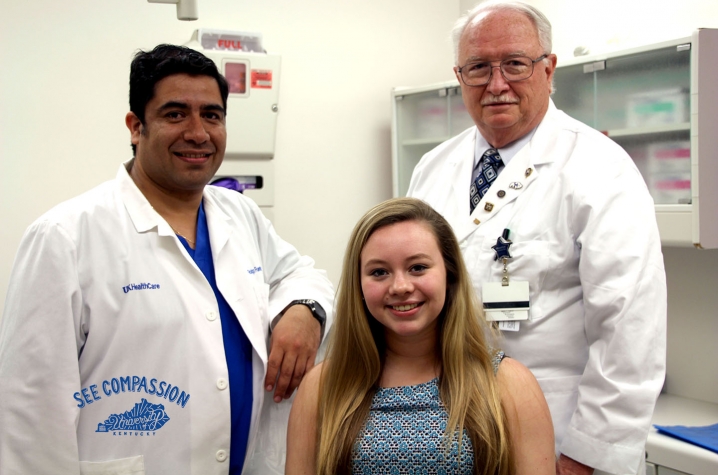 LEXINGTON, Ky. (April 15, 2015) -- In the summer before her high school senior year, Joy Andrade underwent reconstructive jaw surgery to correct a skeletal malformation. The surgery was supposed to be one of the final steps in years of orthodontic treatments, which had included three sets of braces, starting in the fifth grade, and the removal of several permanent teeth to allow for more space in Joy's mouth.
The results of her initial surgery changed Joy's life forever. At a time when her biggest concerns might have revolved around making an A on a math test, winning the next soccer or basketball game, or picking the perfect prom dress, instead, due to surgery complications, Joy was faced with feelings of isolation and being homebound for much of her last year of high school. 
"No one thinks about it when they bite into an apple or crunch on an almond, but you better believe that I have to," said Andrade, who is now a University of Kentucky freshman. "I haven't bitten into an apple in more than two years…picking up an apple and eating it as a simple on-the-go snack is a thing of the past."
"I wondered how I could enjoy my senior year without my six upper teeth. I couldn't talk. I was swollen, and everything became difficult. I thought after a couple months of recovery I would be better, but somehow my surgery kept affecting me," said Andrade. "I couldn't do normal teenager things. You don't realize how important your teeth are until you don't have them. I mean being a high school girl was hard enough and to add doctor appointments, surgeries, and the fear of wondering if they could fix my mouth, it was stressful."
Her teachers, friends, and family rallied behind her to offer support and help her through this difficult time. After visiting with several additional doctors, Andrade found the medical support she needed when referred to the UK College of Dentistry to meet Drs. Joseph Van Sickels, in Oral Surgery, and Rodrigo Fuentealba, in Prosthodontics.
"I had already become resentful toward dental and medical practices. Up until that point, it seemed like both had failed me. Everything that could go wrong did," Andrade said. "From the beginning, Dr. Van Sickels and Dr. Fuentealba were different compared to the countless doctors I had come in contact with in the past."
Since beginning treatment with Van Sickels and Fuentealba in August 2013, Joy has undergone several additional surgeries, including a bone graft from her hip, to repair damage from the complications resulting from her initial surgery. In addition to losing six upper front teeth, Joy also experienced bone loss in her upper jaw which had to be built up again before dental implants could be finalized. Although the doctors' work is ongoing, Joy has been able to benefit from milestones throughout the process.
"I remember the feeling of when Dr. Fuentealba gave me my flipper (fake teeth) to put in for the first time," recalls Andrade. "Both my mom and I cried, because I was just so filled with relief, and at that moment, I thought wow maybe everything will be ok."
"UK's Oral and Maxillofacial Surgery Division generally performs 80 to 100 successful procedures each year to address skeletal malformations similar to the one Joy needed to have treated," said Van Sickels. "Normal eating and speaking are an important part of everyday life. Working in partnership with other UK Oral Health divisions, such as Dr. Fuentealba in Prosthodontics, we're able to help people with a wide range of functional issues."
Van Sickels and Fuentealba have taken extra care in Joy's treatment due both to the location of her problem and her young age. Wanting to provide Joy the opportunity to share her big smile confidently with others again, and have their work last a lifetime; the team has paid close attention to rebuilding a strong foundation of bone and gum tissue to support Joy's dental implants. 
Because of her positive experience with UK Oral Health, Andrade is now majoring in biology at UK. A member of UK's STEMcats, a living learning program intended for first-year students who have applied for a STEM major, she hopes to also join the pre-dental society and MEDLIFE, a nonprofit organization offering medicine, education, and community development, next year to help prepare her to study at UK's College of Dentistry.
"I had already been accepted by and decided to go to another college. It wasn't until I met Dr. Van Sickels and Dr. Fuentealba that I really saw what UK is about. Most people don't get to see all the little things that truly make UK special. UK is a family. It's my family," said Andrade.
"I hope to be an orthodontist, but honestly if I get the chance to do anything in dentistry, I will be grateful. I want to help people just as my doctors helped me." 
Media Contact: Ann Blackford at 859-323-6442 or ann.blackford@uky.edu