UK's BREATHE Team Hosts Kickoff for Tobacco-free Ambassadors Partnership (TAP) Project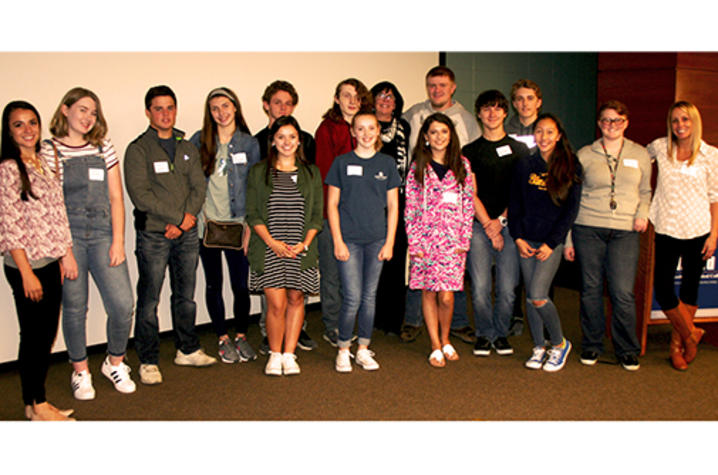 LEXINGTON, Ky. (Sept. 18, 2017) — Members of the University of Kentucky's BREATHE team, representing the UK College of Nursing and UK College of Education's Department of Kinesiology and Health Promotion, hosted a kickoff for the Tobacco-free Ambassadors Partnership (TAP) project on Sept. 11, in partnership with Hazard High School's ARI Student Senate and Leadership Team and Hazard Community and Technical College (HCTC).  
Kylie Velez, an undergraduate student from Eastern Kentucky University, was a TAP presenter and facilitator. Kentucky Youth Advocates helped to facilitate the training. The TAP training included information on the toll of tobacco in Kentucky, how youth are targeted by the tobacco industry, best practices in tobacco control and how youth can be the solution.   
A diverse group of 15 youth and young adults attended the training, ranging from freshmen in high school to HCTC students, along with their adult mentors. Seven members of the Casey Youth Coalition, a student-led organization at Casey County High School in Liberty, Kentucky, joined virtually to share lessons learned as they have initiated change in their community, including meeting with administrators to learn about the policy process and advocating for a tobacco-free policy at their school.  
"Our goal is to build a cadre of committed youth and young adult advocates to empower them to make a difference in their community," said Melinda Ickes, associate professor in the Department of Kinesiology and Health Promotion.  
The TAP group will meet over the school year to learn about becoming policy advocates, conduct a community assessment, develop an action plan, and present at the Kentucky Valley Educational Cooperative Finding Innovation in Rural Education (FIRE) Summit in April 2018, which serves as a catalyst for energizing and accelerating strategies across rural schools.   
"We are very excited about our participation in the TAP project and believe it will be a great fit for our students and our goals for the year," said Vivian Carter, Hazard Innovation Coordinator, ARI Student Senate Majority Leader.  "We sometimes underestimate the role students play in solving real-world problems. By empowering our students with information and giving them a voice in this issue, we are providing opportunities for leadership in their school and community."   
Ninety-five percent of all adult smokers begin using tobacco before they are 18 years old. Youth can encourage their peers and adults to be tobacco-free, stand up to the tobacco industry and its deceptive marketing, and urge key stakeholders to implement tobacco-free policies to protect others from tobacco and its related health and economic consequences.   
"Youth are critical and powerful voices in the fight against tobacco use," said Ellen Hahn, professor, College of Nursing and director of BREATHE. "It's up to the next generation to make Kentucky a healthier place to live."  
For more information about BREATHE, go to www.breathe.uky.edu.