Virtual Laboratory Prepares UK Undergraduates for Professional-Level Anatomy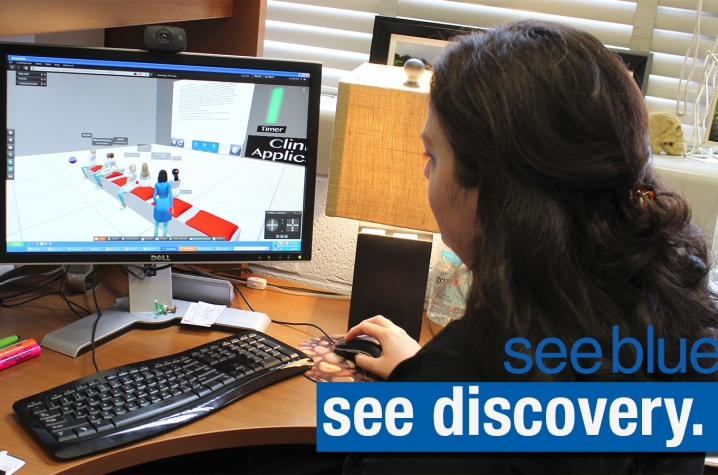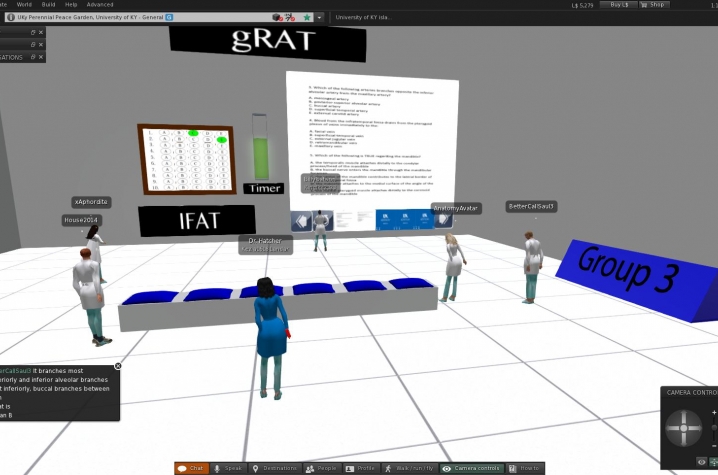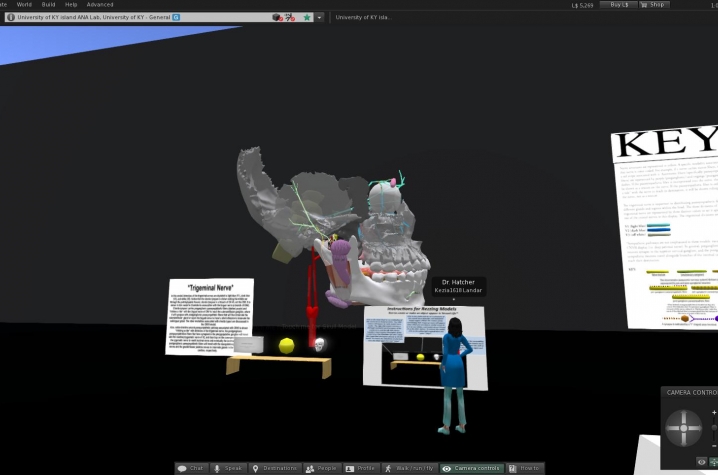 LEXINGTON, Ky. (April 22, 2014) - At the University of Kentucky, the gross anatomy course that introduces students to the intricacies of body systems is reserved for graduate-level students. But, as Dr. April Richardson-Hatcher has discovered, real-world rules can be bent in a virtual universe.
A professor of anatomy and neurobiology in the UK College of Medicine, Hatcher teaches Anatomy 309: An Introduction to Regional Anatomy, a course that meets weekly in the 3-D virtual world of Second Life. In this preparatory course, which is not available in a live classroom, Hatcher gives students who are serious about health care professions a head start visualizing and understanding complex regions of the human body.
Hatcher's virtual course is founded on the Team-Based Learning Collaborative, a technique that engages students through team collaboration and the application of course content through critical-thinking exercises. Instructors have found the Team-Based Learning approach improves student motivation, participation, attendance and performance. Hatcher, who is studying how students respond to learning medical science through a virtual platform, offered the course for the first time during the spring semester of 2013. In March, she presented observations from the first edition of the class at the Team-Based Learning Collaborative conference in San Diego, Calif.
"Medicine is very group-oriented in some ways," Hatcher said. "In a lot of online courses, you are disconnected with the students around you. There's something about being in the virtual world. You feel immersed in the room, like you are in an actual classroom and you are having a shared experience."
Every week, students log into the virtual classroom that exists on the "UK Island," or the Second Life virtual real estate owned and managed by the University of Kentucky Information Technology Department. Before the course started, students were required to create an account in Second Life and design an avatar. Student avatars wear blue scrubs and a white lab coat to simulate a professional environment.
Hatcher's 90-minute course is divided into three activities: the individual quiz, the group quiz and the classroom discussion, all of which are centered on a specific body region assigned to the classroom the week before. After completing a timed individual quiz, the students "teleport" to an assigned classroom where they deliberate in groups of four to six to answer questions on the group quiz and clinical scenarios. Students use instant messaging and voice communication to discuss the clinical scenario. They conclude the session by teleporting to the "main" laboratory where Hatcher's avatar leads an open discussion of the clinical scenarios and reviews answers. These components of the Team-Based Learning curriculum are designed to enhance students' confidence and group skills prior to entering their professional training programs.
Instructors and teaching assistants also wear lab coats and continuously monitor the dialogue among students during the group exercises. As an instructor in the virtual classroom, Hatcher has the advantage of engaging in multiple discussions with students at once and monitoring their thought processes.
With the help of Matt Hazzard, a biomedical illustrator in UK Information Technology, Hatcher custom built multiple classrooms and a laboratory in the Second Life program. In preparation for the weekly Team-Based Learning sessions, students study descriptive, animated PowerPoint presentations of the regional anatomy. They also study a customized list of cadaver structures through an online program Anatomy and Physiology Revealed 3.0. Students can virtually dissect the regions of interest with clickable phases revealing each layer of muscles, ligaments, vessels, nerves and bone structures. These images are then presented as practicum-style questions on the course exams to mimic the experience of a lab exam in future professional anatomy courses.
Hatcher and Hazzard also worked together to design the Cranial Nerve Skywalk, a room hovering above the UK Island in Second Life where students from all over the world can visualize and study a 3-D model of complex cranial nerves III, V, VII and IX.
Hazzard constructed the models from 3-D scans of human bones, provided by Dr. Paul Brown from Stanford University, by superimposing basic nerve structures on the skull models. Teaching and learning the cranial nerve pathways is often a challenge using only two-dimensional illustrations. Using the virtual 3-D models, students are able to grasp an understanding of the pathways of cranial nerves and the types of fibers carried within those nerves.
The virtual world also allows collaboration and conversation with students from all parts of the world. Students and professors from universities in Manitoba, Canada, and Perth, Australia, have logged into Second Life to sit in on classes and view the cranial nerve models on UK's Island. Hatcher will present a workshop on the virtual Team-Based Learning technique at upcoming conferences for the Human Anatomy & Physiology Society in May and International Association of Medical Science Educators in June.
A student in the inaugural class offered in 2013, Mary Jennings is now a first-year medical student at UK. Jennings, a biology and Spanish major, added Hatcher's class to her final semester schedule to prepare for hands-on anatomy courses in medical school. She said the course helped her become familiar with medical terminology and develop habits to memorize an immense amount of material. In addition, the class helped her prepare psychologically for working on real cadavers in medical school.
"It was nice in the sense that you were prepared to see people who had passed and treat that in a scientific way," Jennings said.
Because medical school involves group learning and often competitive personalities, Jennings thinks the Team-Based Learning environment gave her valuable experience engaging in fast-paced scientific discussions and collaborating with a team.
"There are so many type A people who are so competitive and you are asking them to work as a team," Jennings said of medical students. "At some level, (the course) did prepare me for how tough people are on each other. Most the time, people are great, but they are really academically strong."
Austin Stratton, a senior studying biology and psychology, echoed an appreciation for the preparatory course. As a visual learner, Stratton, who is applying to medical school, was able to get a sense of what he expects to see in medical school. 
"An online interactive kind of class was very cool for me because I play a lot of video games," Stratton said. "In a great way, it contributed to my future in medicine."
To view the cranial nerve skywalk in Second Life, visit http://maps.secondlife.com/secondlife/University%20of%20KY/123/40/1001. 
MEDIA CONTACT: Elizabeth Adams, elizabethadams@uky.edu