Riders Up: Art Show Focuses on Sporting Art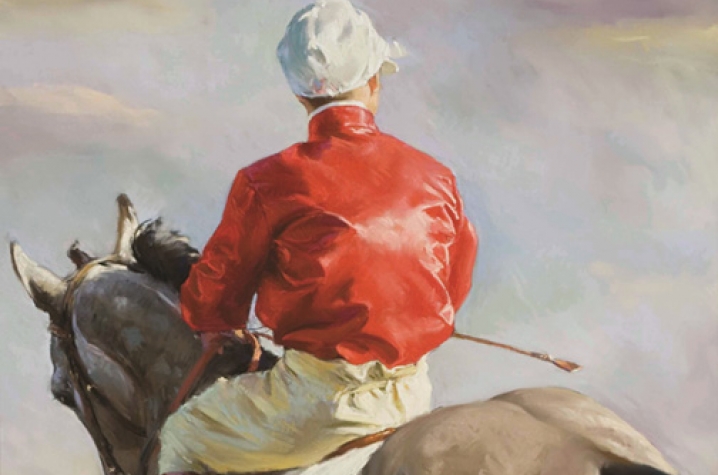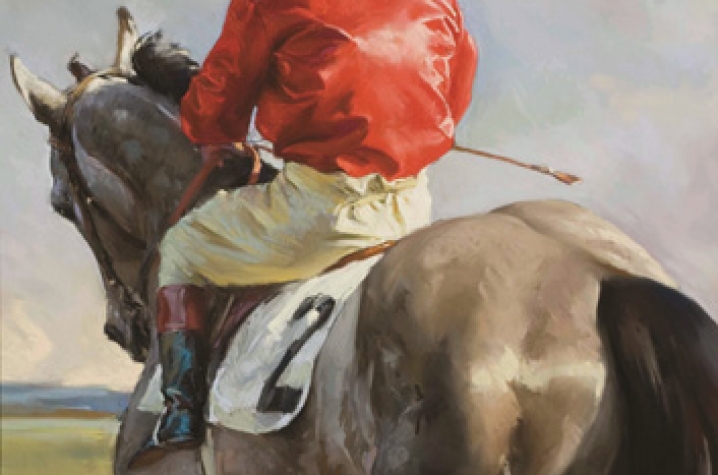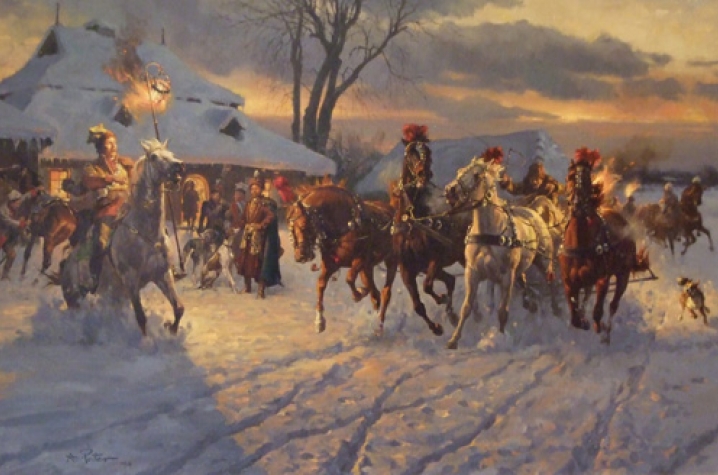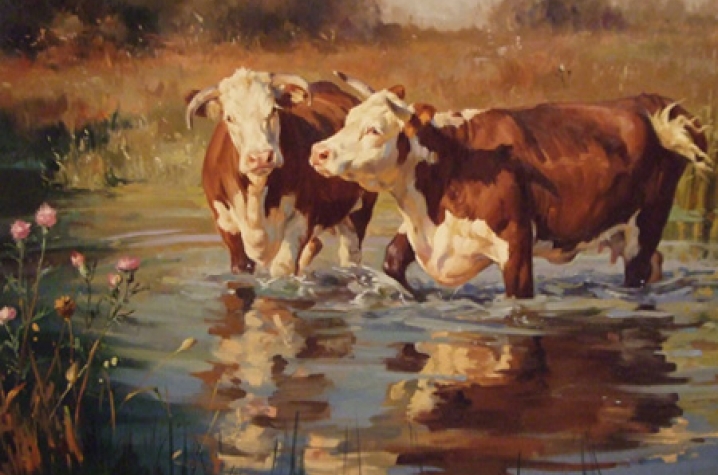 LEXINGTON, Ky. (July 23, 2010) − An established star in the field of sporting art, Polish-born Andre Pater has been living and painting in Lexington for 22 years. And as the world comes to town for the World Equestrian Games, the Art Museum at the University of Kentucky is showcasing the breadth of the artist's work featuring pieces devoted to everything from equestrian events to country living in "The Bluegrass Palette of Andre Pater."
The scenic beauty and rich tradition of the Bluegrass provides an endless inspiration for Pater's oils, pastels, gouaches and charcoals. Kentucky's landscape is a great complement to the light, movement and quality draftsmanship the artist is known for and accommodates his vast subject matter, ranging from jockeys in bright silks riding powerful thoroughbreds to cattle cooling in a pond on a hot summer day.
"I found here what I was looking for, the whole spectrum of all different aspects of horse life," says the artist. "And what is the most important ingredient, is the fact that whatever is done here is done by people who really do this with a passion. This is their life, and what I do is also my life, so this is the source of the energy I get from this industry."
The Art Museum at UK's Pater exhibition displays the artist's ease with such varied subjects through organized sections based on the themes: "Early Work"; "Thoroughbreds, Jockeys, and Racing"; "Hounds and the Hunt"; and "Cattle in the Bluegrass Landscape."
Fittingly, Pater's show is one of two exhibitions at the museum that are scheduled to coincide with the 2010 Alltech FEI World Equestrian Games to be held this fall.  "We will provide an opportunity for visitors from all over the world to experience the power and presence of Andre's paintings of the Bluegrass," says Kathy Walsh-Piper, director of the Art Museum at UK.
Often compared to master equine artist Sir Alfred Munnings, Pater is a classically trained artist who is equally at home painting portraits. When the owners of gallant Derby winner Barbaro wanted a painting to honor their beloved thoroughbred, Pater was chosen. He has also captured the images of other racing legends like Smarty Jones, Rachel Alexandra and Secretariat.
Pater's work is widely collected and shown in Europe, as well as in the United States. His notable exhibits include a retrospective at the Polish Cultural Center in Atlanta during the 1996 Summer Olympic Games and inclusion in the Master of 100-year anniversary exhibition in 2007-2008. Pater's art is also known to bring impressive prices at art auction houses like Sotheby's.
"The Bluegrass Palette of Andre Pater" runs through Oct. 10. The exhibition was made possible with support from Harp Enterprises, Equus Run Vineyards and WUKY.
Admission for "The Bluegrass Palette of Andre Pater" exhibition is $8 for general admission and $5 for senior citizens. All students and UK faculty, staff and alumni are admitted for free. The exhibition is free to everyone on Friday evenings from 5 to 8 p.m. The Art Museum at UK is open from noon to 5 p.m. on Tuesday through Sunday and from noon to 8 p.m. Friday. For more information on this exhibition, contact the museum at (859) 257-5716.