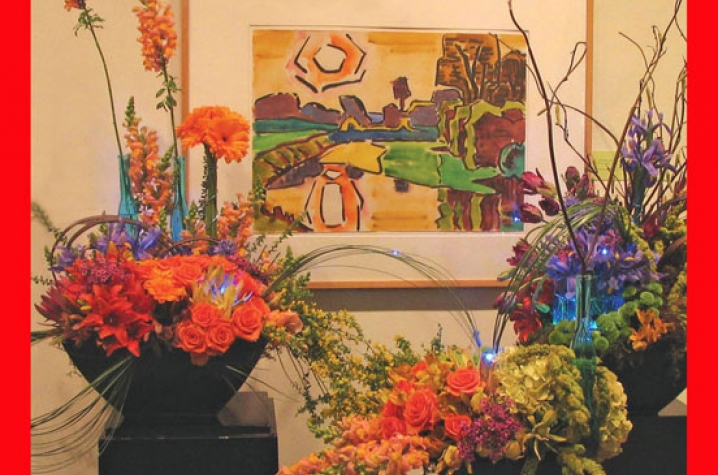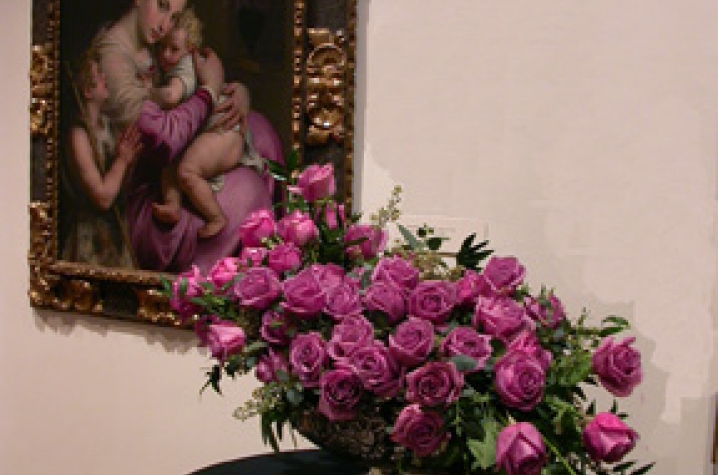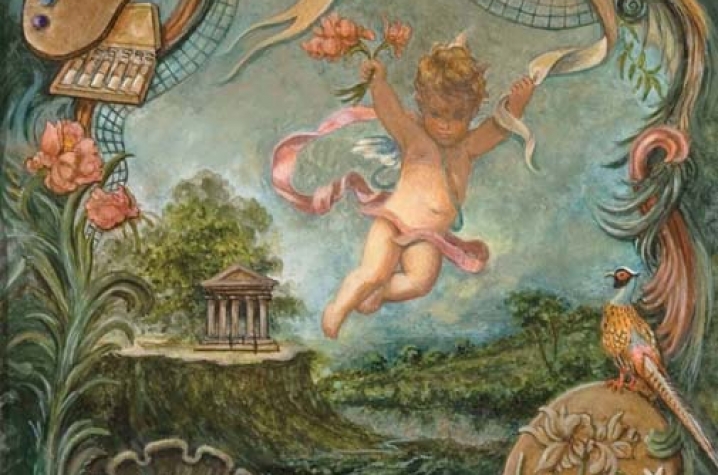 LEXINGTON, Ky. (Feb. 24, 2010) - Catch the Art Museum at the University of Kentucky abloom with flowers, as well as fine art, as the Friends of the Art Museum present their premier fundraiser, "Art in Bloom 2010." This is the 10th year for this three-day event which showcases more than 50 floral arrangements created by professional and amateur designers interpreting works of art from the museum's permanent collection and the current exhibition "The British Are Coming: Discover the New English Art Club."
This year's events, which run Feb. 26-28, will co-honor Lucy Dalton and Marlie McRoberts, longtime supporters of the museum. The show will also celebrate the artwork of internationally renowned artist Adalin Wichman.
Lucy Dalton pursued art in her career as a graphic designer and commercial artist. Dalton learned to appreciate fine art as a docent at the Louisville Speed Art Museum and later the UK Art Museum. While in Lexington she co-founded the Friends and Collectors. A native New Yorker, Marlie McRoberts came to Lexington with her husband, Bill McRoberts, a physician who joined the staff at the UK Medical Center in 1994. The following year she became a docent at the UK Art Museum. McRoberts is a co-founder of Friends and Collectors, as well as Art in Bloom.
Born in Paris, Ky., Adalin Wichman grew up sketching people and animals, and riding horses. After graduating magna cum laude from UK, she married William Wichman and spent two years teaching, doing graduate work and painting. Wichman's immediate work in sculpture includes lost wax casting in bronze and silver of Eclipse, Majestic Prince, Lexington and other world famous thoroughbreds. She is a member of numerous professional associations including the National Society of Arts and Letters, Lexington Art League, and the Hellenic Ideals Program of the Bluegrass.
The public is invited to visit the museum in full bloom from noon to 8 p.m. Friday, Feb. 26, and noon to 5 p.m. Saturday and Sunday, Feb. 27-28. The cost for admission to "Art in Bloom 2010" is $5. Admission is free to all from 5 to 8 p.m. Friday, Feb. 26.
Additionally, the museum will present several other activities that extend beyond the exhibit. Among the festivities is a black-tie gala, dinner and silent auction presented in honor of the show's sponsors. The dinner is scheduled for 5:30 p.m. Saturday, Feb. 27. Tickets for the gala are $500 per person. Additionally, the museum will also host an "Evening of Jazz Cocktail Reception" and silent auction that same evening, beginning at 7:30 p.m. Tickets for this event are $100. At 8:30 p.m., all ticketed guests can participate in the live auction, where one can bid on several pieces of art, a vacation, basketball and horse racing tickets, as well as dinner with celebrity gardener Jon Carloftis in his Lexington home soon to be featured in an upcoming issue of Country Living magazine.
To purchase tickets for any or all of these events, contact the Art Museum at the University of Kentucky at (859) 257-5716 or e-mail to artmuseum@email.uky.edu.