UK Dance Minors 'Shaping Space'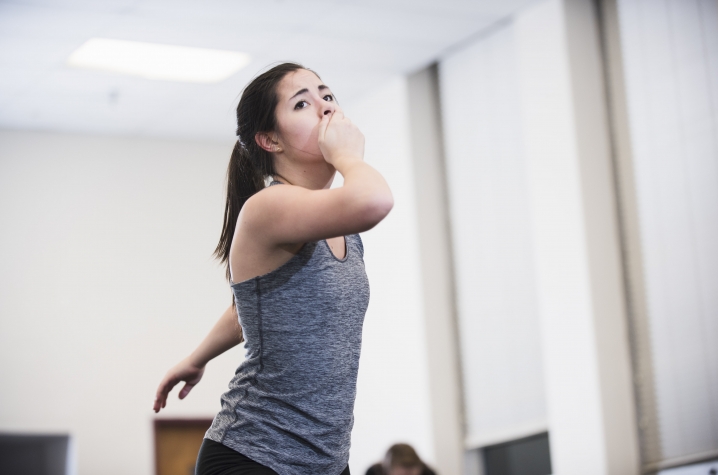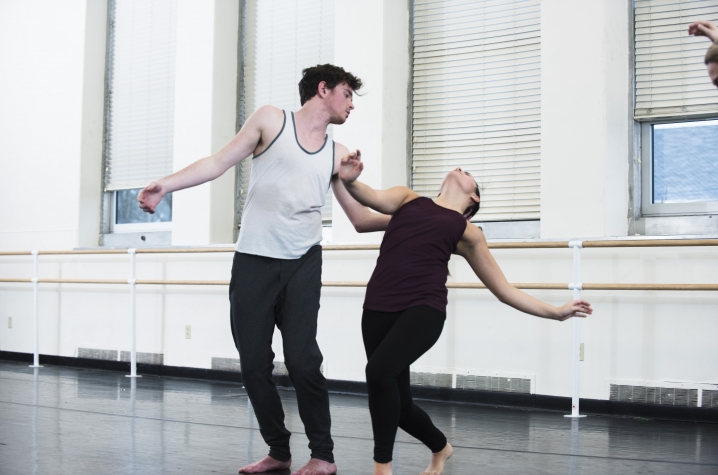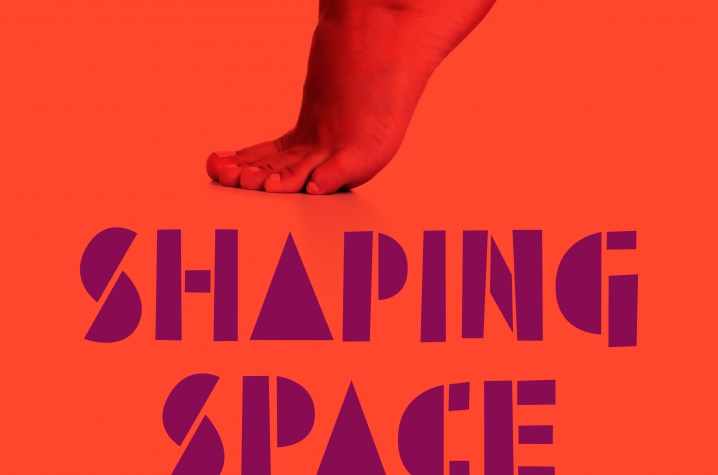 Trailer for "Shaping Space," running Jan. 29-31, at Guignol Theatre. Video by UK Department of Theatre and Dance.
LEXINGTON, Ky. (Jan. 25, 2016) — Once a year, the talents of the University of Kentucky's dance minors take center stage at Guignol Theatre. Don't miss your chance to catch this group of Department of Theatre and Dance students in one weekend of performances of "Shaping Space" Jan. 29-31.
Audiences stepping into the Guignol should prepare for the unexpected with "Shaping Space." UK Dance Program Director Susie Thiel has assembled a production of performances expected to energize, move, connect and fascinate audiences. "Prepare to experience a variety of worlds that celebrate the power of movement, grace and communication."
"Shaping Space" includes performances by UK dance minors performing works by guest choreographers Missy Lay Zimmer and Andrew Hubbard, artistic directors of Exhale Dance Tribe; Stephanie Harris, UK dance instructor; Laurie Fields, dance instructor at the School for the Performing Arts (SCAPA); and Susie Thiel.
Missy Lay Zimmer and Andrew Hubbard conceptualized and choreographed "Wohali," a contemporary dance piece. Wohali is the Cherokee word for "eagle" and the brain-child and inspiration of a future collaboration between Exhale Dance Tribe and Okareka Dance Company of New Zealand. "Wohali" is a meditation on a sacred messenger connecting the two continents by this majestic and elusive bird. Zimmer and Hubbard were artists-in-residence in November setting the dance, teaching master classes and giving lectures. Zimmer and Hubbard's career include credits on Broadway and in the commercial world.
What do we tell ourselves? What do we share with others? What is the crowd saying? Will our stories be the same tomorrow? "Conversations Change," choreographed by Lexington artist Laurie Fields, explores the many conversations in which we participate, both purposefully and subconsciously. The language of the body and the stories of the dancers enrich the movement. Set to music by the NOW Ensemble, this dance allows the audience member to eavesdrop, perhaps inspiring a personal reflective dialogue, or a friendly conversation of shared experiences with a stranger in the seat nearby.    
"Deluge," by Lexington artist Stephanie Harris, examines how we are often challenged by forces that are greater than ourselves and how those experiences alter our understanding of the human condition. These challenges provide us with a meaningful opportunity to embrace our vulnerabilities and develop a profound connection with ourselves and with others. Utilizing imagery of water, with help from video artist Valerie Fuchs, "Deluge" engages the audience visually on multiple levels with a piece that speaks to the fragility of life and the commonality of our life experiences.
Susie Thiel presents two dances in the concert. "Behind the Hair" created in collaboration with five dance minors, is an examination of the stages of gossip. The choreography acts as a catalyst for dialogues concerning why we gossip, how information gets disseminated and the harmful effects. The work, set in three sections, premiered at the Inner Mongolia University Arts College in China last October and will represent the UK Department of Theatre and Dance this March at the American College Dance Association Conference in Mississippi.
Thiel's second dance is loosely based on what we conceal and reveal, share and hide and what is seen and unseen. In this performance, six hanging panels on the stage help create an environment and acts as a metaphor of this human experience.
"Shaping Space" will take the Guignol stage 7:30 p.m. Friday and Saturday, Jan. 29 and 30, and 2 p.m. Sunday, Jan. 31st. Tickets for the production are $15 for general admission and $10 for UK students with a valid ID through the Singletary Center box office. Processing fees will be added to ticket purchase. To purchase tickets, contact the box office at 859-257-4929, visit online at www.scfatickets.com or purchase in person during operating hours.
The UK Department of Theatre and Dance at UK College of Fine Arts has played an active role in the performance scene in Central Kentucky for more than 100 years. Students in the program get hands-on training and one-on-one mentorship from the renowned professional theatre faculty. The liberal arts focus of their bachelor's degree program is coupled with ongoing career counseling to ensure a successful transition from campus to professional life. 
MEDIA CONTACT: Whitney Hale, 859-257-8716; whitney.hale@uky.edu