'Sacred Works' Concert to Support UK Chorale Tour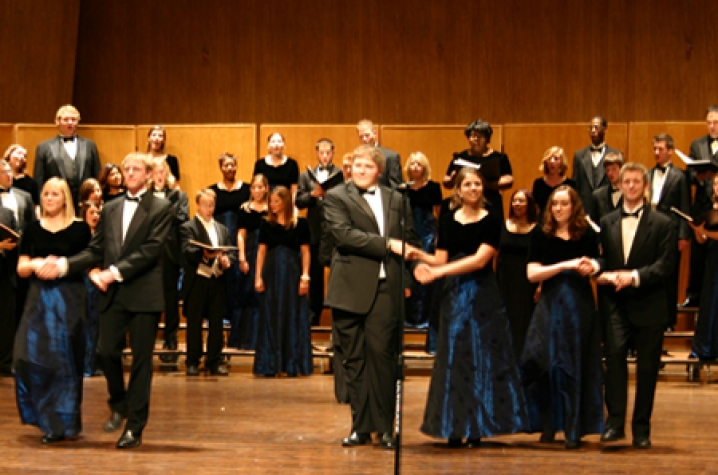 LEXINGTON, Ky. (Feb. 19, 2010) − The University of Kentucky Chorale invites the public to attend a special performance titled "An Evening of Sacred Works: From the traditional to the spiritual." The event, which will help support the Chorale's upcoming musical tour of France, is sure to be a moving concert filled with inspirational musical scores. "An Evening of Sacred Works" will take place at 7:30 p.m. Sunday, at Tates Creek Presbyterian Church, located at 3900 Rapid Run Drive.
UK Chorale recently was invited to perform at several prestigious venues in France, including the Cathedral of Notre Dame in Paris; Chartres Cathedral in Chartres; and The American Cathedral in Paris. In support of the concert tour to France, UK Chorale is presenting "An Evening of Sacred Works" to help raise awareness and funds for the group's concert tour to France scheduled for May 10-17, 2010.
Directed by Jeff Johnson, conductor, and James A. Rode, assistant conductor, UK Chorale is one of the oldest and most elite performing organizations at the university. UK Chorale's mission is to foster excellence in music, service and comradeship. The group strives to blend its diverse voices into one choir that achieves the highest level of professionalism and musicianship. Through discipline and dedication, UK Chorale's work has extended its reach beyond the boundaries of the university's campus to Lexington, the U.S. and beyond.
The 50-voice UK Chorale consists mostly of upperclassmen and graduate students. While a majority of the singers are music majors, there are a number of other academic disciplines represented. The Chorale prides itself in performing a wide variety of choral literature. The group has been the recipient of many regional and national awards. In 2001, the choir made its debut in New York City's Carnegie Hall. They also were featured performers at the Cathedral of St. John the Divine. The Chorale has also been invited to perform at the ACDA (American Choral Directors Association) Southern Division Convention in Charleston, S.C., and the MENC (National Association for Music Education) Southern Division Convention in Tampa, Fla., along with numerous appearances at Kentucky ACDA and MENC conferences. The Chorale has toured extensively throughout the southeast and eastern United States.
Tickets for "An Evening of Sacred Works" are free of charge. A good will collection will be taken at the end of the concert. Proceeds will benefit the UK Chorale's tour of France.
Season sponsor for the UK Choirs is Fifth Element Creative.
For more information, contact Jeff Johnson, director of UK Choral Activities, at (859) 257-5897 or email to jeff.johnson@uky.edu.