UK Grad Appointed Music Director of American Cathedral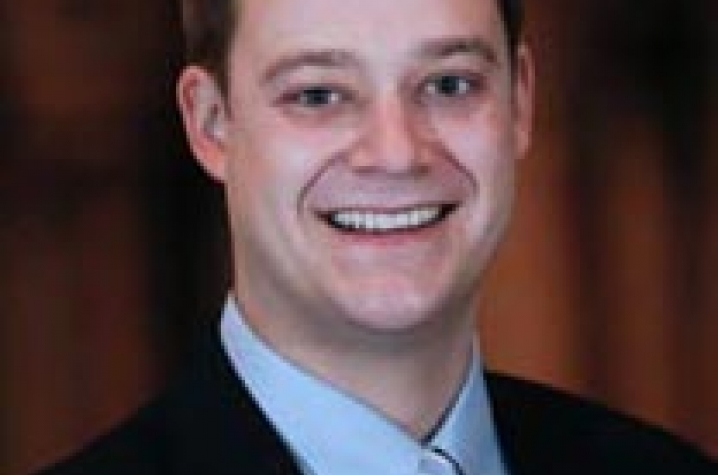 LEXINGTON, Ky. (July 1, 2011) − University of Kentucky graduate Zachary Ullery has been appointed director of music for the American Cathedral in Paris, France. Ullery has been serving as the cathedral's acting director of music during his predecessor's sabbatical leave.
"Zach Ullery's impressive and sensitive leadership during this past year of transition 'raised the bar' substantially for the Cathedral's already superb music program," says Dean of the American Cathedral Zachary Fleetwood. "Zach is a gifted young musician; he's highly innovative and imaginative in spirit while remaining deeply respectful of the Anglican tradition. His authentic, unpretentious, and engaging personality and leadership style have served the cathedral brilliantly."
Ullery initially began his experience at the American Cathedral as an assistant musician in 2008 and under his leadership, the cathedral's music program for children and the youth continues to develop and mature. The cathedral's two choirs for older children and youth have prospered significantly during Ullery's tenure. Under his direction in 2010, the cathedral established the innovative "Introduction to Music" program for younger children as a foundation for entering the cathedral's choral program. In addition to his other duties, Ullery has served as the principal musician for the cathedral's Sunday evening liturgy.
Outside of the American Cathedral, Ullery has also served the Paris Choral Society as guest conductor for the past two years.
Faculty at the UK School of Music are excited to hear of Ullery's success. "Zach was an outstanding choral and keyboard student at UK," says Jefferson Johnson, professor of music and director of choral activities. "I am extremely proud but not surprised at his international acclaim. As a member of the UK Choirs and a choral music education student at UK he was a stand-out member during his tenure here."
A native of Maysville, Ky., Ullery graduated summa cum laude from UK in 2004 with a bachelor's degree in music education. During his undergraduate studies, he specialized in organ performance under Professor Schuyler Robinson. In July 2008, he received dual graduate degrees from UK, a master's degree in conducting under Professor Johnson and a master's degree in music education. Ullery has also completed advanced studies in Orff-Schulwerk Training, a developmental approach to music education for children.
During his time at UK, Ullery also served as assistant organist and choirmaster at the Episcopal Church of the Good Shepard in Lexington from 2001 to 2008. He also served as a member of the faculty and the director of choral activities at George Rogers Clark High School in Winchester from 2004 to 2006.
The award-winning UK School of Music at the UK College of Fine Arts is recognized as one of the university's 10 designated areas of excellence.
MEDIA CONTACT:  Whitney Hale, (859) 257-8716 or whitney.hale@uky.edu