NEH to Fund Digitization of Sacred Music Collection at Niles Center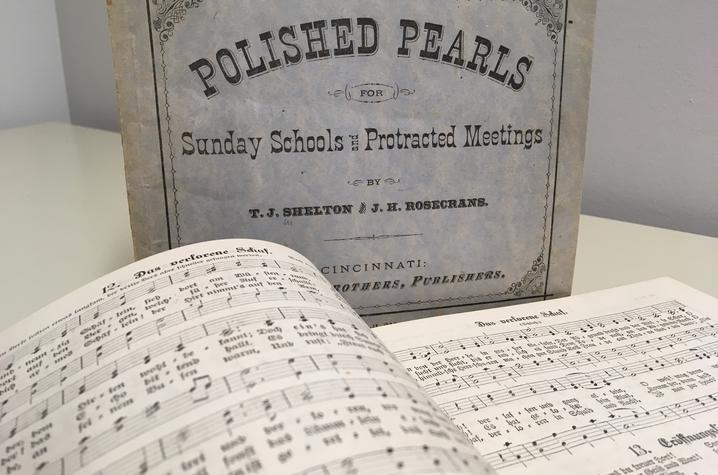 LEXINGTON, Ky. (May 22, 2019) — University of Kentucky's John Jacob Niles Center for American Music is home to one of four archives of sacred music that will benefit from the Sounding Spirit initiative's second grant from the National Endowment for the Humanities (NEH) to support pioneering work in digital scholarly editions.  
The $58,230 grant from the NEH's Humanities Collections and References Resources program will support a one-year planning process that will include the pilot launch of a digital library that will eventually make hundreds of volumes of spirituals, gospel music, shape-note hymnody and words-only hymnals accessible to the public. The digital library will accompany Sounding Spirit's annotated facsimile editions of five currently inaccessible books of sacred southern vernacular music made possible by an NEH Scholarly Editions and Translations grant the Emory Center for Digital Scholarship (ECDS) project received in the fall of 2018.
The John Jacob Niles Center for American Music, directed by James Revell Carr, is a collaborative research and performance center maintained by UK's College of Fine Arts, School of Music and Libraries. The center is home to one of four archives with outstanding collections of vernacular sacred music books that will partner with ECDS on these grant activities. The other three partners are:
As public and private institutions with a range of approaches to digitization and digital archiving, this expanded project team will first draft and vet processes for digitization and ingest what will meet the partners' diversity of institutional needs before launching a pilot site showcasing 20 significant volumes from partner collections.
At UK, musicology doctoral candidate Erin Fulton will serve as the music bibliography associate on the project, helping choose which books will be included for digitization, and as the technical lead here at the university, supervising digitization of the books in the collection.
"Erin is currently working on a dissertation on early American sacred music, so her expertise will be a huge asset to the project," Carr said.
Among the books UK plans to digitize as part of the pilot grant are the following titles:
"The Primitive Hymns, Spiritual Songs, and Sacred Poems" published by Benjamin Lloyd in 1857;
"Fillmore's Harp of Zion" compiled by A.D. Fillmore and published by R.W. Carroll in 1866;
"The New Christian Choralist" compiled by A.D. Fillmore and published by R.W. Carroll in 1870;
"Hosianna: Ein Liederbuch für Sonntagschulen, Erbauungsstunden und die Christliche Familie" by J.M. Biermann and William Horn, published by Verlagshaus der Evangelischen Gemeinschaft in 1876; and
"Polished Pearls for Sunday Schools and Protracted Meetings" by T.J. Shelton and J.H. Rosecrans, published by Fillmore Bros. in 1876.
Carr is excited to collaborate with ECDS. "Our participation in this project will help to raise the national profile of the John Jacob Niles Center for American Music, and it highlights one of our strengths, our outstanding collection of early American sacred songbooks and hymnals.
"These are extremely rare texts that tell us a lot about spiritual life in the early United States, and this is an extraordinary opportunity to make these materials available to scholars and the general public alike."
ECDS will share the planning process on the project through a publicly accessible white paper and at scholarly meetings to support other teams embarking on related digitization, annotation and collection work. Sounding Spirit's digital library and scholarly editions will be built using Readux, a platform developed at ECDS enabling rich engagement with digitized books.
Jesse P. Karlsberg, Sounding Spirit editor-in-chief and ECDS senior digital scholarship strategist, will direct the planning process, joined by ECDS's Meredith Doster, Allen Tullos and Jay Varner. Scholarly communications expert Melanie Kowalski, from Emory Libraries and Information Technology Services, and digitization team leader Kyle Fenton will contribute to devising best practices for the digitization and ingest process. Digitization and content consultants from each of the four partner archives will round out the project team.
This grant will expand the scope and reach of the Sounding Spirit initiative, which is already encouraging greater attention to the foundational role of print in key genres while providing resources for still active communities of practice for whom these texts remain highly meaningful.  
The pilot Sounding Spirit digital library website will feature songbooks that exemplify the wide variety of form, contents and presentation that shaped the American landscape between 1850 and 1925. Each grant partner will contribute five volumes to the site, representing both their collections' strengths and an important cross section of the texts' significance, influence, rarity and accessibility.