'Pressing' Exhibit Gives Voice to Survivors of Rape, Abuse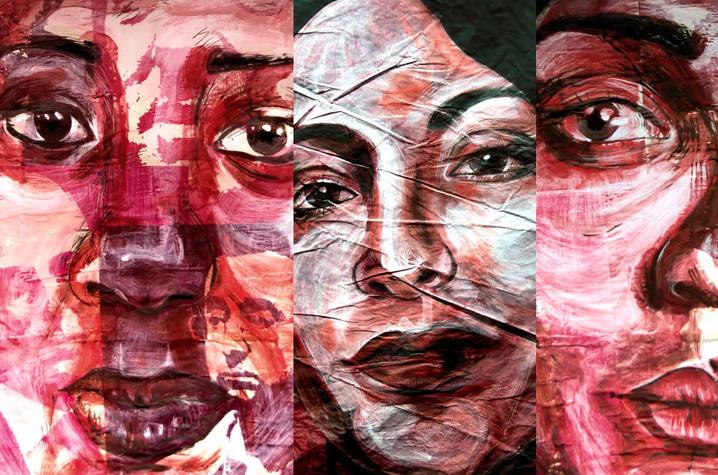 LEXINGTON, Ky. (March 14, 2018) — University of Kentucky art studio graduate student Madison Cowles Serna is currently presenting her Master of Fine Arts thesis show, "Pressing." The exhibition uses art to give voice to survivors of rape and abuse. The show will conclude this weekend with a reception presented as part of Lexington's Gallery Hop from 5-8 p.m. Friday, March 16, at Bolivar Art Gallery. The exhibition and reception are free and open to the public.  
"Pressing," which focuses on the voices of survivors, includes large-scale portraits of survivors and allies painted on used billboard vinyl, stenciled images of sexual predators, poetry reflecting the emotional trauma of assault, and 3-D printed wall sculptures of passages written by survivors.
"The survivors (featured) were empowered to select the photos that I used as source material," said Serna, who is from San Antonio, Texas. "These portraits often depict a moment in which the person was feeling hopeful about the future. This work presents poetic narratives from survivors contrasted with muted images of abusers."
Last spring, Serna began reaching out online and in person to find survivors who would be willing to talk with her – from strangers and acquaintances to close friends and family. Some agreed to send the artist handwritten text about their experiences, including their thoughts, poems and descriptions of the assault that they had never shared previously.
In addition, Serna enlisted the help of a group of individuals she refers to as allies, who participated in the work by standing in for survivors who did not want their likeness depicted.
"Many people do not feel safe identifying as a survivor in public," Serna explained. "These group portraits do not distinguish between who is and is not a survivor in order to offer privacy to those who have been victimized. Furthermore, it stresses that while RAINN (Rape, Abuse & Incest National Network) states that one in six women have been harmed by sexual assault, all people are affected."
Within the middle structure of Serna's work, survivors and allies' portraits stand in opposition to images of sexual predators, the majority of whom were exposed as perpetrators of sexual assault and harassment within the last year. As Serna approached the images of predators, she took less care than she gave each of the survivors' portraits with the goal of developing a hierarchy of value aimed at diminishing the power of perpetrators and enhancing the power of survivors.
The text collected by Serna from survivors is displayed as wall sculptures and painted poetry running along the floor on the outside of the enclosed space. Using 3-D printing and laser cutting the artist retained the fidelity of each person's handwriting. Serna describes the handwriting as yet another type of portrait expressed through mathematical points, codes and layers of PLA (polylactic acid filament). Each sculpture is hung at the approximate height of its survivor to retain the humanity and physical presence of the individual.
Serna used billboard vinyl as her canvas for her art for several reasons. The discarded material is a stand-in for the human body with its annotations, dirt, folds and tears standing in as residue of survivors' experiences.
"Survivors carry their trauma with them the rest of their lives, even after healing. In the media and in marketing campaigns, sexual aggression is reinforced through debasement of the female form," Serna said. "The billboards have now been reclaimed by survivors. Together these works aim to empower survivors through their participation in its production. Collectively, it confronts abusers and lifts the veil of invisibility from the experiences of survivors."
A painter, printmaker and graphic designer, Serna is a member of Mid America Print Council, the Lexington Guild of Printmakers, Sweet Peach Collective and UK's Art Graduate Student Association. She earned her bachelor's degree in printmaking from University of Texas at San Antonio.
The Bolivar Art Gallery is found on the first floor of the School of Art and Visual Studies Building, located at 236 Bolivar St.
The UK School of Art and Visual Studies, at the UK College of Fine Arts, is an accredited member of the National Association of Schools of Art and Design and offers undergraduate and graduate degrees in the fields of art studio, art history and visual studies, art education, and digital media and design.
UK is the University for Kentucky. At UK, we are educating more students, treating more patients with complex illnesses and conducting more research and service than at any time in our 150-year history. To read more about the UK story and how you can support continued investment in your university and the Commonwealth, go to: uky.edu/uk4ky. #uk4ky #seeblue