UK Theatre and Dance Students Tackle Inanimate to Real World Issues in 'New Works Now'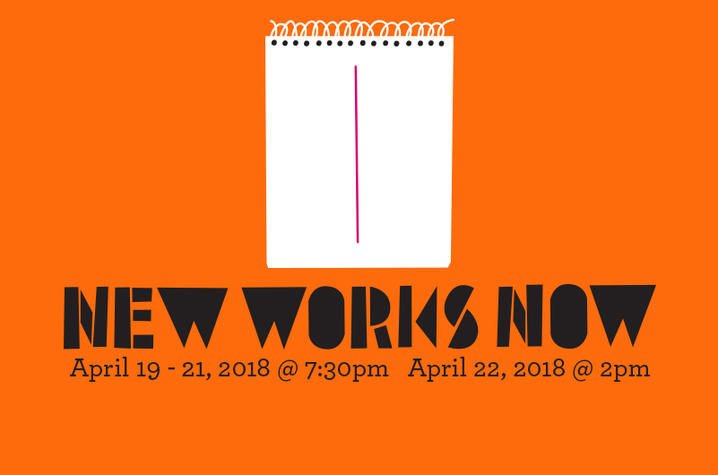 LEXINGTON, Ky. (April 12, 2018) — From issues surrounding women's roles in society, sexual identity and ethnicity to a toy's struggle with the real world, one of the new dances or plays from students in University of Kentucky Department of Theatre and Dance's "New Works Now" is likely to speak to you. See where 50 years of risk-taking expression and creative process has taken UK's theatre program April 19-22, at the Guignol Theatre.
"New Works Now" will showcase the talents of UK student playwrights, directors, scenic designers and choreographers in a department-wide main stage production of new works. The addition of new dance productions in recent years reflects the growth in the Dance Program at the department in the last seven years, including the recent addition of a major in the field in the last academic year. The show will feature five new plays and two dances each 10 minutes in length selected by a panel of theatre and dance faculty from a pool of around 20 submissions.
The dance piece "Choking Hazard," choreographed by Cecilia Pont from Paducah, Kentucky, explores a world in which a woman portrays multiple identities of herself while being confined to the standards society has placed upon her. Audiences will see how the iconic Barbie and three dancers can represent how much pressure is placed on women to look a certain "ideal" way, as well as how they can support one another even through this objectification.
For Pont, a senior majoring in marketing and economics, UK's dance minor was an important contributing factor in her college decision. "I knew before coming to school that I wanted to study dance in addition to another field. UK has a great dance program that allows students to easily study dance alongside other fields, which had a huge influence on my decision to study here."
In addition, Pont is grateful for the opportunity "New Works Now" gives her to work with fellow students to not only bring her concept to the stage, but make it better. "My favorite part about this process has been the collaboration with students and faculty. It's really exciting to see how other people's ideas can enhance the message that exists within the choreography. "
The second dance, "Termagent," choreographed by Caroline Smith, a senior majoring in mathematical economics and minoring in dance from Hurricane, West Virginia, also examines aspects of womanhood. The work explores how women make decisions and how a woman's idea of self-worth has changed throughout history. In this performance, audience members will witness dancers scream, struggle and live in the roles of different women across generations, as well as confront what it means to be a woman in today's world.
On the theatrical side, two Lexington students will bring the play "The Glass Fortress" to the stage. Written by theatre and philosophy junior Stephen Perry and directed by Isaac Hines-Williams, a junior majoring in theatre and minoring in art history, "The Glass Fortress" is centered on the lead character Kennedy, who recently met up with a friend after years apart. As the play unfolds, Kennedy struggles to piece together the reality of the meeting as judgment and recollection are clouded by anxiety and depression.
"Sin Bloomed with the Azaleas" was written by theatre senior Ethan Maguet, of Corbin, Kentucky, and is being directed by theatre sophomore Emily Misali, of Montgomery, Ohio. This Southern drama follows Alex and Logan, two juniors in a Bible Belt high school, who are in a hush-hush relationship. When their secret begins to unearth, the two Kentucky teens struggle to keep their relationship alive in the face of their town's homophobic culture.
Two Louisville theatre seniors, playwright Amy Pan and director Curtis Lipsey III, will stage "Highlighter Girl." This play follows two sisters as they create a superhero for a creative writing assignment. Along the way, the pair wrestles with facing their world and understanding their complex Asian-American identity.
"Prerequisite for Love," was written by Faith Murphy, a senior majoring in theatre and minoring in creative writing from Cynthiana, Kentucky, and is being directed by theatre and political science junior Treyton Blackburn, of Pikeville, Kentucky. This play finds the lead, Alexis, in love with her best friend, Daisy. The protagonist's awkward personality prevents her from just asking Daisy out; instead she summons the Greek goddess of love, Aphrodite. Chaos ensues and Alexis learns sometimes things are better off done without the help of deities.
A member of Lewis Honors College, scenic designer Jennifer Gould, an art studio and theatre junior from Simpsonville, South Carolina, says she was first drawn to "Prerequisite for Love" for its connection to mythology. But now, Gould says she is more excited about the opportunity the production has given her to collaborate.
"My favorite part of working on this show is probably the people I'm working with. I think Faith wrote a really fun script, and I'm extremely grateful that I got the chance to work with Treyton. He's been super great about trusting my abilities and really giving me the opportunity to have as much freedom as possible in designing the set. The rest of the designers are really great too, and it's just really easy to work with all of them."
The teamwork part of the theatre experience is something the studio artist welcomes. "Don't get me wrong, I love my studio classes, but they always feel so solitary. The great thing about theatre is that I get to work with a team of other people to make something bigger, and in some ways, more impactful, than any art piece that I could make on my own," Gould said.
Finally, the inanimate comes alive in "How/Why My Sock Monkey Became Real," written by theatre junior Emma Imes, of Flatwoods, Kentucky, and directed by Moniece Mosley, a junior majoring in theatre and minoring in creative writing and African American studies from Louisville. In this play, when toys are loved enough they become real. Now that Socks, the sock monkey, has become real, his best friend Molly is tasked with helping Socks deal with the horrible things he saw before he came to life.
For Mosley, who is taking her first turn as a director on "How/Why My Sock Monkey Became Real," the opportunity to stage the play has been a revelation in more than one way. "My favorite part of all of this is just having this opportunity to direct and try something new because this is something that I have never done before and it has been amazing getting to play this role in a production."
And while this might sound like a light piece, Mosley warns audiences that "How/Why My Sock Monkey Became Real" will in fact speak to a very difficult topic that she hopes will make an impression on viewers. "From this piece I hope that the audience walks away with a slight sense of guilt and a reflection on life. I say that because this story deals with the dark subject of molestation, yet there's a comedic undertone that the play has and for a moment you forget that it's such a dark story being told."
While the choreographers, playwrights, directors and scenic designers have many different stories to tell in "New Works Now," they do agree on one point — how significant this show is to their futures.
"I think it is really important for UK Theatre and Dance to give us a stage to do new works like this," Pont said. "I have been able to get a taste of what my career could be like when I am out of school. It's also really cool to have this platform to learn the collaboration process as well as to share this new work with as many people as possible."
Gould concurs, "I'd say it's extremely important. There's only so much you can learn sitting in a class listening to your professors tell you how things work. It really takes getting involved and just jumping right in to really understand it."
"New Works Now" will take the stage 7:30 p.m. Thursday to Saturday, April 19-21, and 2 p.m. Sunday, April 22, in the Guignol Theatre. Tickets are $5 for UK students with a valid school ID and $10 for general admission. Tickets are available for purchase at the Singletary Center box office, contact the box office at 859-257-4929, and visit online at www.scfatickets.com or purchase in person during standard business hours. A processing fee will be applied to transaction upon purchase.
The UK Department of Theatre and Dance at UK College of Fine Arts has played an active role in the performance scene in Central Kentucky for more than 100 years. The department is currently wrapping up its 50 years celebration of offering theatre as a program of study. The students enrolled in the program enjoy hands on training and one-on-one mentorship from the renowned professional theatre faculty. The program is coupled with ongoing career counseling to ensure a successful transition for the students, from campus to professional life.
UK is the University for Kentucky. At UK, we are educating more students, treating more patients with complex illnesses and conducting more research and service than at any time in our 150-year history. To read more about the UK story and how you can support continued investment in your university and the Commonwealth, go to: uky.edu/uk4ky. #uk4ky #seeblue