Our Past, Present, and Future is Manifest in Our Shared Spaces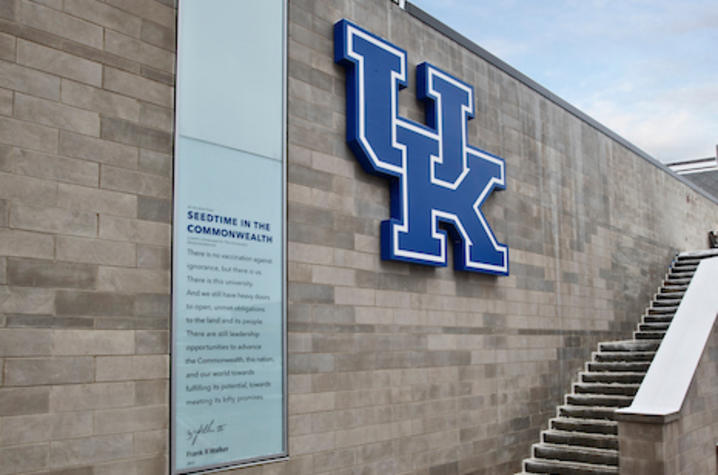 At the end of April, the University will open the doors to one of the most anticipated spaces in our more than $2.2 billion campus renewal and transformation.
The University's Student Center has played an integral role in the history of our campus, and it is the center of our University's cultural and community life. It will be the living room of our campus, a symbol that we must be committed to being a community where everyone – regardless of who they are, where they are from, or what they believe – belongs.
Earlier this week, flanking the new gateway that everyone will enter when they come to campus, we installed an excerpt from a poem that has special meaning to our University and the new Student Center.
                        "There is no vaccination against ignorance, but there is us.
                        There is this university. And we still have heavy doors
                        to open, unmet obligations to the land and its people.
                        There are still leadership opportunities to advance
                        the Commonwealth, this nation, and our world towards
                        fulfilling its potential, towards meeting its lofty promises." 
University of Kentucky English Professor and former Kentucky Poet Laureate Frank X Walker penned these inspiring words in honor of the University's 150th anniversary in 2015. His poem, "Seedtime in the Commonwealth," acknowledges "our imperfect past, our opportunity to "make ourselves 'right for the fight today,'" and the promise of this place to seize the "leadership opportunities to advance" those we serve toward their potential.
Three years ago, I asked Professor Walker to unlock the meaning of this place in an honest and personal way.
His story is deeply intertwined with the University. He walked UK's paths and studied in its libraries as a student. He is part of our alumni family, led the Martin Luther King, Jr. Cultural Center, and, for the last eight years, has been a faculty member who has mentored countless students who follow in his path. His history and his scholarship and artistry as a founding member of the Affrilachian Poets is deeply linked to this place.
That personal experience is evident in the imagery and story he captures—in the compelling metaphors of roots and trees, nourishment and growth, learning and expanding. 
Like the legacies of those he acknowledged in the poem – "the Lyman T's who only have sixty-seven years in blue and white" – his words live on, inspire, and remind us of our obligation to those we serve.   
The poem lives beyond the page as the preamble to our University's Strategic Plan, as inspiration at Commencement ceremonies, and as artwork through video and print.
Students will take pictures in front of the excerpt in William T. Young Library and share those photos with Frank, and with the world on social media.
The words have created a legacy of learning and inspiration. Now, the legacy grows, permanently affixed to a wall on a path toward a building that reflects our commitment to community.
Earlier last week, the words were installed on the entrance to the UK Student Center. During the planning process for the building, before its beams and frames began coming together on the north side of our campus, I envisioned Professor Walker's words as a fitting and permanent welcome message for this facility.
The Student Center will be the living room of our campus – a place where ideas are discussed, relationships are built, and a community of belonging for everyone who calls this special place home is nurtured and strengthened.
Frank's poem is a reflection of our past and a vision for the future. It captures of the essence of who we are as Kentucky's University and who we aspire to be collectively as a community.
The words enshrined on this pathway into our campus living room will remind us every day of our obligations and responsibilities to each other and to the Commonwealth we serve.
It speaks to us still.
It calls us to listen, to learn, to act – as a community, as Kentucky's university, and its best hope for a brighter tomorrow.