Article on Coaches' Salaries Tells Only Part of the Story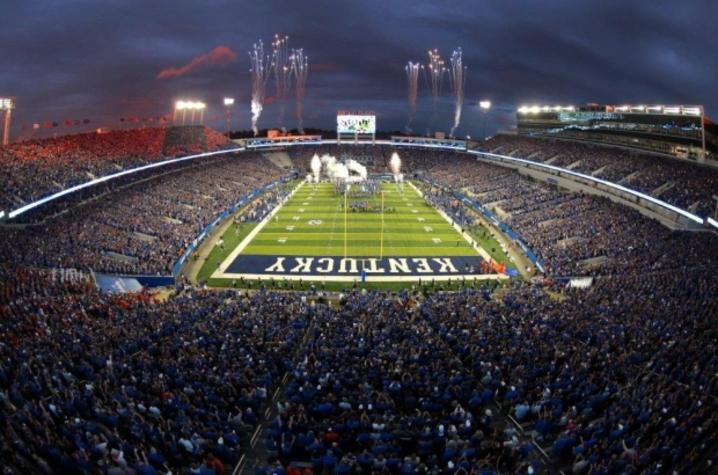 Wednesday, April 12, 2017
This Friday will serve as a reminder of the excitement that college athletics creates for a university community, its alumni family, and its broader fan base, as we kick off football season with the 2017 Spring Game.
Last month, UK Athletics Director Barnhart and I blogged about our student athletes' success both in athletic arenas and in the classroom. Their academic success is driven by UK Athletics' 15x15x15 plan established in 2008, which included a goal to reach a 3.0 composite grade-point average for all student-athletes. The department has now maintained that record for nine consecutive semesters.
We believe that the partnership between our athletics department and the academic mission on our campus is an exemplar for the entire country.
Last year, in what we believe is among the largest collaborations in the NCAA, UK Athletics provided $65 million toward the construction of the new Jacobs Science Building, which is now providing a state-of-the-art science education for all of our students. In addition, part of the building is currently shelled for future research space, so that as we recruit new research teams to campus, they'll be able to occupy modern, innovative lab space to advance scientific understanding.
Through this strong partnership, UK isn't just recruiting the next All-American athlete. Because of our collaboration, we're able to recruit top students, teach at the leading edge of science education, and bring world-class scientists together to conduct research that addresses Kentucky questions.
That's the power of shared vision.
Despite this progress, we, like other institutions, still face the challenge of misconceptions related to athletics. Last month, Dean Kornbluh, Dr. Mark Meier, chair of the Department of Chemistry, and I submitted an op-ed in response to articles suggesting that intercollegiate athletics undercuts the values of learning and the principles of higher education.
Our campus demonstrates, perhaps most clearly, how working collaboratively and creatively with athletics, among other partners, allows us to strengthen our commitment to students—all students—and their success.
The op-ed was published in the Courier Journal on March 24, 2017 and in the Herald Leader on March 27, 2017.
Article on coaches' salaries tells only part of the story
By Tim Tracy, Mark Kornbluh and Mark Meier
LEXINGTON, Ky. (March 24, 2017) – It's March Madness – the time of year when our nation's collective obsession with a three-week basketball tournament and all its thrilling moments is on full display.
But that means it's also the time of year for the occasional lament and hand-wringing in some national media outlets about how, in their estimation, intercollegiate athletics undercuts the values of learning and the principles of higher education.
Case in point is the Washington Post's March 14 story about the rising salaries of coaches in what are traditionally non-revenue producing sports. The logic of this article and others like it goes like this: coaching salaries have increased significantly; the salaries of faculty have not grown at the same rate. Therefore, athletics is undercutting learning and intellectual pursuits at the core of university life.
That's not how economics works, nor is it the case at our institution – the University of Kentucky – which was one of the institutions of focus in the article.
First, the athletics program at the University of Kentucky receives no tax dollars from the state. So, state appropriations that do help pay many faculty salaries pay for none of the salaries – including coaches – in our athletics program. Nor does the athletics program receive any general fund appropriation from the university's budget.
On the contrary, the athletic program is fully financially self-sufficient. The fact that its budget has increased significantly in recent years is, in large part, because of the increased value of the media rights sold to businesses who want to advertise during television and digital programming featuring UK athletics teams and those in the association we play in, the Southeastern Conference.
Second, at the University of Kentucky, athletics foots its own bill – completely. They pay the full freight – in-state and out-of-state tuition – for student athletes who receive aid and scholarships.
Third, they pay the full cost – rent, utilities, maintenance and security – for the facilities they utilize, facilities frequently used across our campus by other departments and by the entire student body.
Fourth, and most significant, they give back – substantially and increasingly. UK athletics provides millions of dollars each year in contributions toward academic scholarships, programming, and academic initiatives such as research on violence against women. And, in October, we formally opened a new $110 million Jacobs Science Building, most of which -- $65 million -- is being funded by UK Athletics. 
This state-of-the-art classroom and research building would not have been possible without this investment in the academic success of students and student-athletes alike.  The UK athletics program and our academic programs are dedicated to student success on the field, on the court, in the classroom, and in the laboratory.  We have an academic-athletic partnership that we would not trade for the world.
Moreover, we can tell you, as faculty and academic administrators at a university with one of the largest programs in the country, athletics adds a sense of vibrancy and community to our campus and our state like few other organizations.
Universities and their athletics departments are, by no means, monolithic. Every institution is different. No model is perfect – either in athletics or academics.
For each of the last four years, for example, our president, Eli Capilouto, and our Board of Trustees have made sustained pay raises for faculty and staff a priority. Each year, faculty and staff have received merit raises and, as a result, we've made progress toward more competitive salaries among those institutions we are aspiring to emulate.
Have we made as much progress as we want? No, we haven't. Salaries have grown incrementally, not by leaps. There's more work to do and the financial challenges toward getting there are real and substantial.
But salaries for coaches have not deterred our progress. In fact, the ability of athletics to fund vital infrastructure on our campus – and pay its own bills entirely – has, in many ways, made us more competitive for academic and research talent, not less.  In fact, the UK Athletics investment in the Jacobs Science Building alone ($65 million) is greater than all the coaches' salaries combined for multiple years. 
And that's a story that deserves to be told as well.