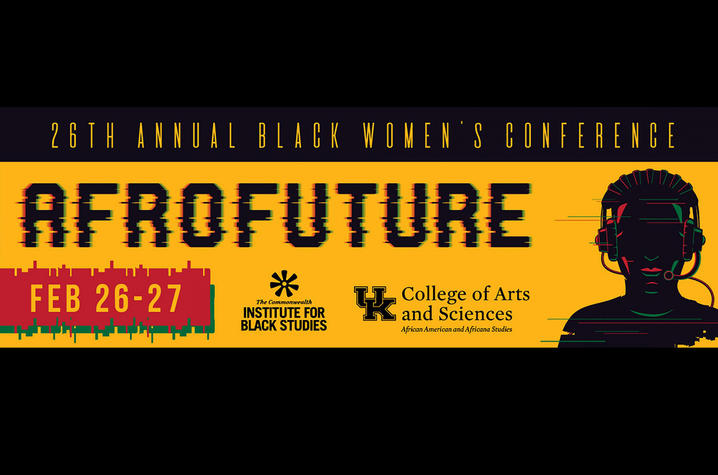 As we continue to commemorate Black History Month, we must also remember and reflect on the ways Black women have continued to rise against the challenges of systemic racism and prejudice while navigating the distinct challenges women face in our world today.
In recognition of this, the university is hosting its 26th annual Black Women's Conference, and this year's theme is "Literature, Digital Media, and the Afrofuture." My colleague, Dr. Anastasia Curwood, associate professor and director of African American and Africana Studies, describes its history:
The Black Women's Conference was initiated 26 years ago by Doris Wilkinson, who was the founder of what was then the African American Studies and Research Center in the 1990s. The conference has focused on themes relating to Black women for a quarter of a century.
This year is "Afrofutures," and we have an exciting group of scholars – internal and external – who will be talking about the future and Black women's studies. The first day focuses on literature and Black speculative fiction. The second day of the conference is about digital futures where participants will hear from a Black woman game developer and learn about gaming culture. The speakers will show how Black studies, as a lens, actually affects everybody. Black studies is for everybody.
Those interested in attending can register here.
I want to thank the individuals who have worked tirelessly to help our university community commemorate Black History Month, particularly Dr. Regina Hamilton, Assistant Professor of English, for chairing the planning committee for this year's Black Women's Conference. I am inspired and encouraged by your important work to educate our community and uplift members of the Black, Lexington and University of Kentucky communities, even in the midst of such a difficult year.
Let us carry this momentum into the weeks, months and years ahead, knowing that our work will never be complete until racial inequality has been eradicated — and the time is always right to learn, heal and grow in our efforts to address racial equity.