Spotlight: DeShana Collett, Member of DEI Leadership Team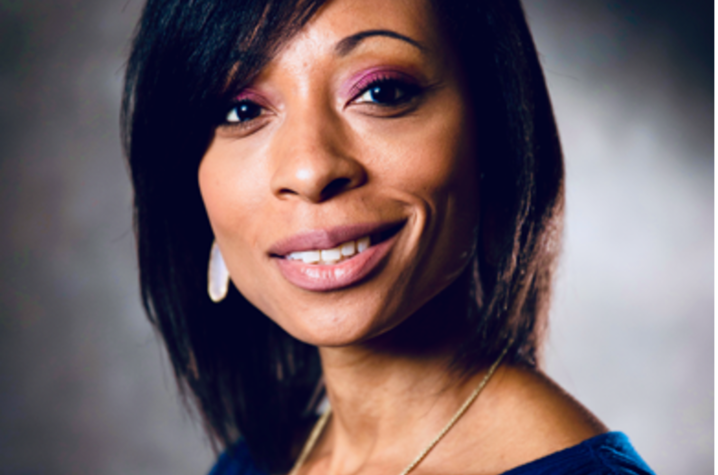 Dr. DeShana Collett, a Lexington native, sat down with me to share her experience as a long-time Wildcat. We found that we have a lot in common, from attending the same high school to our shared passion for diversity and equity at UK. Dr. Collett serves in many roles as vice chair of the university senate, a valued member on the DEI Leadership Team, a skilled teacher, an accreditation specialist and a practicing clinician. I was fortunate to learn many things from her during our conversation.
What does UK mean to you?
I was born and raised in Lexington, Kentucky, and earned my bachelor's, master's and doctorate degrees from the University of Kentucky. Over the years, as I have grown in my relationship with the university community, it has been somewhat fluid. It was and continues to be The University of Kentucky. It's a staple for everything from research and academics to athletics.
UK is what you see growing up in Lexington, and my eyes were on all the things I could do with an education from this university. In high school, I was involved in pipeline programs to UK, so I had a good sense of what I could accomplish here. Additionally, when I was younger, my mom worked in UK's College of Agriculture and my father was a Kentucky State Trooper. Both of my parents, who are Kentucky natives, placed emphasis on education, and I was engrossed in the UK community growing up here.
After earning my bachelor's degree, I pursued and completed my master's degree in UK's Physician Assistant Studies program. After I graduated, I left the UK community to practice as a full-time PA for about five years. Around this time, the PA program's department chair, Dr. Karen Skaff, recruited me out of full-time clinical practice and said, "We want you back here." She was impressed by my academic and professional achievements and offered me a position to come back to UK as an academician. I was hesitant at first, but the opportunity to return to the university and further my education while also having the ability to educate my future physician assistant colleagues was motivating.
What do you teach and do day-to-day?
I teach in the patient evaluation and management course, which contains content required to effectively obtain, evaluate and document medical histories while developing the necessary skills required to perform a complete physical exam. I also teach the clinical procedure course- which includes teaching and learning diagnostic and treatment modalities, such as reading EKGs and X-rays and performing procedures such as suture wound closures and lumbar punctures. These are very hands-on courses that are foundational to being a PA.
I am also a site visitor and accreditation specialist for the Accreditation Review Commission on Education for Physician Assistants (ARC-PA) . The is the accreditation agency for the current 267 PA programs in the United States. My background and expertise in this area are helpful and essential in my program, as we must continually demonstrate compliance with the educational standards put forth by ARC-PA. Accreditation has significant meaning and purpose. It is responsible for ensuring PA programs meet the established standards for educating Physician Assistant students. Every PA program across the nation must comply with those standards to ensure we are educating PAs that can and will provide competent and equitable care to all community members – that is our responsibility and duty as physician assistants.
As a historian of the Black experience, I have been aware of the health of African Americans throughout history. A lot of people have not been as aware. When you think of health disparities, what comes to mind? How do you play a role in closing this gap in our society?
When I think of health disparities, I first think of health care disparities and the delivery of those services – that's where it starts. Research has provided evidence that racism and sexism are just two of the leading causes that contribute to health disparities and the social determinates of health influence health outcomes. We have inequities in access to care, insurance status, economic stability, food security and additional social determinates of health. Many of these factors related to social determinants of health are interrelated. Additionally, these disparities are often rooted in conscious and unconscious biases, as well as systemic and structural "isms". Health care disparities include the inequities related to the quality and delivery of care, which involves the care delivered by health care providers. As a health care provider, it's important that we ask ourselves, "What am I doing or not doing that may be perpetuating stereotypes or how am I possibly contributing to health care disparities?"
Here is an example I tell my students to think about how they educate their patients on topics such as healthy eating and nutrition. It's essential to learn more about your patients before offering suggestions. We have to ask, "Where do they live? What access do they have to healthier foods, especially those in our urban and rural populations?" Answering these questions helps us identify the barriers that take opportunities away from our patients before we suggest unattainable advice or solutions.
How are you informing the community about this?
I have integrated many health and health care disparities education into my curricula, and I collaborate with colleagues across the nation, producing related publications and presentations. At present, I am working on scholarship with discourses on John Henry-ism and the impact it has on African American Physician Assistants, who are commonly using this coping strategy, which can lead to adverse health outcomes. John Henry-ism is a metaphor for how African Americans endure day-to-day stressors living in a society where our suffering is often times invisible or not acknowledged. When we say that Black people must do twice as much to have half as much, we think about the John Henry folklore and what he had to do to prove himself. We still do that today, and the impact of that on our health is detrimental. There are many physiological coping skills that we develop as a strategy for survival from inheriting the extra burdens and labor. These are meaningful discussions we all need to have.
There are very few African American PAs and physicians, so I've made it an integral part of my work to actively recruit more URM into health care-related fields. It's a situation of "see one, be one." Representation of the Black and Brown communities in health care is salient. Many studies suggest that these patients benefit significantly from receiving care from a Black or Brown provider. It can play a significant role in patient comfort level, which can lead to an improvement in shared-decision making, medication adherence and overall health behaviors.
For example, I have patients and family members who were very hesitant to receive their COVID-19 vaccine. For them, it is the desire and need to trust the information they are receiving, meaning they needed to feel comfortable with the person delivering this information and comfortable with voicing concerns and having those concerns acknowledged by someone to whom they could relate. Some of these feelings and concerns stem from their lived experiences and others are grounded in mistrust. Black and Brown communities have a valid right to distrust the government, medical institutions and the medical community. We know that racism has infiltrated our structural systems and influenced our culture of health.
It was important to me to write an op-ed about this because I heard  these concerns consistently. People were not acknowledging that there is real fear in Black and Brown communities regarding health care, and that fear is not misguided.
What is DEI, and why did you say "yes" to being on the DEI Leadership Team?
DEI, to me, is honestly about creating a true sense of belonging and community. It's more than putting people in places and hiring diverse individuals. It's about creating safe and brave spaces where it's also okay to be uncomfortable. Diversity is everybody's everyday work, so I was honored when asked to join the Leadership Team because I see so many opportunities for us to get this right. It is important to acknowledge and accept our community's current state and what we need to change to facilitate continued growth and improvement.
We know that this work is never going to stop. The events that have happened and are currently occurring in the political and social realms are traumatic. I can't sit back and say, "We don't have a solution, so we'll just move on." It's my duty to help create those solutions; it's my duty to help my community. To me, it's not an option or even a second thought. We all must become JEDI (justice, equity, diversity, and inclusion) advocates and allies.
When I reflect on those who came before me, those still here with me and those who will come after me, I am reminded of who I am and what I represent. Some of this meaning is grounded in my genealogy work of tracing the history of my ancestors. I continue to document their struggles and their abilities to overcome adversities. Their accomplishments inspire me to continue to be passionate and driven; it has given me a newfound meaning of life. This idea of persistence is engrained in my DNA. DEI for me is really JEDI — it encompasses justice, equity, diversity, and inclusivity.
You ask what does DEI mean to me. It means walking in a room and not being the "only one." It means that my environment is not only representative of all cultures and backgrounds, but it is accepting of all. There are so many struggles that we face daily, some political, social and personal, all of them begin with a deep reflection of mind, body and soul.
I understand that JEDI initiatives are the start and foundation to the ultimate goal of justice and liberation. While there will always be work toward these goals, one of the simplest solutions begins with true self-reflection. It takes courage and humility to recognize and reflect on our own biases, but we must think critically about whether our actions give others an equal and equitable opportunity to advance. If our actions impede this in anyway, then it's our job to make it right.