Spotlight: Sarah Ballard, DEI Project Lead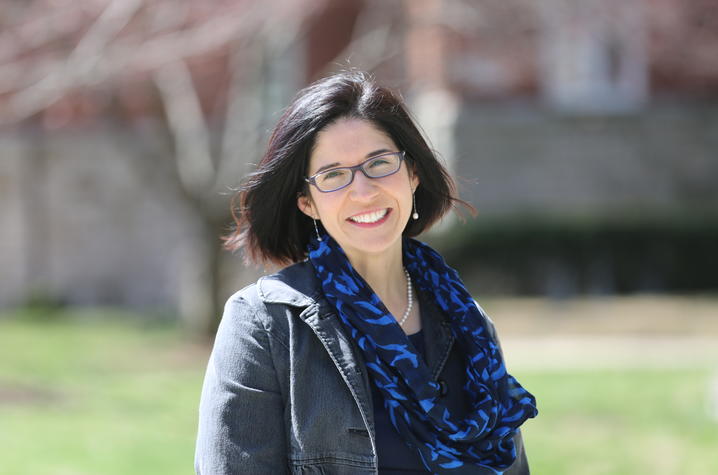 As I continue to meet with members of the UK community involved in the Diversity, Equity and Inclusion Implementation Plan, I am filled with hope.
Sarah Ballard, executive director of the first-year experience and early outreach programs, reminded me recently of the importance of telling a more complete story—one that illuminates the lived realities of Black individuals and other historically marginalized communities.
Under her leadership, Project 7 will work to help determine the type, mode and frequency of training related to DEI that will be the most effective and impactful module for all students.
What is your goal as a project lead?
I have the privilege of serving as one of the co-leads of Project 7, which is to implement a student training module. I work with Michia Brangers who's an online admissions counselor for UK Online. Currently, we're assembling our team, and we're trying to make sure we have plenty of student representation because their voices are so important.
There are a couple of things that we're attempting to answer – what is going to be the nature of this training? We want to make sure that the training is ongoing and sustainable. We don't want this training to be a one-off so that a student completes it and considers themselves "done" or "certified" in DEI work. We're trying to think of ways to make it ongoing, so that when our students leave the university, they can lead lives of meaning and purpose and have an understanding of what it means to engage and grow in this work. We're trying to approach it from that idea – building upon each year as our students progress, allowing them to connect not just to the university but to each other and the Lexington community.
Right now, we're doing some benchmarking to see what other institutions have approached this work, if they have. Once we have figure out the approach, then we'll get into the logistics of how we'll execute.
Why do you feel this work is important?
I'm going to answer from a very personal perspective. I am a Kentuckian, born and raised. I grew up in Bardstown, a tiny town just south of Louisville. When I went to Georgetown College, I was a history major. Then, as a junior, I read the book, "Trouble in Mind" by Leon Litwack, which is a study of the Jim Crow South. Leon is a white historian out of Berkeley, and in this book, he used a lot of oral histories. He really looked at the lived experiences and everyday lives of ordinary people. When I read this book, I was shocked. It was not a narrative I had ever experienced before or had ever been exposed to. It did not depict the American history that had been presented to me.
I felt angry that no one had ever taught me this narrative. When I came to UK, that's the reason I wanted to study history. I had been sold a past that wasn't accurate. That has stayed with me through my graduate work. Now, I have the privilege of teaching history survey courses.
So that was my moment of awareness, when I thought "wait a minute, what I've been told is not accurate or complete." It's an exclusive perspective that ignores the voices of others. For me, this work is so important because I truly believe in UK's mission of being for and with the Commonwealth. As a citizen of the Commonwealth and as a student, we owe it to our students to do this work and to help elevate and illuminate the voices and lived realities of not just our current students but all individuals in the past who stood up, who marched, who sat down and sat in. We owe it to them.
If we are going to prepare students to be informed citizens of the world, we have to do this work. This is the way in which students can become more compassionate citizens.
What are you most excited about, and what are some challenges you see?
I'm an optimist by nature. When I think about challenges, I also like to think about solutions. One of our challenges is helping the community see the importance of this work. We're in a moment now that is a challenging, and because of that, sometimes just starting the conversation can turn people off. We're thinking through the ways we can make information accessible to each individual's entry point.
We're focused on the student training modules, and our students are coming at this from very different places – which I actually find exciting in this work.
The other challenge is the timeline of this work. It's an aggressive timeline, but I like having the structure because it signals the importance of the work and reinforces the necessity of it. I see the need for it, and I like what that challenge signifies.
I am most excited about being part of the initiative because it's spans across the university. The fact that it's expanded across the enterprise and I get to serve humbles me. I'm honored to be able to engage in this way.
Why are you doing this work?
I have two reasons. When I'm in conversation with peers, there's a fundamental lack of understanding of American history. To me, it's a narrative that's exclusionary and ignores a lot of different voices. Part of what motivates me is the frustration with the lack of understanding.
What I would like to see as a result of this work is a greater understanding of American history and all voices—those who have been active, who have made decisions, who have written letters, made poster and marched on Washington.
The other thing that motivates me is I feel like for our students deserve a greater understanding of who they are and how they relate to the university community. When I think about what it means to be a Wildcat, I think about our individual students and the lived realities they bring to campus.
I want all of students to know that they have a place here, and they are valued. I think this DEI work and my team is doing—I hope that it allows for greater space for that and empowers students to be part of that.