UK, Fayette County Schools Negotiating to Locate STEAM Academy Adjacent to University's College of Education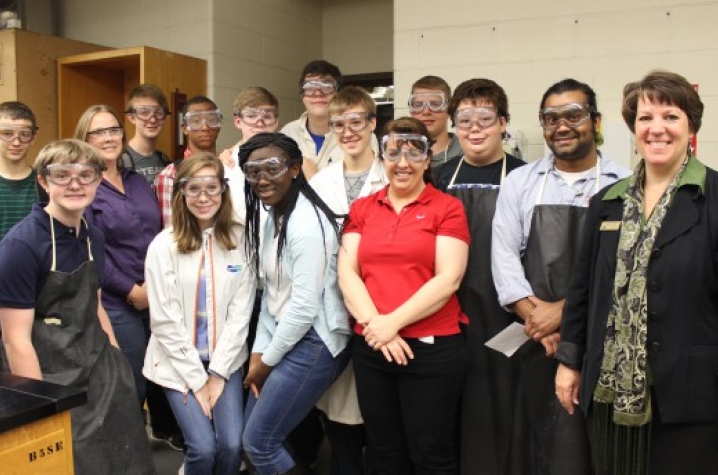 LEXINGTON, Ky. (Jan. 16, 2015) – The University of Kentucky could soon be home to an innovative program for Fayette County Public Schools high school students on the UK campus near the College of Education.
Negotiations between UK and FCPS are under way to move the district's fledgling STEAM Academy to UK. STEAM -- which stands for science, technology, engineering, arts and mathematics -- is an innovative partnership between UK and Fayette County Public Schools. Students take high school classes, while potentially earning college credits in courses taught by UK faculty as well as undergraduate and graduate students.
"The STEAM Academy's initial funding from Next Generation Learning Challenges was the only grant given to a school district partnering with a university. So, the eyes of the nation are on us as we show how a public school working with a university can rethink education," said Mary John O'Hair, dean of the College of Education. "Locating the STEAM academy on the UK campus is ideal for both the university and FCPS. Our model uses an innovative personalized instruction approach that includes mastery learning, internships, and dual college credit opportunities. The end goal is that every student will graduate college and career ready, and with experience in college courses." 
 
In addition to having access to college-level courses and campus resources, the program is part of a national network working to transform education, including the Kentucky P20 Innovation Lab and National Center for Innovation in Education, both based at the College of Education. Additionally, College of Education students will be involved in STEAM classrooms early in their studies, helping the college establish a "blue ribbon model" for clinical-based teacher preparation programs.
"We are excited about the endless possibilities being on the UK campus will offer our students, families and staff," said Tina Stevenson, who has directed the STEAM Academy since it opened in 2013. "Being on campus will solidify one of the pillars of STEAM, to ensure our students are college and career experienced before they graduate."
UK Executive Vice President for Finance and Administration Eric N. Monday indicated to Fayette County Schools in December that the university will provide a site location on campus. The school district will construct the academy. The most likely site for construction is behind the Taylor Education Building, where the College of Education is located.
The program, which has been open since fall 2013, is housed temporarily in the former Johnson Elementary School on East Sixth Street. The long-term goal, though, has been to have a facility close to, or on, the UK campus.
"It has always been the hope and goal of both UK and Fayette County Public Schools to locate the Academy in close proximity to the College of Education and its faculty," Monday wrote. "We believe that proximity will significantly enhance the partnership and collaboration between the STEAM faculty and staff and the UK faculty. We look forward to working together to make this project a reality."
There is not a specific timetable set for selecting site location or beginning construction, but officials from both partner agencies said they want to move as quickly as possible, given the benefits of a school on the UK campus.
"Just being near the campus will create a buzz," said Margo Lawson, a freshman at the STEAM Academy. "Not only will teachers be able to partner with UK for materials and curriculum, but students will get the complete college experience with new technology, a new learning environment and some of the privileges being a college student affords."
Justin Bathon, UK College of Education associate professor and director of innovative school models, will provide leadership to the STEAM Academy, along with Stevenson.
The STEAM Academy has an advisory council comprised of both UK and FCPS personnel, as well as community members and parents, including:
John Price, Fayette County Board of Education Chairman
Jack Hayes, Director of School Improvement and Innovation, FCPS
Dr. Laurie Henry, interim chair of the UK College of Education Department of  Curriculum & Instruction and associate dean of clinical preparation and partnerships
Linda France, director of the UK College of Education P20 Next Generation Leadership Academy
Justin Bathon, UK College of Education associate professor and director of innovative school models
Tina Stevenson, STEAM Academy director
Eric Ridd, STEAM Academy counselor
Maria Shockey, STEAM Academy math teacher
Eleanor Clifton, STEAM Academy sophomore
Margo Lawson, STEAM Academy freshman
Bill Quinn, STEAM Academy parent
Dr. Mark Watson, STEAM Academy parent
The partnership is focused on creating a 21st-century school that is flexible and adaptable, technology rich, responsive to student and teacher needs, and recognizes and extends learning beyond the traditional school day and classroom.
STEAM Academy is also envisioned as a research and development lab for UK faculty to research and pilot new innovations that can be broadly shared and replicated. STEAM students have access to the UK campus, as well as UK faculty students and staff who are frequently at the Academy.
The Academy was the first public high school program in the nation to receive start-up funds from Next Generation Learning Challenges, which is supported by foundations including the William and Flora Hewlett Foundation and the Bill and Melinda Gates Foundation.
MEDIA CONTACTS: Whitney Harder, 859-323-2396, whitney.harder@uky.edu, Lisa Deffendall, 859-381-4101, lisa.deffendall@fayette.kyschools.us