Anti-Apartheid Battle Comes to U.S.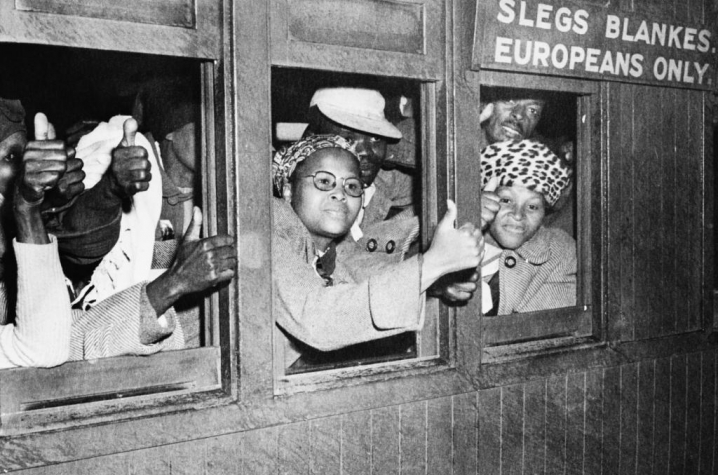 LEXINGTON, Ky. (Oct. 26, 2010) - Long one of South Africa's most important and powerful allies, the United States becomes a crucial supporter of the anti-apartheid movement as African Americans lead the charge to change governmental policy toward the apartheid regime in the fifth installment of "Have You Heard from Johannesburg," a seven-part film series sponsored by the University of Kentucky's College of Arts and Sciences.
"From Selma To Soweto" will be shown at 3:30 p.m. and 7 p.m. Thursday, Oct. 28, in 213 Kastle Hall.
Strengthened through years of grassroots organizing during the civil rights movement, black leaders and their allies take on U.S. foreign policy in South Africa, directing campaigns in corporate boardrooms, universities, embassies and finally in the U.S. Congress itself, where a stunning victory is won against the formidable opposition of President Ronald Reagan.
African Americans alter U.S. foreign policy for the first time in history, and the U.S. – once the backbone of support for apartheid South Africa as its ally in the Cold War – finally imposes sanctions on South Africa's capital. European sanctions follow, and with them, the political isolation of the apartheid regime.
South African freedom fighter Eddie Daniels will discuss the role of African Americans in changing American foreign policy.
Daniels grew up in District 6, a "coloured" area of Cape Town in the shadow of Table Mountain. The district was an impoverished area where a child was lucky to grow to adulthood. It later became famous when the apartheid government of South Africa bulldozed down all the houses and turned the area over to white development.
Daniels was captured and imprisoned on Robben Island for 15 years for sabotaging government utilities in protest of the oppression and injustice of the apartheid regime. In prison, he befriended Nelson Mandela, the best known leader of the African National Congress.
After they were both released from prison, Mandela said of Daniels, "We recall his loyalty and courage; his sense of humour, and justice as well as total commitment to the struggle of the prisoners for the eradication of injustice and for the betterment of their conditions."
"Have You Heard from Johannesburg" sheds light on the global citizens' movement that took on South Africa's apartheid regime. The seven-part documentary series, produced and directed by AcademyAward-nominated filmmaker Connie Field, chronicles the history of the global anti-apartheid movement that took on South Africa's well-established apartheid regime and its supporters.
The series spans the world over half a century, beginning with the very first session of the United Nations and ending in 1990 – when, after 27 years in prison, Mandela toured the world as a free man.
A&S is showing each film in sequence on Thursdays at 3:30 p.m. and 7 p.m. in 213 Kastle Hall from Sept. 30- Nov. 11. Parents, students, alumni, children and other community members are welcome to attend one showing or all of them. Each film can be viewed individually. Parking is available at Parking Structure #2 for the 7 p.m. showing.
Paralleling the film, Program Director Lauren Kientz is teaching a two-credit experiential learning course, A&S 100-049.
The College of Arts and Sciences is embarking on a year-long exploration of South African culture and history with its South Africa Initiative, themed "Different Lands, Common Ground." This program hopes to engage the Lexington community in crucial global conversations spark an ongoing exchange of ideas and promote awareness of race, human rights and political change.
For more information, contact Kientz at lauren.kientz@uky.edu.