Celebrating our Newest Alumni: 146th Commencement Ceremonies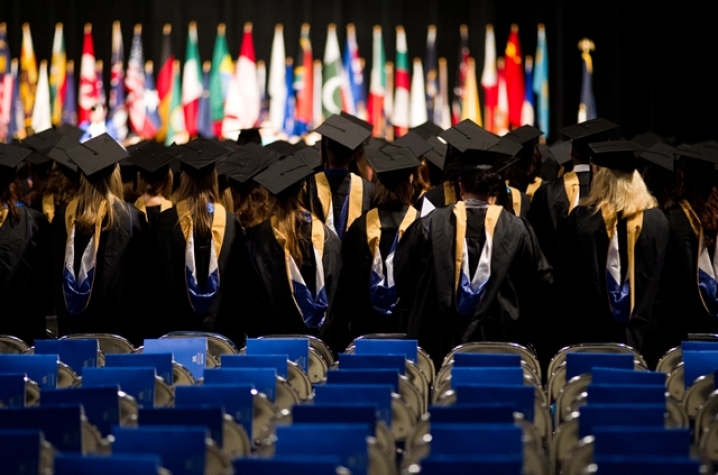 LEXINGTON, Ky. (May 1, 2013) — UK students will celebrate a different kind of victory in Rupp Arena on Sunday, May 5. Donning the newly adopted UK blue Commencement robes, these students will walk across the stage and officially become UK alumni. All ceremonies– the graduate and professional ceremony as well as the two undergraduate ceremonies– will take place in Rupp Arena. Graduate and professional degrees will be conferred at 9 a.m.; undergraduate degrees will be conferred at 1 p.m. and 6 p.m.
9 a.m. — Graduate and Professional Ceremony
1 p.m. — Undergraduate Ceremony for the Colleges of: Agriculture; Business and Economics; Education; Engineering; and Nursing.
6 p.m. — Undergraduate Ceremony for the Colleges of: Arts and Sciences; Communication and Information; Design; Fine Arts; Health Sciences; and Social Work.
More than 2000 undergraduates and 500 graduate and professional students are expected to participate in Sunday's exercises; approximately 2840 undergraduate,1040 graduate and 460 professional degrees have been submitted to the UK Board of Trustees for approval.
All Commencement ceremonies will be live-streamed online at www.uky.edu/uknow, the university's daily news website. Videos of each ceremony will also be uploaded to the university's YouTube channel, during the week following Commencement.
UK President Eli Capilouto will deliver remarks at all three ceremonies. In addition and keeping with university tradition, a student will also address the crowd at the each of the undergraduate ceremonies.
Mercedes Rosado, from Marquette, Michigan, is a graduating with a degree in kinesiology from the College of Education. A pilot candidate in Air Force ROTC, she will be commissioned after graduation and begin pilot training in February at Columbus Air Force base in Mississippi. She will be giving the Commencement address at the 1 p.m. ceremony.
Rosado joined the Air Force ROTC program at UK partly because of her father's 20-year experience in the Air Force. She considers her future career to be ideal because it will allow her to see the world while she works.
"I grew up seeing my dad in the Air Force, but I never imagined that I would be the one flying the planes when I heard him talk through Air Traffic Control," Rosado said. "I'm very honored to represent my class as Commencement speaker."
Luke Glaser is graduating with degrees in English and Hispanic Studies, from the College of Arts and Sciences. From Louisville, Kentucky, he is also a Gaines Fellow, Honors Program student, Student Government senator and College of Arts and Science ambassador. He will give the Commencement address in the 6 p.m. ceremony.
As a senior fellow with the Gaines Center for Humanities, Glaser completed a two-year fellowship, working on a community jury project to create an anti-bullying play to be performed in elementary schools. As a Teach for America (TFA) Campus Community Coordinator, he works to recruit students for the Teach For America Program. He also served as an editor at The Kentucky Kernel and wrote weekly satirical column  titled "The Lukewarm Truth."
"It is a privilege to represent the Class of 2013 as the Commencement Speaker," Glaser said. "A large portion of my speech is devoted to the accomplishments of my classmates and the magnitude of our collective impact on campus. I only hope I can do it the justice it deserves."
The University of Kentucky will also award honorary doctorates to two individuals.
Robert Milton Huffaker, a native of Wayne County, Kentucky, has spent more than a half century in a varied and distinguished career as a physicist, a company founder and CEO, and a philanthropist positively impacting a number of charitable activities and organizations in the United States and abroad. He earned his Bachelor of Science in physics at the University of Kentucky in 1957, and  worked for NASA's Marshall Space Flight Center where for 15 years beginning in 1961.
In 2006, Huffaker founded Coherent Investments, LLC, where he serves as manager.  Always eager to help others, Huffaker, a Colorado resident, is founder and chair of the board of the Forward Steps Foundation, a public charity which supports the population of youth between the ages of 18 and 21 emerging from the Colorado Foster Care System.  While devoting his time and sharing his expertise to various charitable  endeavors, Huffaker also has donated well over $3 million to a variety of nonprofit agencies. 
Jamal Mashburn is best known for his success on the basketball court.  An All-America selection at the University of Kentucky, Mashburn helped lead the Wildcats to the NCAA Final Four in 1993.  He then went on to play for more than a decade in the NBA with the Dallas Mavericks, Miami Heat, and New Orleans Hornets.
However, outside of the basketball realm, Mashburn is committed to helping others and giving back to the community.  In 1993, before he ever signed his first professional basketball contract, he donated $500,000 to establish and endow the Jamal Mashburn Scholarship Fund at the University of Kentucky.  The scholarship identifies ninth grade students in the Lexington, area, tracks them through high school, and then awards them a full scholarship to attend the University of Kentucky or Bluegrass Community and Technical College provided they achieve their academic and personal goals.
Mashburn also is a founding member, officer, and director of The MAP Foundation, focused on youth mentoring, and The Mashburn Family Foundation.  This foundation offers program and support for latch-key children, as well as for children of alcoholics and single mothers.  Both of these foundations are nonprofit 501(c)(3) corporations.
Receptions
The UK Alumni Association will host a Commencement Reception on Sunday, May 5, from 8 a.m. - 6 p.m. in Thoroughbred Rooms 5, 6, 7.
Several colleges are holding individual receptions as well.
Receptions include:
College of Social Work: Honors & Awards Ceremony and Graduate Recognition Program on Friday, April 26, beginning at 6 p.m. in the Student Center Ballroom
College of Communication & Information: Sunday, May 5, from 8 p.m.-10 p.m. in the Thoroughbred Pre-Function Area
College of Engineering: Sunday, May 5, from 10:30 a.m.-12 p.m. in the Thoroughbred Pre-Function Area & Thoroughbred Rooms 1, 2, 3
UK Graduate School: Sunday, May 5, from 10 a.m.-12 p.m. in the Bluegrass Pre-Function Area & Bluegrass Ballroom
Click here for more information on receptions, as this information is updated frequently.
Watch the live stream
Friends and family of graduates who cannot make it to Lexington do not have to miss out on this special event. UK is utilizing social media and other technology to bring Commencement directly to one's computer or mobile device.
Both the graduate and professional students and undergraduate Commencement ceremonies will be live-streamed online at www.uky.edu/uknow, the university's daily news website. Fifteen minutes prior to each ceremony's beginning, "Live from the Blue Carpet" will air and feature students, faculty and special guests as they prepare for Commencement and will be hosted by UK students.
The graduate and professional student ceremony begins at 9 a.m., with the preshow starting at 8:45 a.m. The first undergraduate ceremony begins at 1 p.m., with the preshow beginning at 12:45 p.m. The second undergraduate ceremony begins at 6 p.m., with the preshow beginning at 5:45 p.m. 
Followers of UK's Twitter account (twitter.com/universityofky) can follow along with the Commencement activities via live tweets prior to and during the event. Twitter users are also encouraged to use the hashtag #ukgrad to honor all our graduates.
Graduates can view the ceremonies the week after Commencement, on the university's YouTube site at www.youtube.com/universityofkentucky.
MEDIA CONTACT: Sarah Geegan, 859-257-5365; sarah.geegan@uky.edu