Child Development Center of the Bluegrass' UK Campus Location Provides Convenience, Quality Care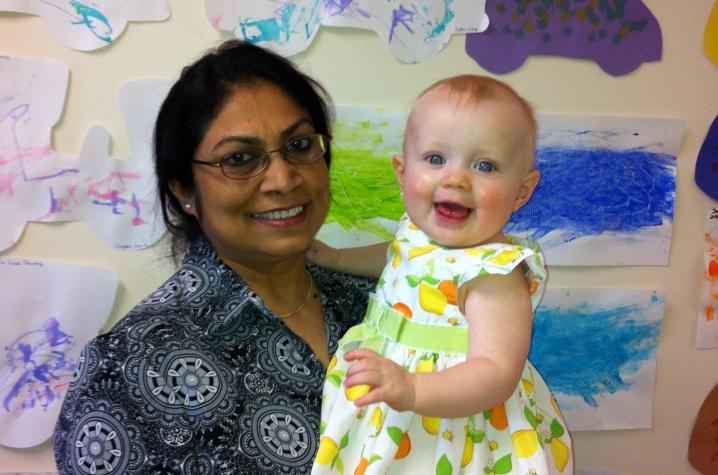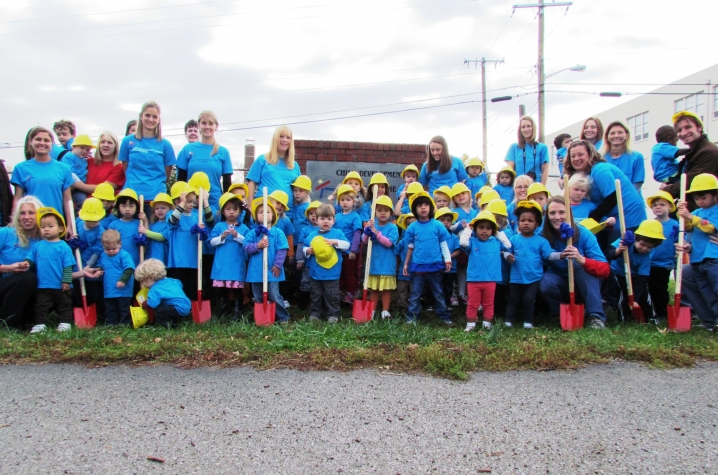 LEXINGTON, Ky. (April 12, 2013) -- Jane Heck is only 10 months old but already dazzles her parents with weekly art projects.
As a member of the Bumble Bee room in the Child Development Center (CDC) of the Bluegrass' new facility on the University of Kentucky campus, the center offers convenience and peace of mind for her parents -- Sarah, a service line manager in the Department of Strategic Planning at UK HealthCare, and her father, Adam, a fourth-year dental student at the UK College of Dentistry.
"Jane loves it there and they love her," said Sarah Heck, who began looking for daycare options when she was pregnant and found the new CDC located off Alumni Drive near Commonwealth Stadium and the UK Arboretum, met every qualification she and her husband were looking for in a childcare provider.
The Hecks were also impressed by the qualifications of the center which has the highest level of both state and national accreditation available as Four-Star Rated in Kentucky's voluntary STARS for Kids Now quality rating system and nationally as a National Association for Education of Young Children (NAEYC) accredited facility.
Although the CDC of the Bluegrass has offered early childhood care for children with and without special needs in the Lexington area for nearly 55 years, Jane was one of the first to begin her daycare experience solely at the new facility.
"We love the beautiful new center and its space and particularly the great outdoor areas for the children," said Executive Director Sarah Vanover. "Our location also is very convenient for many of our nursing moms to drop in during the day, particularly those who work at UK or other nearby places."
Recently the center has also extended its hours to provide services from 6 a.m. until 6:30 p.m.  to better accommodate the work schedules of both UK employees, particularly nurses working 12-hour shifts, and other Central Kentucky parents, said Vanover.
Serving children ages 6 weeks to five years old, the 22,000-square foot new facility opened its doors last August and accommodates more than triple the number of children at its previous location on Springhill Drive.  The facility has 15 classrooms; private rooms for therapists to work with children with special needs; state-of-the-art playground facilities; and a viewing room where parents can watch the interaction among their children and the teachers and therapists. The facility is also supported by an energy-efficient geothermal system.
The CDC's campus location also offers convenience for many student teachers from the UK College of Education who assist and observe at the CDC as well as for occupational therapy and physical therapy students from UK who complete clinical practicum experience at the center.
Recently, the CDC also received a grant from Toyota Motor Manufacturing in Kentucky for a music therapy program that is provided by music therapy students at the UK College of Fine Arts.
"I'm already amazed at the creative programs and activities that Jane is being offered even at less than a year old," said her mother Sarah.  "But it is also the wonderful teachers and assistants that make it the perfect fit for our family."
Openings are currently available for children of both UK and non-UK employees.  For more information or to schedule a tour of the facility, go to http://www.cdcbg.org/ or call 859-218-2322. 
Media Contact: Kristi Lopez, 859-323-6363 or kristi.lopez@uky.edu