Commonwealth Collaboratives Named Exemplary Projects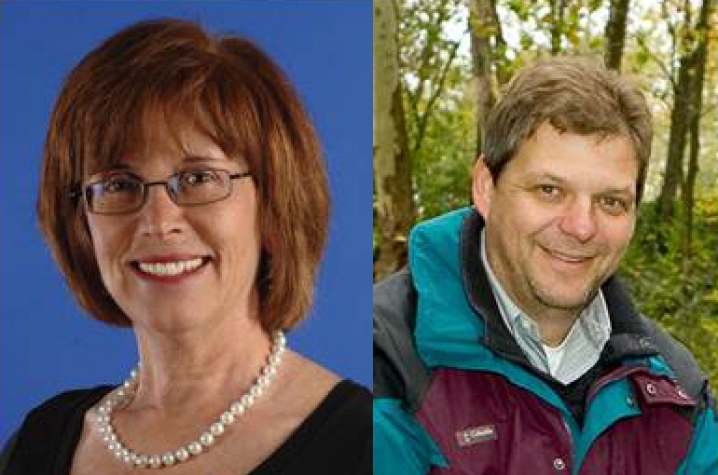 [IMAGE1]
LEXINGTON, Ky. (July 14, 2011) − Two of the University of Kentucky's Commonwealth Collaboratives recently were named Exemplary Projects by the Association of Public and Land-Grant Universities (APLU). The Collaboratives, engagement efforts between UK and Kentucky communities, are designed to address entrenched problems in the state. The projects help to improve the health, education, economy, environment, natural resources and quality of life for Kentucky residents. The Clean Indoor Air Initiative led by Ellen Hahn and the Reclamation of Surface-Mined Lands Initiative led by Chris Barton received the recent designations from APLU as part of the Association's C. Peter Magrath/W.K. Kellogg Engagement Award program.
Hahn, a professor in UK's College of Nursing, began her project to prevent lung cancer by reducing exposure to secondhand smoke and radon. The initiative seeks to reduce Kentuckians' exposure to indoor air pollutants through research, education, air quality monitoring and policy development. Together with community partners, the initiative conducts research on secondhand smoke exposure, and monitors smoke-free laws in Kentucky. It collects data on radon exposure given the state's high-risk karst topography, and examines how the risk from radon exposure can be minimized. Exposure to radon and secondhand smoke combined, greatly increases the risk of lung cancer. The initiative also works to translate the science of secondhand smoke and radon for Kentucky policy makers.
The project has resulted in an increase in Kentuckians covered by smoke-free laws from zero to 34 percent. In Lexington, it has produced a 32 percent reduction in adult smoking and a 22 percent decline in emergency room visits for asthma.
"This award belongs to the courageous, committed public health professionals and citizen advocates who stand up and give voice to those whose lives are put at risk every day from breathing unhealthy air in our cities, small towns and rural communities," Hahn said.
Barton, an associate professor in UK's Department of Forestry, leads a land reclamation initiative along with faculty members in Biosystems and Agricultural Engineering and Mining Engineering. The project is designed to develop new standards for industry reclamation of strip mined lands through model projects in reforestation, headwater stream restoration, water quality improvement, wildlife habitat enhancement and atmospheric carbon dioxide mitigation. The initiative seeks to promote carbon sequestration through reforestation, and its methods are designed to also reduce flooding and decrease water pollution. It is targeted specifically on eastern Kentucky and Appalachia.
"The loss of Appalachian forests due to coal mining is a complex issue because the region struggles to balance the need for jobs and cheap energy with the desire to maintain its unique forested ecosystem," Barton said. "Recognition of UK's mined land reforestation project for the Exemplary Project Award is very fulfilling both for acknowledging the hard work performed by all of our collaborators and for highlighting a research and extension program topic that is at the forefront of environmental and social concern."
UK's Associate Provost for University Engagement Phil Greasley said the designations of these two Commonwealth Collaboratives as Exemplary Projects show that the initiatives achieve important collaborative successes.
"I'm very proud of both programs getting the designation," Greasley said. "They address two of the most critical issues in Kentucky — the impact of smoking, secondhand smoke and radon, and the impact of strip mining on the communities of eastern Kentucky and Appalachia."
Greasley said the APLU recognized that the two Collaboratives are high-quality programs with significant community and partner involvement in the decision-making process. Both, he said, have produced amazing results.
"They're critically important to Kentucky," he said. "Kentucky has been the number one state for smoking, number one for youth smoking and number one for lung cancer."
Citing the improvements in Lexington smoking rates and emergency room visits after the city's smoke-free law took effect, Greasley said Hahn's initiative and its success in promoting such laws are going to have a tremendous long-term impact. Greasley praised the work of Barton's project in reforesting Kentucky's mined lands with hardwoods, which provide economic benefits for some of Kentucky's poorest counties.
"Chris Barton and his team have achieved something that in the generations to come will provide a source of sustainable jobs and income for eastern Kentucky's coal counties," Greasley said. "Their reclamation methods are $2,000 cheaper per acre for the coal companies than the previous federally approved methods, and they enhance the environment and move us toward a sustainable Kentucky hardwood industry. It's one of the happy situations where conservationists are working hand-in-hand with coal companies."
Greasley said the United Nations has recognized the project in the U.N. campaign for global reforestation, and has commended the program for its success.
"These are Kentucky's biggest issues," Greasley said. "And these two Collaboratives are addressing them very successfully, working in partnership with communities to produce results for the partners and for Kentucky. Together, they reflect the critical strategic importance of the University of Kentucky to the Commonwealth and its people."