Conservation Conversation on Bees Comes to UK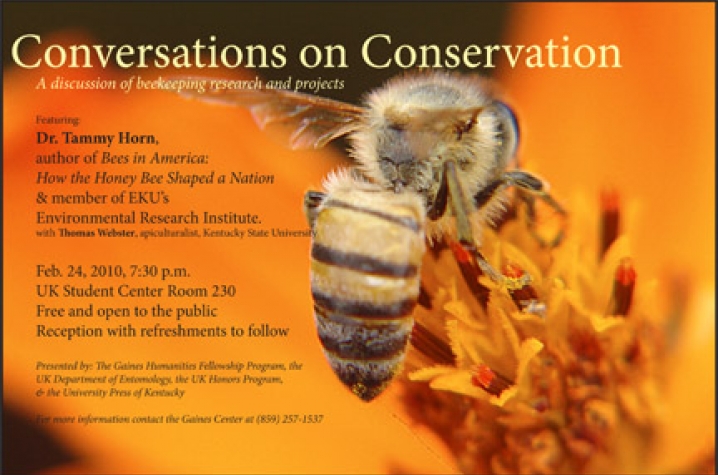 LEXINGTON, Ky. (Feb. 18, 2010) − In a time when environmental consciousness is an internationally hot topic, the world is constantly involved in debates about "going green." Join in the discussion at "Conversations on Conservation" to be held at 7:30 p.m. Wednesday, Feb. 24, in Room 230 of the University of Kentucky Student Center.  It is part of a new semi-annual author lecture seminar sponsored by the Gaines Center for the Humanities. The lecture is free and open to the public.
With universities on the forefront of environmental discussions, Conversations on Conservation hopes to encourage UK students and citizens of central Kentucky to read about environmental issues and solutions to the world's environmental concerns. Each seminar will feature an author who will discuss his or her written work, as well as his or her field research and/or activism.
The first seminar will feature Tammy Horn, a professor of English at Berea College and the author of "Bees in America: How the Honey Bee Shaped A Nation," published by University Press of Kentucky. Horn received her bachelor's degree from Berea College, her master's degree from Ft. Hays State, and her doctorate from the University of Alabama. She learned beekeeping from her grandfather, who grew up hunting bee trees in eastern Kentucky.
Horn's "Bees in America" examines the impact the honey bee has had on agriculture and addresses the cultural influence of bees and beekeeping in the United States. Horn helps direct The Coal Country Beeworks Project, an environmental initiative sponsored by Eastern Kentucky University Environmental Research Institute. The project works to establish bee colonies onto reclaimed mine sites with the purpose of revitalizing biodiversity and developing economic opportunities associated with beekeeping.
Horn will be introduced at this seminar by Thomas Webster of Kentucky State University (KSU). Webster received his bachelor's degree from Oberlin College and received his master's degree and doctorate in entomology from the University of California at Davis. He has been working at KSU as an apiculture specialist since 1988 and has participated in beekeeping projects in Belize and Ecuador.
Conversations on Conservation will be followed by a reception that includes honey-infused foods, as well as a honey bar featuring several different types of honey from different regions in the country.
This Conversations on Conservation seminar is made possible with support from co-sponsors UK Department of Entomology and the Honors Program.
If you have any questions regarding Conversations on Conservation, contact Colleen Horne, of the Gaines Center for the Humanities, at (859) 257-1537 or e-mail to chorne@email.uky.edu. For more information on Horn's work, visit online at www.eri.eku.edu/honey.php.