Cooperstown Makes its Mark in UK History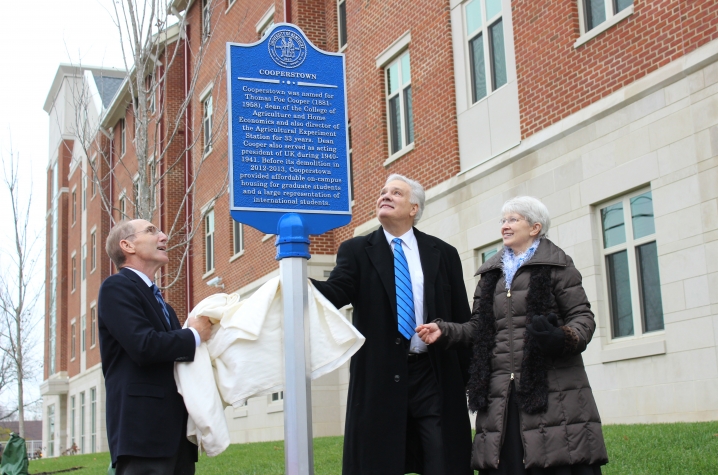 LEXINGTON, Ky. (Nov. 13, 2014) — University of Kentucky President Eli Capilouto, NBC sportscaster Tom Hammond, Associate Dean of UK Libraries' Special Collection Research Center Deirdre Scaggs, and others, unveiled a new historical marker Wednesday commemorating the Cooperstown residence halls and honoring the man they were named after.
"Three years ago, we set a goal to transform UK – to build a campus that can support our priorities in teaching, research, service and health care," said President Eli Capilouto. "As we build for tomorrow, we must honor those who came before us, shaped the University of Kentucky and emboldened our work in uplifting those we touch and teach. Thomas Poe Cooper was a transformational leader in our history, and by remembering the facilities that once stood in his name, we remember him and the indelible imprint he left on the institution."
The complex was originally named in honor of Thomas Poe Cooper, dean of the College of Agriculture and Home Economics (now College of Agriculture, Food and Environment), director of the Experiment Station (now the Kentucky Agriculture Experiment Station), and acting president of the university in 1941 and 1942.  Cooper's grandchildren,Tom Hammond and sister Susan Hammond attended the dedication ceremony and helped unveil the marker.
At a time when Hilltop Avenue was a one-way street, children played while their parents studied and one telephone booth was available for all neighbors, Cooperstown was a new type of university community established to accommodate a new type of student.
In 1946, UK became one of the first universities to provide housing for married students during the post-World War II period when war surplus buildings were purchased and erected. First initiated by UK's fourth president, Herman Lee Donovan, Cooperstown "village" began as temporary housing to provide much needed housing for veterans enrolling at the university after World War II. Student veterans and their families resided in 334 prefabricated Cooperstown homes, funded by the federal government.
In 1956, seven permanent buildings were constructed, each named after "Kentucky's most distinguished literary men and women," including:
·         Building A - James Lane Allen and Theodore O'Hara;
·         Building B - John Fox Jr.;
·         Building C - Madison Cawein;
·         Building D - James Thomas Cotton Noe;
·         Building E - Elizabeth Maddox Roberts;
·         Building F - Cale Young, Alice Hagan Rice, and Grant C. Knight; and
·         Building G - Irvin S. Cobb and Annie Fellows Johnston.
Until its demolition in 2012-2013, Cooperstown housed graduate students, their spouses and their children. Providing a community for nontraditional students throughout numerous periods of campus transformation, Cooperstown has certainly earned its place in UK history.  
Speaking on the legacy his grandfather left at UK and the many entities named after Cooper, Tom Hammond said Cooperstown "was so important for the returning veterans of World War II."
"Four generations of my family now have been closely tied to the university, and we're proud and thankful that you're remembering Thomas Cooper, " he said.
The marker is located at off Woodland Avenue, between Woodland Glen I and Woodland Glen II, where Cooperstown once stood.
The Cooperstown historical marker along with markers for the UK Creed and the original Haggin Hall have been coordinated through UK's Office of the President as a way to commemorate the buildings that have come down to make way for UK to advance in the present and future, Scaggs said.
The complex was replaced this year by Woodland Glen I and II, residence halls built to create living-learning communities, foster collaboration and meet the needs of a 21st century student. While the university continues to revamp its housing offerings, including  the construction of Woodland Glen III, IV and V on the same lot, Cooperstown will be remembered as a foundation for residence life advancements.