DanceBlue Raises $1,615,057.18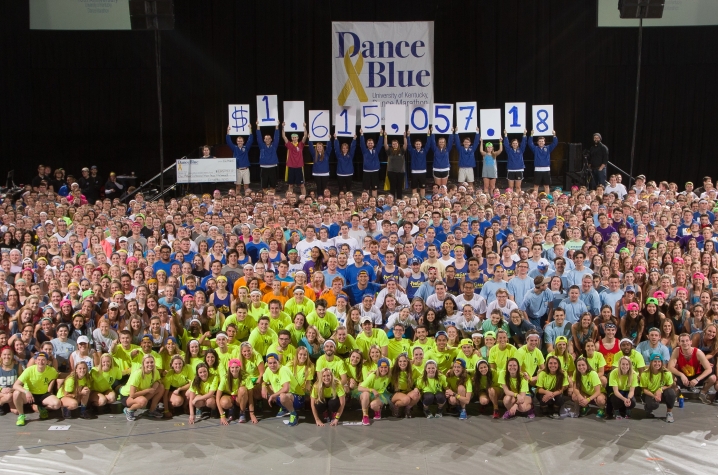 LEXINGTON, Ky. (Feb. 15, 2015) — With sore feet, worn-out bodies and emotions running high, committee members revealed a grand fundraising total of $1,615,057.18 at the 10th annual DanceBlue dance marathon to a crowd of several thousand people.
Whether participating as a dancer, volunteer, committee member or even just a supporter, DanceBlue is something no one ever forgets, especially the last few hours. With a family talent show featuring children from the clinic and an emotional memorial hour to remember those who have lost their battle with cancer, the reveal this afternoon was a much anticipated moment for so many people at UK.
This year was special as DanceBlue celebrated its 10th anniversary. A large contingent of DanceBlue alumni joined the crowd to celebrate the reveal of the fundraising total.
It all began in 2006 by raising $123,323.16 and has increased every year. With this year's total, DanceBlue has contributed more than $8.1 million dollars to the Golden Matrix Fund and the DanceBlue Kentucky Children's Hospital Pediatric Hematology/Oncology Clinic.
More than 800 dancers completed DanceBlue. All of the money raised at this annual 24-hour no-sitting, no-sleeping dance marathon benefits children with cancer and their families and cancer research.
"When we began this journey almost a year ago, every person involved with DanceBlue was committed, and determined, to make this year our most successful yet. But, when we said, successful, we knew that word meant so much more than just raising more money than last year," said Jonathan York, DanceBlue chair. "We wanted to have 800 dancers that represented the entire UK student body, we wanted to spread our mission throughout the state of Kentucky, and, most importantly, we wanted to give the kids of the DanceBlue clinic as much love and support as we possibly could. All the work that has been done by this year's DanceBlue committee, coordinators and, chairs, has allowed us to accomplish these goals. This weekend is the perfect way to celebrate their work, and the children we love so much. I will cherish leading this group, and being a part of this organization over the past four years for the rest of my life. For The Kids, forever and always.'
Everyone at DanceBlue was there for a reason this weekend. They were there for a cure, for hope and most importantly, for the kids.
MEDIA CONTACT: Katy Bennett, katy.bennett@uky.edu, 859-257-1909