Diversity Festival's Taste of Our World Tempts All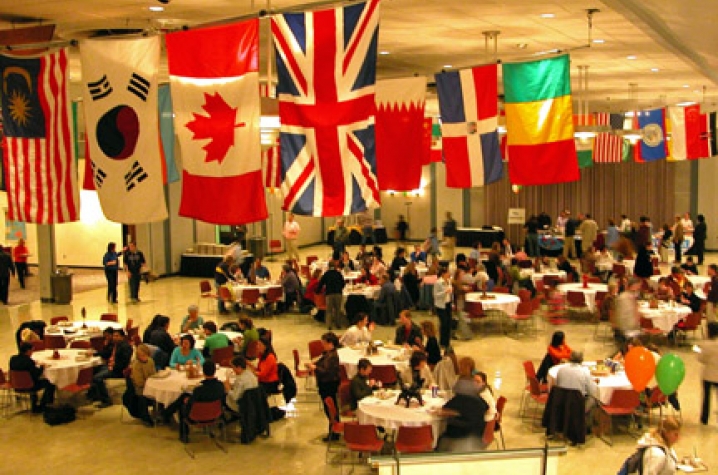 LEXINGTON, Ky. (March 2, 2010) – The second week of the University of Kentucky Cultural Diversity Festival is packed with exciting events, including the ever-popular Taste of Our World from 11 a.m. to 1:30 p.m. Wednesday, March 3, in the Frank Harris Grand Ballroom of the Student Center.
Taste of Our World features a diverse menu of culture-rich foods from around the globe. Some will be favorites from past years – Madagascar Chicken from Africa, Roasted Red Pepper and Garlic Hummus from the Middle East, sushi from Asia, Appalachian Burgoo from North America, and Spanish Seafood Paella from Europe. As always, the chefs of UK Dining Services searched for new enticing dishes for Taste of Our World. This year, the chefs have added a selection of foods from Central and South America, including Shrimp Ceviche from Chile and Haitian Conch Soup.
"Taste of our World is a showcase of the talents and versatility of our UK chefs. We hope our guests enjoy these dishes that were inspired by some of the great countries of the world," said Ray Schmidt, assistant director of UK Catering Services.
The celebration includes another perennial favorite, Ten Thousand Villages, a market for jewelry, home decor and gifts created by 130 artisan groups in more than 38 countries.
Tickets for Taste of Our World will be sold for each serving of the eclectic menu. Tickets will be sold at the door for $1 each or seven tickets for $5. Payment will be accepted in cash, Plus Account or Flex Dollars.
On March 10, National Public Radio's Melissa Block will tell stories of her experiences in Sichuan, China, in the aftermath of the May 2008 earthquake. Block, who has hosted "All Things Considered" on NPR since 2003, has earned numerous accolades, including the Peabody Award. Her presentation will be at 7 p.m. in Memorial Hall.
Other events for the week include:
March 3, 8 p.m.: Robyn Ochs will speak about identity building and collation in relation to GLBT issues, gender stereotypes, and gender identity in the Worsham Theater.
March 4, 5 and 7 p.m.: "The Garden" at the Kentucky Theatre, part of the One World Film Series. Filmmaker Scott Hamilton Kennedy's Oscar-nominated documentary follows a group of low-income families struggling to protect a 14-acre urban farm in the middle of South Central Los Angeles from bureaucratic real estate developers.
March 4, 12:15-1:30 p.m.: An Employer Panel, From Campus to the Workplace: Understanding the Competency of Diversity.  This employer panel will help attendees learn more about diversity in the workplace. Panels will be held at various locations around campus including: College of Agriculture (E.S.Good Barn, Weldon Suite), Gatton College of Business & Economics, (Room 248), College of Engineering, (Raymond Building, Room 112), Health Center Student Diversity Services, (UK Chandler Medical Center MN corridor, Room MN 363), James W. Stuckert Career Center, 408 Rose Street (Room 101/103), and the Office of the Vice President for Institutional Diversity, (Lexmark Public Room, 209 Main Building).
March 4, 7 p.m.: International Film Series: "Paradise Now" in the Student Center Worsham Theater. The film shows the story of two young Palestinian men as they embark upon what may be the last 48 hours of their lives.
March 7, 2 and 4 p.m.: One World Film Series: "Holly" has two showings in the Lexington Public Library-Central Library Theatre. The film shows a young Vietnamese girl who is sold into prostitution by her family.
March 11, 5 and 7 p.m.: One World Film Festival: "At Home in Utopia" has two showings at the Kentucky Theatre with a reception following the film sponsored by Hadassah.
March 14, 2 and 4:30 p.m.: One World Film Festival: "Mine" at the Lexington Public Library-Central Library Theatre. The film explores the devastating effects of Hurricane Katrina on the lives of dogs and their owners. A reception will be held after the film, sponsored by the Lexington Humane Society.

 
More information and upcoming events are available at www.uky.edu/DiversityFestival.
The 2010 Cultural Diversity Festival, Feb. 22 to April 10, features many cultures with events including concerts, performance theatre, interactive workshops and scholarly lectures. The festival promotes cultural awareness, highlights the wealth of diversity represented at UK and strives to engage all students, faculty and staff as well as the Lexington community, by fostering dialogue, encouraging new experiences and promoting unity. Both UK and Lexington communities are invited to experience these cultural and educational programs. All festival activities are open to the public, and most are free. For details, visit the Cultural Diversity's Web site at http://www.uky.edu/DiversityFestival/ or follow the CDF on Twitter at UKCDF.