Employer Showcase Set for Feb. 22-23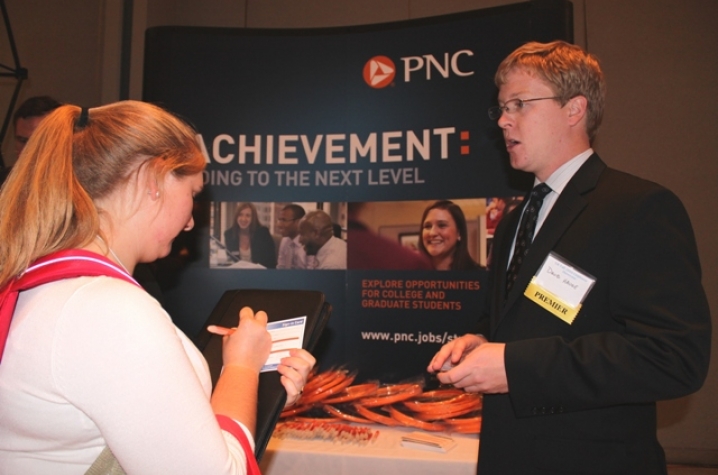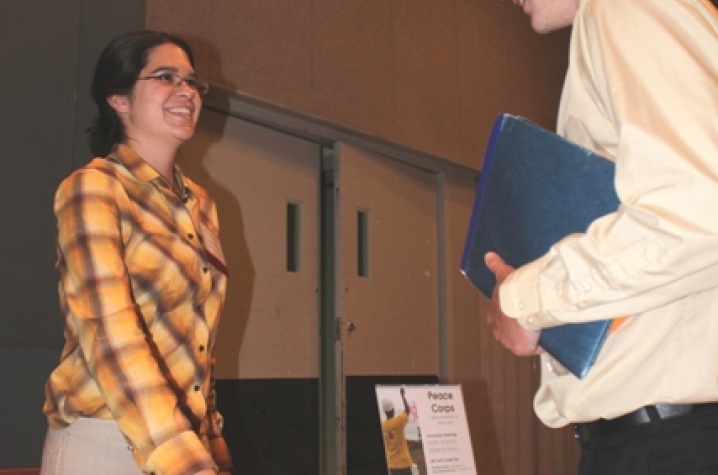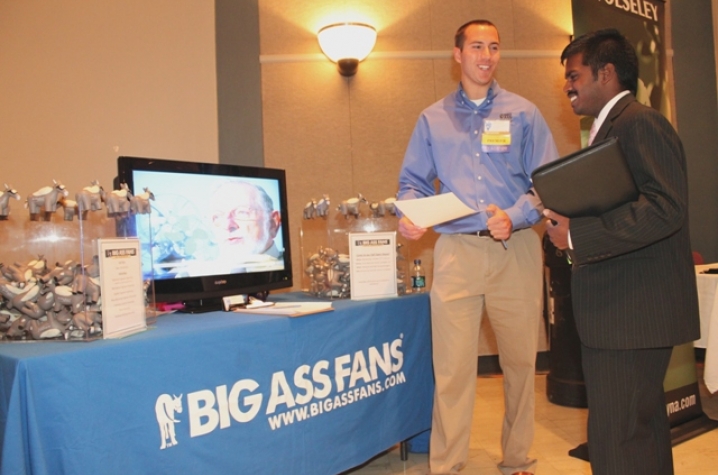 LEXINGTON, Ky. (Feb. 15, 2011) − The University of Kentucky's James W. Stuckert Career Center will bring employers in both technical and non-technical professions to campus from noon to 5 p.m. Tuesday, Feb. 22 and Wednesday, Feb. 23 for the Spring 2011 Employer Showcase. The showcase, formerly known as the Career Fair, is a great opportunity for UK students and alumni to meet employers, submit resumes, and learn about job opportunities. The event will be held in the UK Student Center Ballrooms.
The first day of the event will showcase employers in technical career fields such as engineering, computer science, construction, information systems/technology and scientific research. The second day will host employers in non-technical fields such as communications, accounting, banking, consulting, health care, government, management, human services, retail and sales, and other fields without a scientific or technical focus.
Lenroy Jones, associate director and manager of corporate relations for the Stuckert Career Center, suggests students prepare by researching companies that will be attending the showcase.
"If a company is actually going to be hiring, they really don't want a candidate to come up and say, 'What are you looking for? What opportunities do you have?'" Jones said. "That says to the company that you haven't done any homework." 
More than 120 employers will participate in the showcase, including private companies of all sizes, government agencies and non-profit groups. Companies with local and regional offices include Deloitte, Target Corporation, Sleep Outfitters and ACS, a Xerox company. National companies include Lexmark International, Insight Media, GE, Capital One, Enterprise Holdings, PNC Financial Services Group, Maxim Healthcare Services and Cummins. A complete list of employers participating in the showcase is available through the Stuckert Career Center homepage at www.uky.edu/careercenter.
Prior to the event, students should research job openings within companies and training programs for new employees. During the showcase, students may ask about the work environment of the company and the major projects the company is currently undertaking. Asking intelligent questions such as these will demonstrate the applicant's interest, as well as an understanding of his or her needs in a career opportunity.
Frank Patton of First Investments, a company that will attend the showcase, echoes Jones' advice. "To make the best impression, students should remember that the first 30 seconds that they are speaking with an employer can be the most important," Patton said. "So be prepared ahead of time. Know a little about the company you are speaking to, what they do, and communicate to them what you like about the company and why you are someone who would excel in that environment."
Jones suggests students prepare a 30-60 second introduction that states their name, graduation date and major. Students shouldn't be afraid to mention any honors or special achievements they have received, such as a high GPA. By having completed their research, students should know exactly what questions they would like to ask. As with everything done in preparation for the employer showcase, practice is a big key to one's success, Jones explained.
Students should print resumes on high-quality white or ivory paper. On their resumes, students should include an objective, any work or volunteer experience, internships, and any special honors they have received.
"Companies, all of them, don't expect students to have the practical related experience, so if you've had that experience, that's an advantage for you," Jones said. "Have that reflected on your resume."
The purpose of a resume, Jones said, is to secure an interview, not a job offer. Therefore, students should adjust their resumes to one page to reflect quality instead of quantity.
Students should carry about 30 resumes in a nice portfolio with a nice pen and a pad of paper to take notes. Taking notes demonstrates interest. If students don't take notes, Jones said, it will show a lack of effort and cause them to blend in with the rest of the crowd.
It is important for students to greet representatives with a firm handshake and a smile, and make sure they are wearing the right attire. Jones suggests dark colors such as black, charcoal, and grays. For women, a suit skirt, a white shirt, a skirt and blazer, or a conservative suit is best. For men, a suit, a button-down white shirt, tie, sports jacket, slacks, and shined shoes will make the best impression.
"If there is a line behind you, be courteous," Jones said. This act of courtesy can set a student apart from others. If a student has more questions, he or she can stop by before they leave the showcase.
While the employer showcase is centered on opportunities for students, it is also beneficial to the employers who attend. Businesses have the opportunity to be showcased at a large venue. Rather than putting an ad in the classifieds or posting on the Stuckert Career Center's Wildcat CareerLink, they can access a large volume of job candidates in one location over a four-hour period.
"I find that we get a chance to meet some of the best and brightest students in the country when we visit UK's campus," Patton said. "A company is only as good as its people, so having a chance to add talent like that to our staff keeps us coming back year after year."
The employer showcase is a unique opportunity for students. Jones encourages students to come and participate. He also suggests that they be flexible in their career outlook. "What I encourage students to do is go where the opportunities are," he said. "In this type of economy, they really need to be flexible. I have a saying: 'You can always come home.'"
Students are encouraged to take advantage of other services at the Career Center any time before or after the showcase. Wildcat CareerLink, for example, is the Stuckert Career Center's online registration process that students can access to upload their resumes and browse employers' job listings.
Walk-in consultations are offered 11 a.m. to 3 p.m. Monday-Thursday, and staff are available to help students get ready for the employer showcase. "The Stuckert Center staff members have extended advising hours and programs to assist students in their preparation," said Stuckert Career Center Director Francene Gilmer. "Additional staff will be available Monday, Feb. 21 during our walk-in hours."
For more information on the Fall 2011 Employer Showcase and the other career-building services offered by the Stuckert Career Center, students can stop by or visit the Center's webpage at www.uky.edu/careercenter.