Everything to know about DanceBlue 2023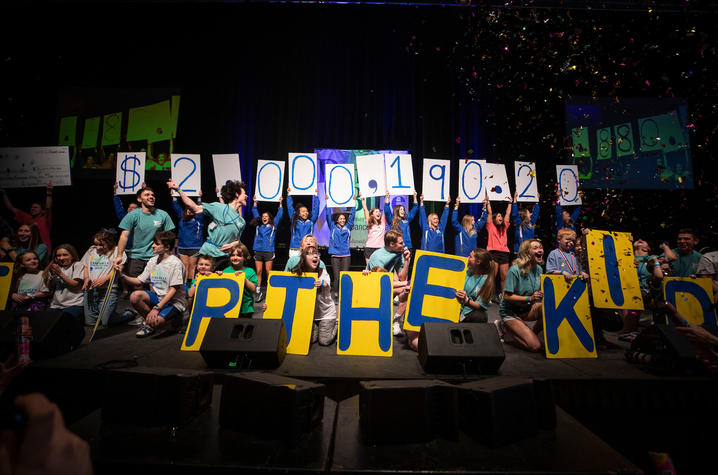 LEXINGTON, Ky. (March 13, 2023) — Each year in the spring, University of Kentucky students gather in Memorial Coliseum to dance and stand for 24 hours to support the patients in the DanceBlue Kentucky Children's Hospital Hematology/Oncology Clinic. Leading up to the dance marathon, students fundraise all year long for their chance to dance. This year's marathon will be March 25-26, and DanceBlue is encouraging the community to come and be a part of the event.
Everything you need to know to attend DanceBlue 2023:
Plan ahead for parking. Guests may park behind Memorial Coliseum (which is free on weekends), along Lexington Avenue, or at the Gatton Student Center.
Come in through the visitor's entrance. All visitors must enter through the Joe Graft Ticket Center doors before visiting to be checked in. This entrance is on the Lexington Avenue side of Memorial Coliseum.
How to check in (if a guest is a student or faculty at UK). They must have their BBNvolved pass ready to be scanned upon entry. All other guests will check-in using a Google form.
Visitor access. All visitors will have access to restrooms, the DanceBlue Bluetique (during certain hours) and Elena's Lemonade stand.
Look over the DanceBlue virtual program. A QR code will be available to scan at the marathon which will give guest access to the virtual program. All needed guest information can be found in the virtual program.
When can you come? Guests are able to come and go anytime during the 24-hour marathon and stay for as long as they would like.
Arrive early for the final fundraising reveal. If you are interested in visiting for the final fundraising reveal on March 26 and would like a good seat, please arrive at 5 p.m.
Accessibility information. Wheelchair accessible seating will be available to visitors.
Bringing items for dancers. Guests are able to bring food, caffeine and/or other items throughout the entire marathon to hand over the railing of the visitor's section to dancers.
Bring cash for last-minute donations. Canning will be taking place in the stands during the marathon. Bring extra cash if you are interested in donating cash. Otherwise, all other donations can be made via the DanceBlue Network for Good link.
What to wear. Be comfortable and wear DanceBlue gear if you have it to support the dancers and kids from the DanceBlue clinic! Don't have merch? Don't worry. The Bluetique will be open several times throughout the marathon, so bring your credit cards and get ready to represent DanceBlue. The Bluetique will be open from 8:30-11:30 p.m. Saturday, March 25, and 8:30-10:30 a.m., 1:30-5:30 p.m. and 6-7:30 p.m. Sunday, March 26. All purchases made at the DanceBlue Bluetique support the fundraising total.
At the University of Kentucky, students are at the center of all that we do. From the moment you become a Wildcat through graduation and beyond, the Office for Student Success is committed to supporting you. Comprised of five areas and 25 units, together, they have one vision — to help students live a life of meaning. Student Success works through an equitable, holistic and inclusive lens to design and deliver unparalleled services and support a diverse community of learners in achieving their wildest ambitions. In the Office for Student Success this is what we do — this is who we are. You can explore resources available to you here. If you have additional questions, you can reach a Student Success team member by calling the helpline 859-218-YouK (9685).