Former State Apiarist Teaching Beekeeping Courses at UK's EREC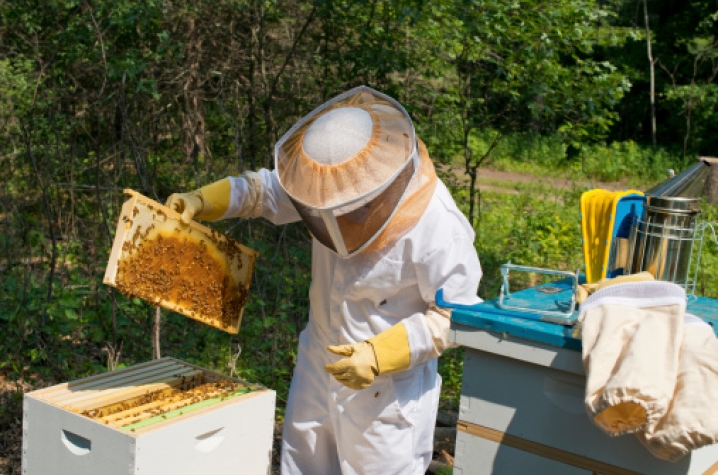 LEXINGTON, Ky. (Sept. 22, 2015) — Retired Kentucky State Apiarist Phil Craft is bringing his professional beekeeping expertise and more than 15 years of experience to the University of Kentucky with two courses at the Ecological Research and Education Center (EREC).
The courses, open to members of the UK community and the public, are for those who may be just beginning — the "Beginning Beekeeping – Getting Started" course — or for those somewhat more experienced, but still needing some direction — the "Beyond Beginning Beekeeping" course. Both courses cost $40 each and will be held at the EREC at 1737 Russell Cave Road in Lexington.
"Modern beekeeping, while not rocket science, is complex and vastly different from the beekeeping of our grandfathers," Craft said. "Beekeepers face new challenges from diseases and parasites in addition to threats from outside forces such as loss of forage and suburban expansion."
Craft says while many resources are available, including medications, nutritional supplements and innovations in equipment, knowing when and how to make use of them is vital to maintaining healthy hives.
Two sessions of the "Beginning Beekeeping – Getting Started" course will be held from 9 a.m.- 4:30 p.m. Saturday, Nov. 14 and Saturday, Saturday, Dec. 12, and will offer a brief introduction to honey bee biology and behavior, and beekeeping equipment. It will also cover how to manage hives, where to locate a hive, where to purchase bees, and potential problems that may arrive in the first year of beekeeping. Additional "Beginning Beekeeping – Getting Started" course sessions will be offered in early 2016.
Multiple sessions of the intermediate "Beyond Beginning Beekeeping Course" will be scheduled later in the year, and will be held in early 2016, also at EREC. This class will include instruction on honey bee biology, monitoring and controlling Varroa mites, common queen problems and solutions, honey bee nutrition, small hive beetle and wax moth control, reducing swarming, and more.
Craft, who was the state apiarist from 1999-2011, is a nationally known beekeeping instructor and lecturer, and author of the monthly question/answer column, "Ask Phil," in Bee Culture Magazine. Craft also offers beekeeping advice and assistance through his www.PhilCraftHiveCraft.com website. He is a graduate of Oberlin College and UK. He is also the U.S. technical adviser for Veto-pharma, the maker of Apivar, a Varroa mite treatment.
Both of Craft's courses require advance registration and will be limited to 40 participants. Contact Craft at philcraftbeekeeping@windstream.net to register or for more information. 
MEDIA CONTACT: Whitney Harder, 859-323-2396, whitney.harder@uky.edu