Majoring in Socialization and Basic Obedience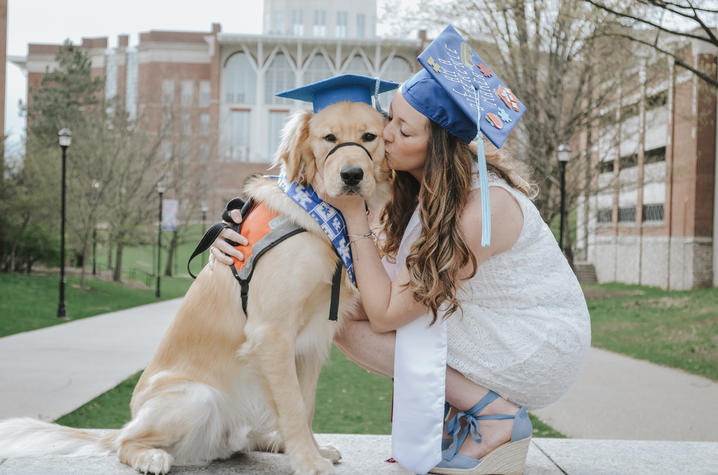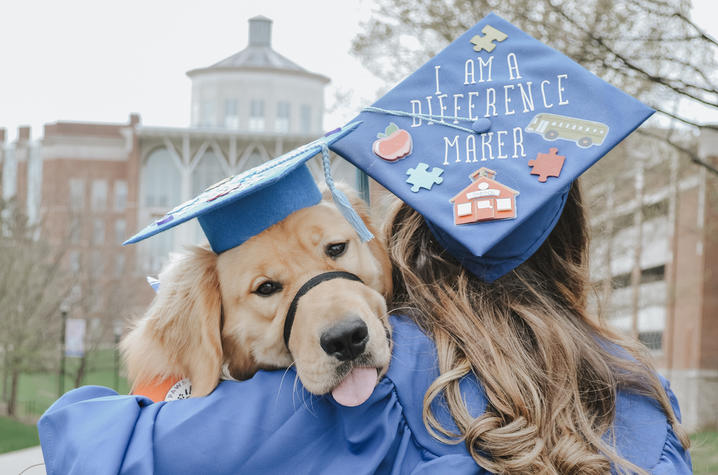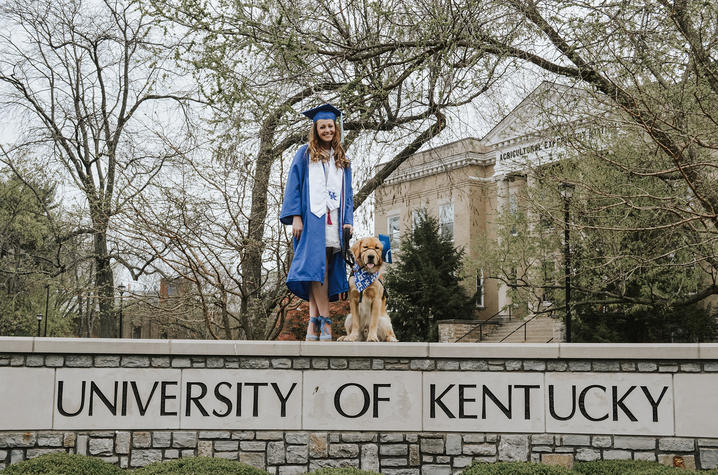 LEXINGTON, Ky. (April 29, 2019) — You might see a few extra feet — or paws —  walk across the stage at the University of Kentucky's May Commencement.
Anu, a year-old golden retriever service dog in training, is one of several dogs that will be crossing the graduation stage with their student handlers.
A member of the sky day litter, Anu is currently majoring in socialization and basic obedience.
He is one of the dogs working with 4 Paws for Ability, a nonprofit organization based in Xenia, Ohio, that breeds, trains and places service dogs with children and veterans with disabilities.
The students at the University of Kentucky involved in the program volunteer to train the dogs until they are ready to move on to advanced training. They receive the puppies as young as 10 weeks old and typically keep them until they are a year old.
The dogs go everywhere with their student handlers whether it is a lecture, a trip to the mall or a sporting event.
Anu's handler, Abby Sheeler, has been involved with the 4 Paws for Ability since she started at UK in 2014. Anu is the sixth dog she has fostered with the program.
"I was an out-of-state student and did not know anyone at UK, let alone Kentucky. I wanted to find something at UK that would keep me busy and provide me with a place where I could meet different people," Sheeler said. "The program combines my two favorite passions: working with dogs and working with individuals with disabilities."
Sheeler and the other handlers at UK have one end goal — to make their pups successful. They introduce the dogs to various environments to make sure their dogs will be fully confident in any surrounding once they are assigned their positions.
Along with socializing the dogs, the handlers also volunteer at nursing homes and schools throughout Lexington with their dogs.
Sheeler, who is president of the 4 Paws for Ability student organization at UK, will graduate this week with bachelor's degrees in psychology and special education, with dual specialization in learning and behavior disorders and moderate and severe disabilities. 
"Being a part of this program has brought me so much joy. I don't know what I would do without it."
After Commencement, Sheeler and her four-legged pal will be together for a little bit longer. Anu has an evaluation in May to see if he is ready for advanced training, or if he needs to be socialized more.
During this evaluation they will also decide what "specialty task" he is naturally good at to determine what type of service dog he will become. He could assist with mobility, seizure alert, diabetic alert, autism assistance, post-traumatic stress disorder assistance, hearing alert and much more.
By this fall, Sheeler will move on to a position as a special education teacher at Creekside Elementary in Scott County, Kentucky, and Anu will move on to the next phase of his career as a service dog.