Four UK Teams Win NCAA Academic Progress Rate Award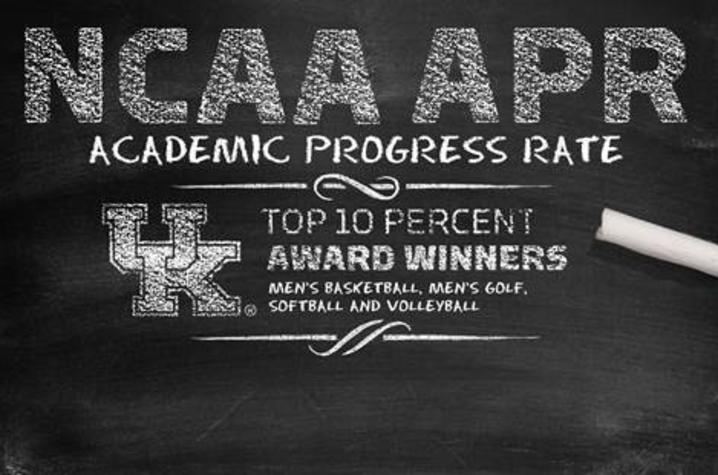 LEXINGTON, Ky. (May 4, 2017) – The University of Kentucky tied a school record with four teams – men's basketball, men's golf, softball and volleyball – that received awards for their Academic Progress Rate (APR) scores, the NCAA announced.
The Wildcat squads received the honor for placing in the top 10 percent of Division I schools in their respective sports. The APR provides a real-time look at a team's academic success by the progress of each student-athlete on scholarship. The APR measures academic eligibility, retention and graduation. The scores are a four-year composite, covering the 2012-13 through the 2015-16 school years.
Having four teams earn the APR top-10 award ties the school record set last year. It's also the first time that a UK squad has won in six consecutive years, as this marks six in a row for men's golf. Men's basketball earned the honor for the third consecutive year and fourth time overall. Softball and volleyball are first-time winners. 
"I'm proud of how all our teams have achieved their APR scores over the years," said Mitch Barnhart, UK director of athletics. "Earning a top-10 award is a difficult and significant achievement. It is a credit to the students for their diligence, to the academic support staff for their guidance, and to Coach (John) Calipari, Coach (Brian) Craig, Coach (Rachel) Lawson and Coach (Craig) Skinner for their success in managing their programs."
The Wildcat coaches were excited about their teams' achievements.
"I am fortunate to coach a superb group of young men who make academic excellence a priority," Craig said. "Our season basically does not stop all year and these guys continue to get it done in the classroom. A huge and sincere thank you to Amy Craiglow, our academic advisor and coach. I am always amazed at Amy's commitment to the academic success of our student-athletes. She is truly exceptional."
"We have graduated 17 players over the last eight years," Calipari said. "Our kids who leave early leave in good academic standing so they can come back anytime they choose to finish their degree. They have lifetime scholarships here at Kentucky. We already have players who have left early who have begun that process. I said this a year ago: Whether it's getting off a plane at 2 in the morning and going to class the next day or sitting in a classroom and doing projects with the student body, it's well known that our kids are committed to learning. They have curious minds and are on the paths to being lifelong learners. Winning the APR award for a third-straight year is based on all of those things. Congratulations to (academic counselor) Mike Stone and the entire CATS staff for instilling that mindset in our kids."
"This award makes me very proud to have student-athletes that care about being great softball players and great students in the classroom," Lawson said. "Amy Craiglow has done an awesome job of helping guide our student-athletes to great success in the classroom year in and year out, and it's something that we do not take for granted in our program. This honor speaks volumes about the young women that we have in our program, Amy, and the entire academic support team here at Kentucky."
"We make a commitment to the University of Kentucky to recruit great athletes who excel in the classroom," Skinner said. "Our student-athletes care about their performance both in the classroom and on the court. This is a program that embodies character, discipline, and hard work and it shows with consistent successes in each area. Amy Craiglow guides our players through their academic careers and challenges them to be their best. This recognition is a compliment to her efforts."
The APR scores of these teams, along with the scores of every Division I team in all sports, will be released later by the NCAA. Teams are subject to penalties if the APR target score is not achieved.
This latest news is a continuation of the academic accomplishments of UK student-athletes. In November, it was announced that UK has broken or tied the NCAA Graduation Success Rate every year since the NCAA began measuring that statistic in 2005. UK athletes have posted an overall grade-point average over 3.0 in each of the last nine semesters. Including the 2016 December Commencement and this week's graduation ceremonies, 104 Wildcat student-athletes will earn their bachelor's degrees during the 2016-17 school year.