Head of EDA Holds Roundtable at UK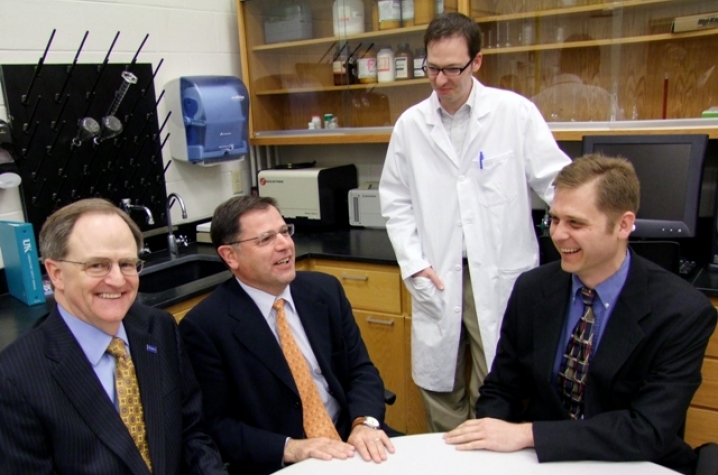 LEXINGTON, KY (March 30, 2010) ― John Fernandez, head of the Economic Development Administration, held a roundtable discussion at the University of Kentucky on the role of technology commercialization and entrepreneurship in economic development. UK President Lee T. Todd Jr. invited Fernandez to campus when they met at a recent summit in Washington, D.C. Invited state, local and UK leaders along with entrepreneurs from UK spinoff companies participated in the discussion.
Assistant secretary Fernandez also visited Escent Technologies in UK's Advanced Science and Technology Commercialization Center incubator.  Escent, one of UK's recent spinoffs, was founded by a team of UK engineering students to commercialize near-infrared spectroscopy research from pharmacy. Weston Johnson, Ph.D. candidate in electrical engineering and Thaddeaus Hannel, a 2009 Ph.D. in analytical chemistry, are leading the research and product development.
Accompanying assistant secretary Fernandez were Angela Martinez, senior advisor and director of outreach; Barry Johnson, senior advisor and director of strategic initiatives; Philip Paradice Jr., Atlanta region EDA director; and Darryl Scott, special assistant.
President Todd was one of 45 invited participants at the U.S. Department of Commerce "Catalyzing University Research for a Stronger Economy" summit in Washington, D.C last month. The group, which included university presidents, corporate leaders and other economic development and commercialization experts, discussed the role of universities in innovation and commercialization of federally funded research, economic development and job creation. Todd led a breakout session titled "From the Lab to the Marketplace – Crossing the Valley of Death" with Aneesh Chopra, the White House chief technology officer.
Since 2006 UK's Von Allmen Center for Entrepreneurship in the Office for Commercialization & Economic Development has partnered with the EDA in their University Technology Center program to broaden and strengthen Kentucky's economy and create jobs.