Hitch a Ride to Rupp for Basketball Home Games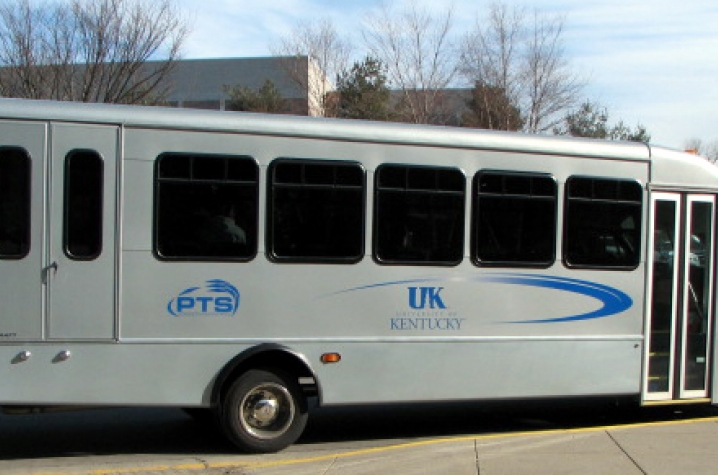 LEXINGTON, KY.  (Nov. 5, 2010) - University of Kentucky Parking & Transportation Services and UK Athletics will provide transportation for students, employees, and guests between campus and Rupp Arena for all regular season men's home basketball games while classes are in session. The Rupp Arena basketball shuttle will begin Friday, Nov. 12, as the season starts with a match up against East Tennessee State at 7 p.m.
"We are pleased to be able to offer the Rupp Arena basketball shuttle to the UK community, a service that our department has offered for over 33 years," said Don Thornton, director of Parking & Transportation Services. "The game day shuttle offers a break from the stress of downtown traffic and event parking costs, while providing a safer and warmer alternative to the long walk from campus to Rupp Arena."
Game day shuttles will begin from the Euclid Avenue side of the Student Center and the Greg Page Laundry one hour and ten minutes prior to the scheduled game time. Shuttles will then proceed to the Kirwan-Blanding Complex sidewalk, at the intersection of University and Huguelet Drives, one hour before tip-off. The shuttles will leave for Rupp Arena when full or no later than 45 minutes before the game.
Employees and students can park at Greg Page Apartments after 3:30 p.m., Monday through Friday, or anytime on Saturday and Sunday.
Return trip shuttles will meet patrons at the Vine Street exit from Rupp Arena and return them to campus following the game. The round-trip cost for all patrons is $3 per person, per game. Exact change is preferred. 
Rupp Arena Shuttles will operate for the following games:
Nov. 12 ETSU                             Feb. 8   Tennessee                           
Nov. 30 Boston Univ.                   Feb. 15 Mississippi State
Dec. 11 Indiana                          Feb. 19 South Carolina
Jan. 11 Auburn                           Feb. 26 Florida
Jan. 15 LSU                               Mar. 1   Vanderbilt  
Jan. 29 Georgia
                       
For more information, visit http://www.uky.edu/Parking/transportation-shuttle-rupp.html.