Jeff Johnson to Address MLK Day Crowd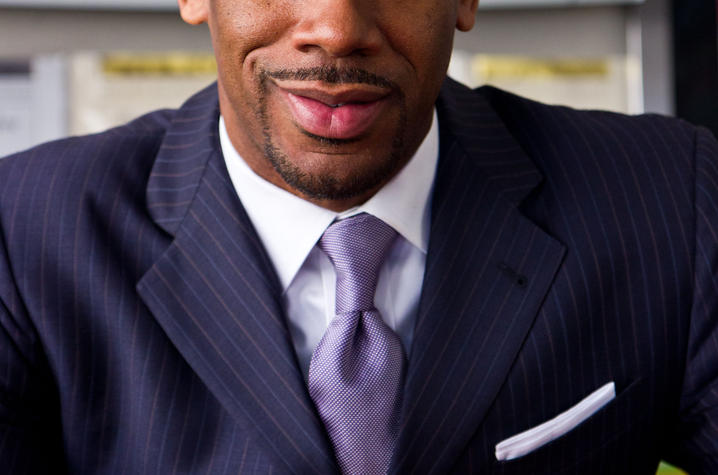 LEXINGTON, Ky. (Dec. 21, 2012) — The 2013 observance of Martin Luther King Jr. Day falls on another historic day for America – the inauguration of Barack Obama to his second term as president of the United States.
Lexington's annual commemorative program will reflect the emotions many will feel in the nation's capital that day. With the theme "My Lord, What a Morning," award-winning journalist, author, social activist and political commentator Jeff Johnson is this year's keynote speaker.
Much of the schedule reflects last year's event. The 2013 march will depart Lexington Center promptly at 10 a.m. Monday, Jan. 21. Participants may begin lining up at 9 a.m. inside the corridor of downtown Lexington Center, Heritage Hall on West Main Street. As participants return to Lexington Center, they will be seated in both the East and Center halls for the program to begin promptly at 11 a.m. Pastor Joseph Owens of Shiloh Baptist Church in Lexington will lead everyone in music, song and the Black National Anthem. At 2 p.m. One World Films presents "Sing Your Song," a documentary about the life of famed performer Harry Bellafonte, in the Kentucky Theatre, downtown. Participation in all three events is free.
From his celebrated conversations with marquee world figures in the political, business and entertainment arenas to his grass-roots trench work to inspire the next generation of leaders, investigative journalist, political correspondent and activist, Johnson continues to be a trailblazing social entrepreneur and authentic voice for change.
Currently, Johnson is an MSNBC contributor and the chief White House correspondent for TheGrio.com. He is also the weekly commentator on the nationally syndicated Tom Joyner Morning Show tackling issues on politics, entertainment and social policy issues. He is also the chairman and CEO of the Jeff Johnson Institute for Urban Development, a solutions-based institution currently leading a five-year project to recruit and develop 80,000 black male teachers.
Formally, Johnson spent seven years providing commentary and news content for Black Entertainment Television, earning a reputation as the "conscience voice" of the networks for his positive force among youth and young adults.
Johnson has spent the last decade merging the worlds of politics and popular culture, including his work as senior advisor for media and youth outreach for People for the American Way, national director of the Youth & College division of the NAACP, and an appointment by Russell Simmons as the vice president of the Hip Hop Summit Action Network (HSAN).
The only American reporter to receive an exclusive post-inauguration interview with Ellen Johnson-Sirleaf, Africa's first elected female head of state and Liberia's first elected female president, Johnson is also one of only two news correspondents to receive an exclusive interview with Sudanese president Omar Al-Bashir, who has not granted interviews with American media outlets for 13 years.
Johnson won a 2008 NABJ Salute to Excellence Award for BET's "Life & Death in Darfur, Jeff Johnson Reports" series. A source of information quoted in Newsweek, Upscale, Ebony and The Boston Globe. He regularly contributes commentary and analysis about issues related to race, politics, popular culture and socio-economics for multiple news broadcasts and publications.
Johnson serves on the boards of the National Urban Fellows, HBCU Hall of Fame Foundation, and the historic Lincoln Theatre in Columbus, Ohio. He consistently challenges communities to weigh innovative solutions to resolve historic and systemic social imbalances and inequalities. He resides in Baltimore, the father of Madison, Myles and Malcolm.