KGS Exchange Enters 13th Year With China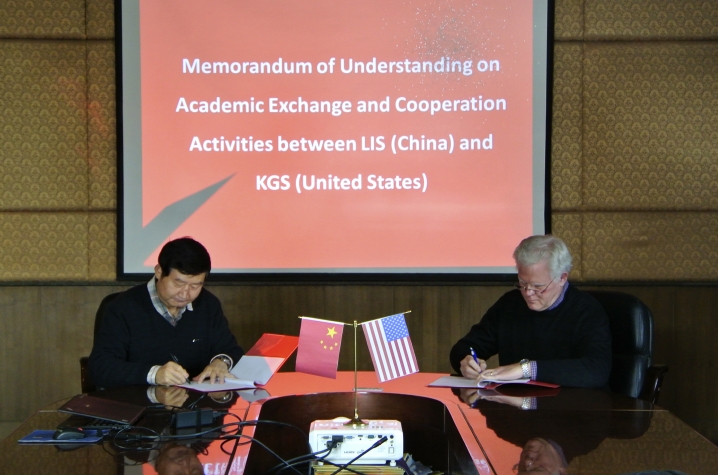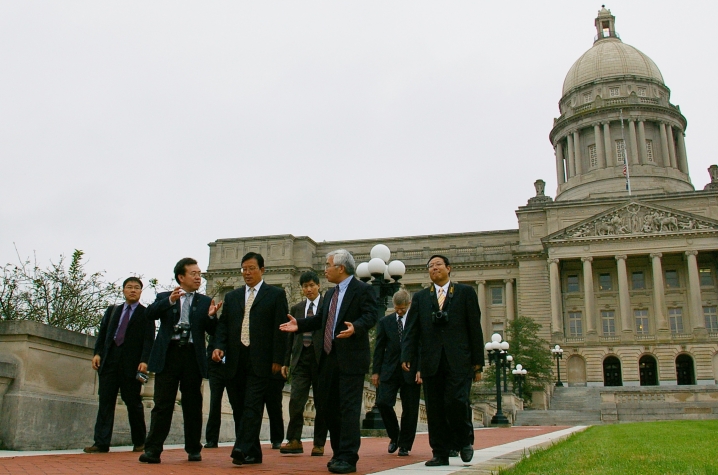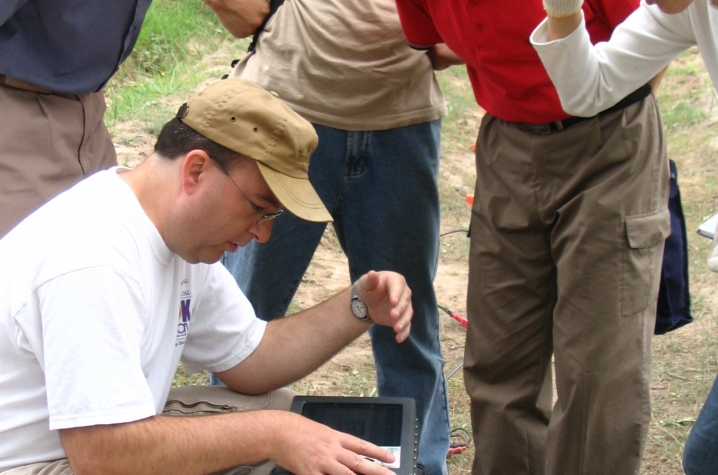 LEXINGTON, Ky. (Nov. 15, 2016) — An international exchange of researchers and information between a Chinese earthquake research institute and the Kentucky Geological Survey at the University of Kentucky will continue for a 13th year, under a memorandum of agreement signed recently in Lanzhou, China.
State Geologist and KGS Director Bill Haneberg signed the memorandum with Lanmin Wang, director of the Lanzhou Institute of Seismology, China Earthquake Administration. Haneberg and KGS Geologic Hazards Section Head Zhenming Wang were visiting several locations in China, presenting technical lectures about landslide and earthquake hazard assessment to Chinese researchers.
During the exchange program, which has included several institutes of China's Earthquake Administration, KGS researchers and UK faculty and students have visited China, and Chinese researchers have come to UK, to collect and exchange seismic data, assist with fieldwork, maintain seismic instruments, and participate in seminars on earthquake issues.
During the past year, Chinese researchers involved in the exchange also wrote papers accepted for publication in the Journal of Soil Dynamics and Earthquake Engineering and the Bulletin of the Seismological Society of America.
Both UK and the Chinese institutes have seen benefits from the program. Early in the exchange, UK seismic researchers and students traveled to China to help staff at the Lanzhou Institute acquire their first quality seismic-reflection profiles of active faults, using both UK equipment and the Chinese hosts' seismic instruments.
Using data from a 7.9-magnitude earthquake in Wenchuan, China, that occurred in 2008, Chinese researchers visiting UK participated in investigations that may help predict ground motions that could result from larger earthquakes in the central United States. The Wenchuan region and the central United States are both far from tectonic plate boundaries, but intraplate (midplate) earthquakes have occurred in both places. Exchange researchers Jiwei Feng and Shanyou Li, from the Institute of Engineering Mechanics in Harbin, China, assisted in the research and co-authored a study published by KGS that concluded "the ground-motion data set obtained from the Wenchuan earthquake can be used to develop a GMPE (ground motion prediction equation) for the central and eastern United States." (The 2015 publication, "Comparison of the Ground-Motion Attenuation Relationship Between the Wenchuan, China, Area and the Central and Eastern United States," can be found here.)
In 2013, UK graduate student Alice Orton, of the Department of Earth and Environmental Sciences, visited China to evaluate building code, emergency planning, and other information for her master's degree thesis. She is one of several UK students who have traveled to China to do work for their graduate degrees.
The new memorandum between KGS and the Lanzhou Institute calls for continued exchange of researchers, joint research on slope stability in locations where earthquakes can cause landslides, development of hazard maps for regions in China, and development of joint research papers for publication.