Lewis Honors College Celebrates Life and Legacy of Patrick D. Walker With Scholarship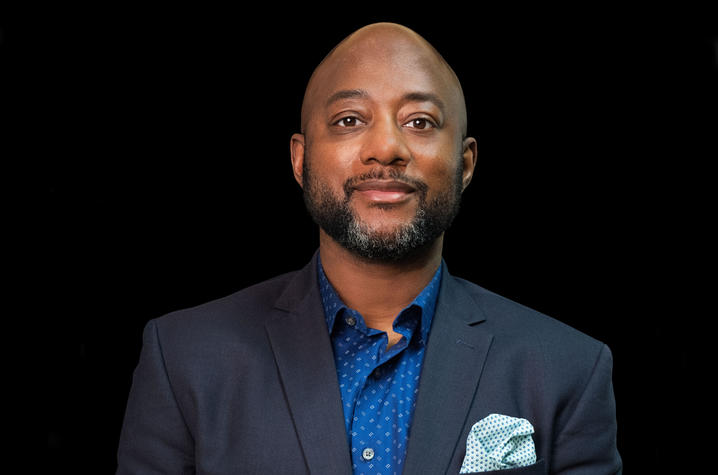 LEXINGTON, Ky. (Aug. 23, 2021) — To honor the life and contributions of its beloved late faculty member, the University of Kentucky Lewis Honors College recently established the Patrick Douglas Walker Scholarship to support first-generation students, including students from underrepresented racial or ethnic groups in the college.
Walker, the inaugural Ruth Jones Lewis Faculty Scholar in Entrepreneurship and Free Enterprise, an endowed position in the Lewis Honors College, died on June 17, 2021, in Lexington. He was also a faculty affiliate of UK African American and Africana Studies, Center for Equality and Social Justice, and the Institute for the Study of Free Enterprise in the Gatton College of Business and Economics.
"Patrick joined the faculty of the Lewis Honors College in 2019 and it was quickly apparent that Patrick was an EXTRAordinary person and an authentic leader, who was guided by his integrity," said Laura Bryan, acting dean of the Lewis Honors College. "Without hesitation, he became a vital and valuable member of the UK community through his exemplary teaching and mentoring of students as well as a commitment to cultivating relationships within UK, throughout Lexington and beyond. The University of Kentucky has suffered a profoundly sad loss of a vibrant, kind and engaging member of our community and Honors family."
Throughout his academic career, Walker taught courses that examined entrepreneurship, free enterprise, business diversity, business ethics and conscious capitalism from legal, managerial and interdisciplinary perspectives. His teaching was hallmarked by high-impact experiential learning. He often organized interdisciplinary student teams and partnered them with companies and organizations in the community.
To ensure his legacy of service continues, the college quickly assembled to establish the new scholarship in his name. As a first-generation HBCU graduate, Walker had a passion for supporting and inspiring the success of all students — something the scholarship will continue to do in his honor.
The college will announce the new scholarship at a memorial for Walker this week on campus. The UK and Lexington communities are invited to join in the celebration of Walker's life at 4 p.m. Wednesday, Aug. 25, in the UK Gatton Student Center Worsham Cinema. The service was scheduled for the first week of classes so that students could be present to share in this tribute. His celebration of life will include words from some of his friends and former students, music and a ritual from his fraternity, Kappa Alpha Psi, Lexington Alumni Chapter. 
Honors junior Aisley Stuebs, a former student of Walker's, will perform music during the celebration.
"Because of Dr. Walker's persistent belief in the potential of his students and his heart for bettering his community, I will continue to chase after my dreams, embrace an entrepreneurial mindset and serve those around me as part of his legacy," Stuebs said.
Doors to the event will open at 3:30 p.m. and all in attendance will be required to wear a mask or face shield.
Contributions to the Patrick Douglas Walker Scholarship can be made online at any time. To learn more, or make a contribution, visit https://uky.networkforgood.com/causes/17795-patrick-douglas-walker-scholarship-fund.
Kentucky Can: The 21st Century Campaign is a comprehensive campaign focused on increasing opportunities for student success, funding innovative research, improving health care, strengthening our alumni network, and supporting our athletic programs. For more information about Kentucky Can, visit kentuckycan.uky.edu.