Office for Institutional Diversity Presents 5 Inclusive Excellence Awards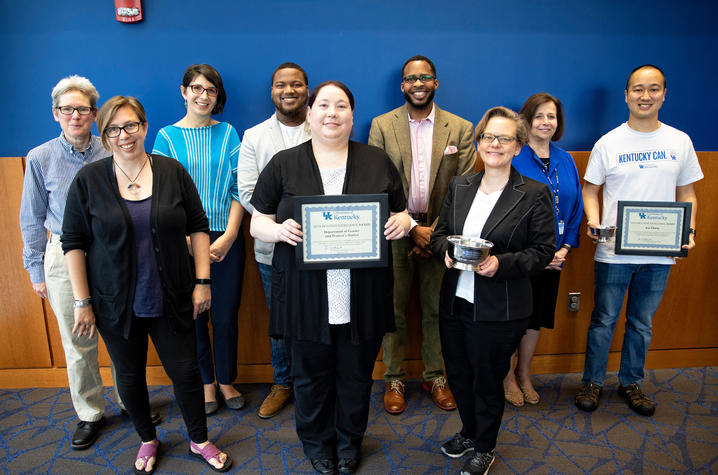 LEXINGTON, Ky. (April 19, 2019) — The University of Kentucky Office for Institutional Diversity recognized students, faculty and a department with the Inclusive Excellence Awards yesterday at the 2019 University of Kentucky Awards Ceremony. 
"Creating inclusive excellence throughout our campus community requires us to work in collaboration with each other," said Sonja Feist-Price, vice president for institutional diversity. "We have students, faculty, staff, and academic and professional units that give of themselves beyond what anyone would ask or expect. And they do so because of their love for our campus community, and because they recognize what it takes to become a university where everyone — irrespective of identity or perspective — feels a sense of belonging."
The award recognizes the accomplishments of individuals and academic or professional units that demonstrate a sustained commitment to diversity and inclusion through campus and community involvement and exemplary leadership. Five awards were granted in four categories: student (undergraduate and graduate), faculty, staff and academic or professional unit.
Winners exemplified one or more of the following characteristics: 
Builds awareness, understanding and relationships in the name of diversity and inclusion.
Creates leadership opportunities, teams, organizations and support systems that promote a diverse and inclusive environment.
Sponsors or actively promotes programs, initiatives or projects in the area of diversity and inclusion.
Collaborates with others in the sponsorship, development and implementation of innovative projects and/or programs.
Acknowledges and rewards exemplary individual and team behaviors that promote diversity and inclusion.
Secures funding to promote and sustain programs in response to challenges that can affect the fostering of a diverse and inclusive cultural climate.
This year's winners include the following: 
Brandon J. Colbert – Undergraduate Student
Colbert is a communication senior who also serves as the social justice educator with the department of Bias Incident Support Services, where he develops programming centered on social justice issues that create conversations for cultural awareness and consciousness. Colbert's campus leadership includes the executive board of UK Black Voices Gospel Choir and Apollo co-chair on the executive board of the UK Black Student Union. He is responsible for founding the UK Black Collective, a group that works to bridge the gap between student leaders and senior administrators. 
Kai Zhang – Graduate Student
Zhang is currently a doctoral student in pharmacology who will receive his doctorate in May. He recently received the 2019 Dr. Benjamin Nero Student Inclusive Excellence Award for outstanding graduate and professional students. He serves as a graduate student senator-at-large for UK Student Government Association and on the Student Philanthropy Board which recently opened UK's first Center for Student Philanthropy. As founder of the Kentucky Fetal Alcohol Syndrome Awareness Group, he has provided workshops and seminars in six Eastern Kentucky counties to raise awareness regarding the effects of consuming alcohol during pregnancy.  
Janice Kuperstein – Faculty
Kuperstein serves as professor and chair of the Department of Rehabilitation Sciences and associate dean for clinical engagement in the College of Health Sciences. Building awareness, understanding and relationships across campus in the name of diversity and inclusion, Kuperstein has served as liaison between the Lexington campus and the Center of Excellence in Rural Health in Hazard, Kentucky, advocating on behalf of people from different socioeconomic, cultural, religious and racial backgrounds. Her work advances health care access, particularly physical therapy, to people across the state, specifically in Southeastern Kentucky. Kuperstein's leadership contributions to the University of Kentucky include serving on multiple campus advisory committees. Her community leadership includes the Advisory Council Faith in Action, Hospice of the Bluegrass and AIDS Volunteers of Lexington. She recently received a grant to support Jewish life at UK, "The Jewish Heritage Fund for Excellence, Transforming Jewish Student Life." 
Corey E. Baker – Faculty 
Baker is an assistant professor in the Department of Computer Science in the College of Engineering. Since joining the college in January 2018, Baker has focused his diversity and inclusion efforts on the demographic concerns in computer science and engineering by successfully recruiting underrepresented graduate students to the computer science program. Through his leadership of the newly launched Graduate Student Campus Visit Program (GVS), the Department of Computer Science has the largest number of black doctoral students in its history. Baker's efforts have brought long-term impact and change to the College of Engineering.
Department of Gender and Women's Studies – Department/Unit/College
The Department of Gender and Women's Studies in the College of Arts and Sciences continually promotes diversity through multiple collaborations that model inclusivity. Collaborating across departments and colleges, Gender and Women's Studies enhances the university through program innovations and courses that focus on global, racial, sexual, gender and class diversity. Through speaker series, symposia, jointly taught classes, timely panels in response to contemporary issues, and support of undergraduate and graduate learning, the department works consistently to foster justice and inclusion within the three central domains of academic life: research, service and teaching.  
"Because of the tireless efforts of these champions, we recognize their contributions by awarding them the Inclusive Excellence Award," Feist-Price said. "I salute each one of our award recipients. Our campus is all the richer because of their contribution."